Park Hill Café, on the corner of University and Park Hill drives, looks like one of those places in a cutesy antique market: about a dozen shabby-chic mismatched tables in the dining room, lots of tchotchkes, lots of signs that advertise a huge selection of exotic and semi-exotic coffees and teas. So it's surprising that owners Mark and Judi Ketchum serve everything on Styrofoam plates, accompanied by plastic serving ware.


"When we first started, we didn't have a place to put dishes," said Mark, who runs the place during the day. "So we used plastic and disposable plates."
If you come for weekend dinner or Sunday brunch, he said, you'll be treated to real silverware.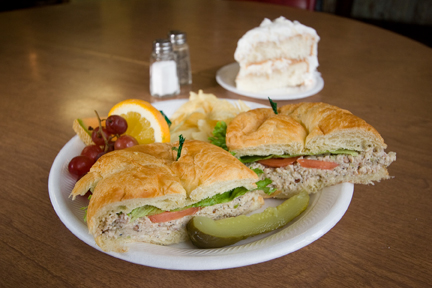 Park Hill's menu is a smorgasbord of homemade and semi-homemade food. For example, the salads (specifically of the tuna, chicken, and egg varieties) are made fresh, but the bread is store-bought. Homemade desserts sit in glass cake shelves comfortably next to packages of Lay's potato chips. It's an odd contradiction, but it seems to work: The place has been open for 11 years.
And the menu will boggle a newcomer. A brief survey of the diners on a recent visit, who ranged in age from college-ish to nearly 90, revealed the most popular lunch menu offering to be the chicken salad, described on the menu as "roasted white chicken with diced green apple, celery, [and] pecans." I didn't get a lot of the apple flavor, but there were definitely pecans. The white meat chicken was deliciously moist but needed seasoning, maybe some salt. The tuna salad, on the other hand, included poppy seeds and a spice that my dining companion identified as nutmeg and was almost too sweet. It was an odd combination: not unpleasant and certainly not something you taste every day.
The turkey, bacon, and havarti cheese sandwich was a huge mound of shaved turkey, thick and smoky bacon, and tangy cheese. It was delightfully messy – not food for a first date but perfect for pigging out by yourself. The turkey and bacon were beautifully complemented by a slice of sweet, cooked red pepper. Sandwiches are made with your choice of whole-grain (read: healthy) bread or soft, buttery croissant. The plate comes with packaged chips, fruit, and a mint. I read the menu thinking "mint" meant a sprig from the plant. Here, it means Andes candy.
The Cobb salad featured an almost overwhelming amount of smoked turkey, blue cheese, chopped egg, and bacon atop plain chopped lettuce. A vinaigrette house dressing full of chunks of blue cheese accompanies this monster, which ought to be enough for two hungry diners. You could visit Park Hill Café just for the dressing and leave satisfied. The vinaigrette is a wonderful collision of salty, garlicky, and tangy. The salad came with a homemade biscuit, though, that was rather underwhelming.
What were indisputably spectacular were the homemade desserts. The menu changes daily according to Judi's whims and what she has time to create, but dessert options at Park Hill include a couple of pies, a couple of cakes, and giant saucer-sized cookies. The serving portions are generous. The apple-caramel pie had a slightly burnt crust and was almost too sweet. However, the rich, simple chocolate cake had, literally, two inches of the best chocolate frosting I've ever consumed and was well worth the excess calories.
Park Hill is also open for dinner on the weekends, when the menu includes more homemade favorites like meatloaf, rib-eye steak, and pork osso buco. The place is obviously a preferred choice with the locals from the TCU-area neighborhood. Over the course of a lunch, the dining room was more than half-full, with additional customers running in to pick up to-go orders.
The café makes a nice alternative to greasy chain burgers and sandwiches, especially if you're looking for a little something to take on a picnic by the Trinity.
Park Hill Café
2974 Park Hill Dr, FW. 817-921-5660.
10am-3pm Mon-Sat, 7-9pm Fri-Sat, Sunday brunch 10am-1pm. All major credit cards accepted.
Caramel apple pie $4.50
Chicken salad sandwich $6.29
Chocolate cake $4.50
Cobb salad $7.39
Turkey w/bacon, red pepper, and havarti cheese $6.59