It was Jan. 2, 1939, and the Texas Christian University football team was behind at halftime, trailing Carnegie Tech 7-6 in the Sugar Bowl. The Horned Frogs were unbeaten that season, but now they needed some magic. And when they came back on the field, they got it from their leader.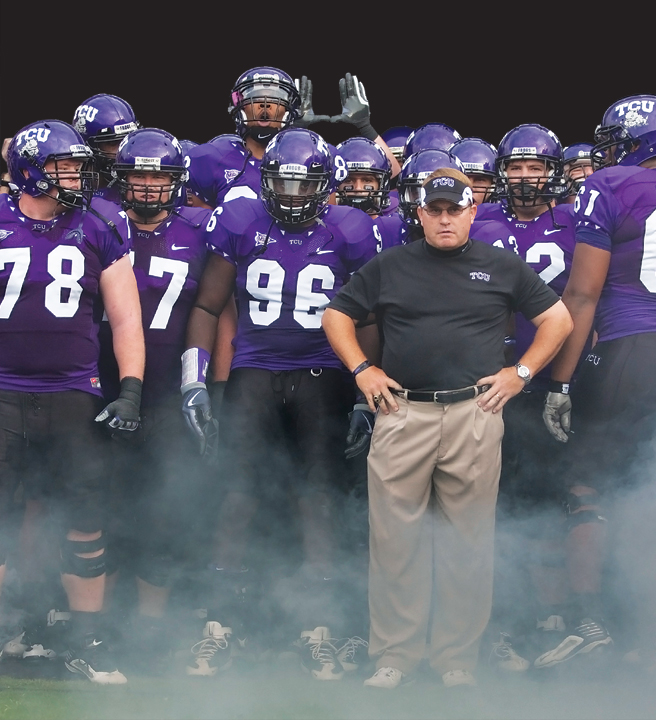 Davey O'Brien, a 5'7″ quarterback and winner of that season's Heisman, Maxwell, and Walter Camp awards, lit up the New Orleans sky with a touchdown pass and a field goal. TCU won the game 15-7 and wrapped up its second national championship.
O'Brien and his predecessor, "Slingin' Sammy" Baugh, led TCU to gridiron brilliance in those years. Between 1925 and 1939, the teams from Fort Worth won more games than any other college football squad. TCU won national championships in 1935 and 1938 and was the first Southwest Conference school to play in the Sugar Bowl – and in the Cotton Bowl, the Orange Bowl, and Bluebonnet Bowl.
O'Brien went on to play with the Philadelphia Eagles and, after football, joined the FBI, worked in the oil business, and eventually led the Tarrant County Democratic Party. In 1977, shortly before O'Brien's death, members of the Fort Worth Club honored his prowess on the field and integrity in life by establishing the Davey O'Brien Award, honoring the nation's top college quarterback. Since then, the prestigious award has gone to a roster of future pro stars that includes names like Troy Aikman, Steve Young, Ty Detmer, and Vince Young. It recognizes a quarterback who exhibits "teamwork and camaraderie."
Andy Dalton, a junior from Katy, has been the Horned Frogs' starting quarterback for the last three years. The team has the third-longest current win streak in the country, and Dalton personally has broken or is pressing hard on almost all of O'Brien and Baugh's school records. With two more victories, he will surpass Baugh as TCU's all-time winningest quarterback. He's rated as one of the top 10 quarterbacks in the country, eighth in passing efficiency, and he leads the nation's fifth-best total offense. Dalton, who executes like a diamond under pressure, is the epitome of a team player.
But he's not on the list of finalists for the O'Brien Award this year. There's a strong field – from Texas' Colt McCoy, to Florida's Tim Tebow, and Boise State's Kellen Moore – and Dalton outranks most of them in performance statistics and ratings.
Dalton's omission from the list illustrates how hard TCU has had to fight to earn back the kind of respect it commanded back when Baugh and O'Brien were wearing purple. After the '50s, the team went into a several-decades-long slump, and sports fans mostly stopped thinking about TCU.
This year, although current coach Gary Patterson, in his ninth year, is commanding one of the best teams of the decade, TCU football isn't quite a household word yet. Nothing illustrates this better than the O'Brien situation.
The O'Brien foundation puts together a committee of national news media members to create a "watch list" of nominees for the award. Personalities ranging from ESPN's Erin Andrews to Maxim's Jordan Burchette to former Heisman winner Desmond Howard voted this year and managed to overlook Dalton.
"I would like to throw a bomb at the fools who vote on the Davey O'Brien Award. I resigned as a voter this year when Andy Dalton didn't make the semi-final list," Dan Jenkins, Fort Worth's most famous sportswriter, wrote in an e-mail. "Those people are supposed to follow national college football. Obviously, many of them don't. I am particularly sad about the situation because I am one of the last people on the planet who saw Davey play and was a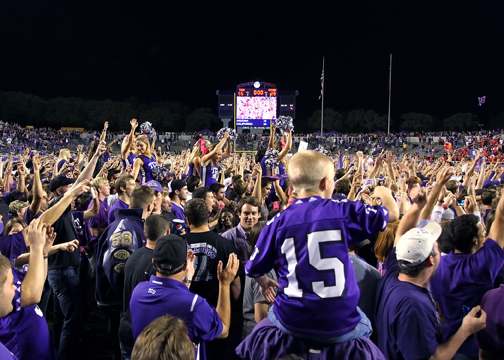 friend of his later in life."
Still, Dalton shouldn't be too worried. He and his teammate, defensive end Jerry Hughes, are both being talked about for this year's Heisman trophy, and Dalton is likely to be on the O'Brien award short list next year – especially if the Frogs keep winning. And that last part seems like something that Frog fans can bet on. By all indications, what Patterson is building is a program, not a fluke.
"This is not a one-time thing," Patterson told a group of supporters a couple of weeks ago. They believe he's right. With 16 to 18 regular starters expected to return for the 2010 campaign, TCU is aiming at the top college rankings again next year and maybe bettering the  school's current fourth-place standing in the polls and Bowl Championship Series rankings.
With the Frogs at 11-0 right now and already owners of at least a share of the Mountain West conference title, the national media are finally paying attention. Before the Nov. 14 Utah game, ESPN's College GameDay set up its national broadcast headquarters on the TCU campus, and for one day Fort Worth was once again the center of the sports universe.
"We want to win a national championship at TCU, and I firmly believe we can," Patterson wrote on his web site (www.coachpatterson.com). "This is why I signed a contract extension through 2014. I want to prove to the rest of the country that it can be done at TCU."
When Jerry Hughes makes a big play, Amon G. Carter Stadium shakes with what sounds like thousands of boos. The crowd is actually screaming "Huuuuughes," in appreciation of the man who is currently second in the NCAA in number of sacks. Patterson is famous for taking speedy high school athletes, mostly from Texas, and utilizing them in whatever position he feels would best suit the team. Hughes was a prized running back in high school, but he will enter the NFL next year as a top defensive end.
On the field, Patterson's team plays with focused intensity, leaving few opportunities untaken. Off the field, the players' stories and backgrounds make equally compelling reading: Hughes volunteers with children's literacy programs. Linebacker Ricky "Tank" Carder is a former international BMX bike champion. Receiver Ryan Christian is a laid-back skateboarder. Dalton even saved the life of a local woman's dehydrated and convulsing dog last summer.
Patterson likes to say his defense "hunts together." TCU is currently fourth in the nation in total defense, and his teams have led the nation in total defense three times in the last decade. When Hughes or another lineman doesn't come up with the big play, someone like Carder or his fellow linebacker Daryl Washington usually makes the stop – and maybe more. Carder returned an interception for a touchdown in TCU's 55-29 drubbing of then-17th place Utah.
On offense, Dalton has many options when he needs a playmaker. Joseph Turner, Ed Wesley, Matthew Tucker, and Skye Dawson all shine from the running back position, enabled by a dominating group of mostly Texas-bred offensive linemen.
---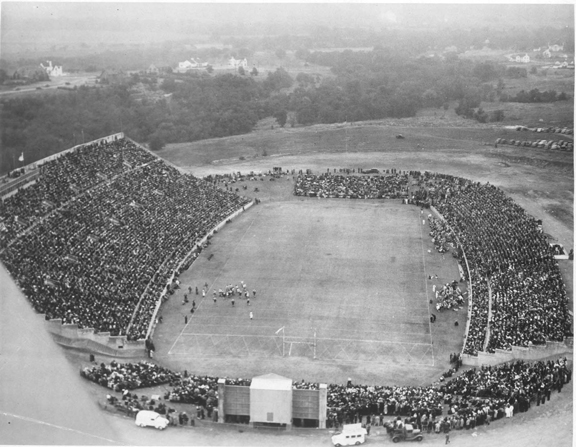 Last year, the Horned Frogs fell out of BCS contention with a narrow loss to Utah. Despite the Frogs' overall excellent record that year, fans complained afterward about the team's lack of firepower. Patterson apparently agreed, and during the off-season he reshuffled his staff. Former offensive coordinator Mike Schultz left for Illinois, replaced by Justin Fuente and Jarrett Anderson. This season the team has outscored opponents 437-139 and has earned the school's highest football ranking since the BCS was put together.
The Horned Frogs were a tad conservative in 2008, but the coaching staff has allowed Dalton and his steady arm to take more chances this season. TCU is a hard team to defend against on the field. They use multiple offenses. If the running back isn't working, the ball might end up in the hands of the receiving corps – Bart Johnson, Antoine Hicks, the explosive Jeremy Kerley, or the reliable Jimmy Young.
What makes the team all the more remarkable is that Patterson and his staff develop star players from recruits that other top programs may have rejected. Some coaches inherit All-Americans; Patterson makes them.
Utah coach Kyle Whittingham's teams have beaten football powerhouses all over the country, not to mention every team in his own Mountain West Conference. "I have been a head coach for five years, and that is the best team that I've faced," he said after Utah's lopsided loss to TCU.
Three years ago, in the midst of what would be an 11-2 season, Patterson still felt he had to plead with media and fans for respect for his Horned Frogs, which he said had been treated like stepchildren.
By the end of last year, TCU had climbed to seventh place in the BCS standings after a Poinsettia Bowl victory over Boise State. And in 2009, Patterson hasn't had to make many requests for attention.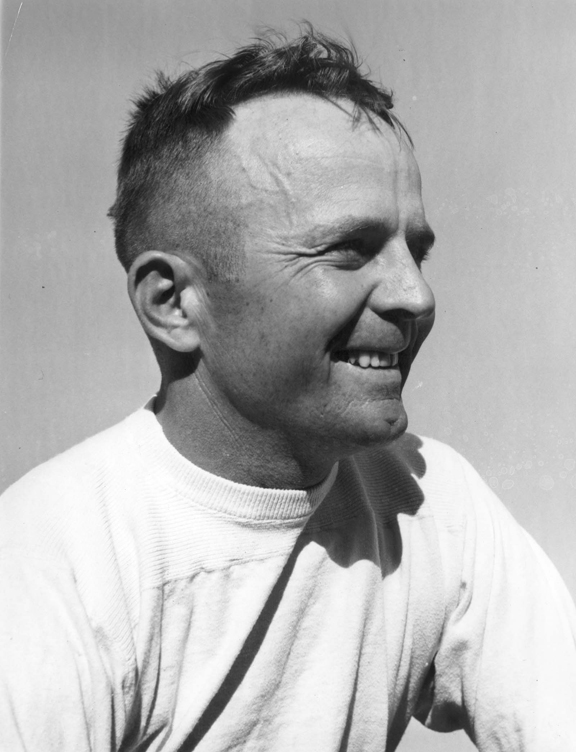 TCU started out this year at 17th in national rankings. GameDay's Kirk Herbstreit left TCU unranked at the beginning of the season in his official AP ballot, and his co-host Chris Fowler had the Frogs at 19th. Even Jimmy Burch, who votes via his position at the Fort Worth Star-Telegram, started the Horned Frogs at 15, eight spots lower than their 2008 finish.
By the Utah game, however, even the telegentsia, who influence opinions about college football through their on-air commentary, had changed their minds about TCU. And that, plus the long list of returning players, is likely to put TCU in even better position at the beginning of next year to get respect, and therefore a high pre-season ranking, and therefore a shot at a championship.
"They are for real," Lou Holtz announced from the ESPN Studios.
That kind of winning is the new culture in TCU football – and the revival of an old tradition.
Current players are restoring the legacy left by a long line of football legends at TCU. In the earlier part of the 20th century, TCU didn't have to compete for local media attention with the Cowboys. It also didn't have to factor in television, where exposure or lack of it can change opinions about a team.
Coach Dutch Meyer, who is credited with inventing the spread offense, commanded the winningest squad in all of college football for more than a decade.
"Thanks to famous writers like Grantland Rice, who saw the Frogs play, we got all the attention we wanted," Jenkins said. "I lived through those glory years as a little kid in the 1930s. Saw Baugh and O'Brien play, and it was wonderful. Funny thing is, TCU was consistently so good then, success was expected, and the Frogs lived up to it."
Behind Baugh and O'Brien, TCU captivated national and local football audiences. In those days, the Horned Frogs were the pride not just of the campus but of the whole city. Before afternoon kickoffs, marching bands and zealous fans assembled downtown for parades to cheer the team to victory. Last year when TCU honored the '38 championship team at a banquet, only five members returned to recount those stories firsthand.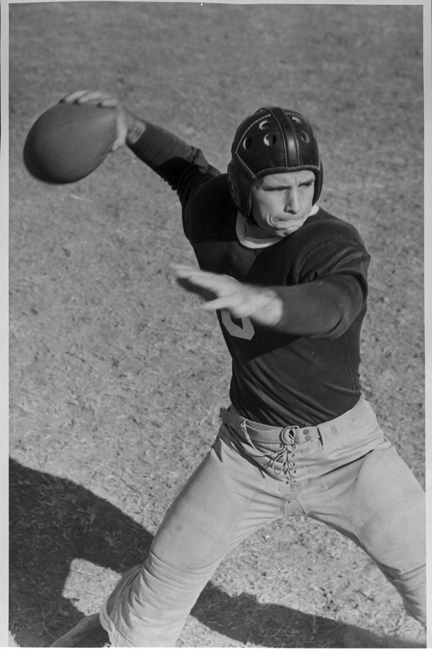 Baugh, a two-time All-American, played for 15 years with the Washington Redskins. Inducted into the NFL Hall of Fame in 1963, he is considered by many sports historians to be one of the best players to ever grace the game. He eventually retired to West Texas, where he died last December.
Both Baugh and O'Brien, who grew up in a foster home in Dallas, led TCU to national titles. TCU remains one of 19 colleges in the NCAA's top division to garner that honor multiple times since 1935.
More than a decade later, TCU was still winning. The Frogs won four SWC titles in the 1950s under the leadership of Coach Abe Martin and players Jim Swink and Bob Lilly, in an era when the conference was tough. "We didn't even think about the conference championship until the end of the season," said Marshall Harris, a TCU Hall of Famer and the university's first Academic All-American.
After the '50s, TCU's dominance gradually waned, and the SWC became a lopsided, top-heavy place to play. For TCU, seasons of abundant wins dissolved into lean years of mediocrity or worse. A brief rise under Jim Wacker in the early '80s was short-circuited by NCAA sanctions for recruiting violations involving running back Kenneth Davis and others. Other teams in the conference suffered through similar penalties, and as a unit, it never recovered.
The longterm dominance of teams like Texas, Arkansas, and Texas A&M eventually led to an SWC divorce. Arkansas announced it would depart for the Southeast Conference in 1990, and the writing was on the wall. Economic factors were the driving force. In 1993, Texas, A&M, Texas Tech, and Baylor announced they would depart the conference in order to get bigger TV audiences and more lucrative TV contracts in the Big 12, leaving the TCU football program with an uncertain future. The conference officially disbanded in 1996.
"The stupid TV moguls who preferred Baylor, Texas Tech, Iowa State, Kansas, Kansas State, and Oklahoma State over TCU should die screaming," said Jenkins, whose passion for TCU football clearly has not abated. In Greatest Moments in TCU Football History, Jenkins wrote that he "is under doctor's orders not to think about the breakup of the SWC." Among Frog faithful, hard feelings remain to this day.
---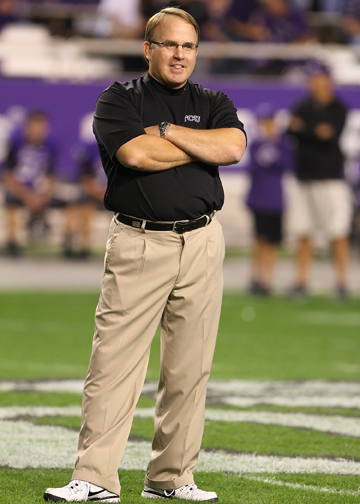 For the next decade, TCU sports teams were veritable nomads, as the school changed conferences three times and put its athletes on the road to places as far away as Hawaii to play in-conference rivals.
Immediately after the SWC's dissolution, TCU, SMU, and Rice joined the 16-team Western Athletic Conference, where TCU played from 1996 to 2000, winning the conference title twice under Dennis Franchione. From 2001 to 2004, TCU played in Conference USA, winning once in 2002. Since 2005, TCU has been the lone Texas representative in the Mountain West.
"It has been a roller coaster for so long," said Jack Hesselbrock, TCU's associate athletics director. "When the Mountain West came calling, it was nice. Somebody was asking us." The twist of fate worked wonders for the Horned Frogs: From its new conference based in the Rocky Mountains, TCU announced its arrival in the BCS picture with a sledgehammer.
It may have been down and out at one time, but TCU would not go away quietly. "The university said 'We are going to do this. We will do everything we can the best we can,' " Hesselbrock said. "It [athletics] is a window to the public's perception of the university, right or wrong."
Those years in turmoil were actually years of regrouping for the Frog establishment. TCU and its donors made big investments in all its athletic programs but especially football: extensive new practice facilities, office complexes, weight rooms, and a Heisman campaign in 2000 for NCAA record-setting running back LaDainian Tomlinson. A major part of that effort was finding the right coach to lead the charge.
In the SWC's final years, TCU had hired Heisman winner Pat Sullivan from his assistant's job at Auburn to lead the Frog football program, and the Sullivan era saw some good years (they were SWC champs in 1994) and some bad ones (1-10 in 1997). "It's remarkable how it has turned around," said former defensive lineman J.W. Wilson, who played from 1996 to 1999. "We were one of the worst teams in the country."
TCU replaced Sullivan with then-New Mexico coach Franchione in 1998, and the impact was immediate. In its third year in the WAC, TCU beat the University of Southern California in El Paso's Sun Bowl, giving Frog fans a glimmer of hope amid stomach-churning uncertainty. Franchione led the Frogs to a 28-to-19 win over the heavily favored Trojans on an unseasonably warm New Year's Eve day. The rebirth was under way, but the road to respect would still be long.
When Franchione left TCU in hopes of bettering his career at Alabama in 2001, he hurt the feelings of the Horned Frog Nation, which had bought into his big talk and big vision. A committee led by then-athletic director Eric Hyman searched far and wide for Coach Fran's replacement but eventually came back to TCU's own ranks to give the nod to Patterson, then the Frogs' defensive coordinator.
TCU fans once called Franchione "Coach Fraud," but the hostility has been ameliorated by the fact that he was the one who brought Patterson to Fort Worth. The bad taste left by Franchione quickly faded when Patterson led the Frogs to 27 victories and three bowl appearances in his first three years. Since then, Patterson has come close to matching Dutch Meyer's record for total wins.
"TCU and Fort Worth gave me an opportunity for my first job [as head coach]," Patterson told a Frog Club lunch gathering on Nov. 12. "I want to make sure I don't break their hearts." Thus far, he has warmed their hearts instead, with his teams' winning ways. Among students and alumni, he gets a standing ovation just for walking into a room.
"I think the best compliment that can be paid to Gary Patterson is he is true to himself," said Brian Estridge, who is the voice of the Horned Frogs from his platform at WBAP 820. "He is honest as the day is long … he is comfortable in his own skin and doesn't try to be someone he isn't. He also truly cares about his players."
Patterson "is a great fit for TCU," Hesselbrock said. "He's definitely aware of his status from a historical perspective. He gets reminded all the time, but it hasn't affected him."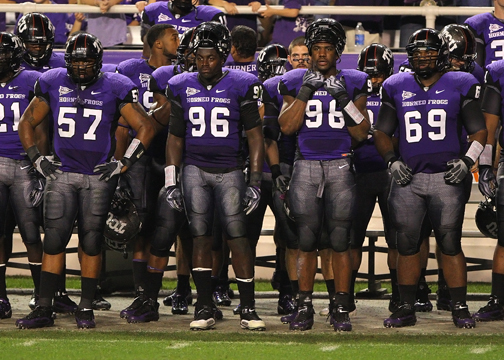 The head coach acknowledges the pressure that's on him and his players now. "It's hard to be perfect," Patterson said a few days ago. His team is perfect right now, though, and a win Saturday against hapless New Mexico would launch TCU into its first BCS bowl game and possibly even a national championship. "We have put ourselves in a position to have a special season … but the bottom line is that this is not where we want to end. We're keeping our noses down," Patterson said.
TCU and Patterson have been dreaming the BCS dream for nearly a decade. They reached ninth place in the BCS rankings in 2000 during Tomlinson's senior season, then lost to San Jose State that November, thereby missing a shot at busting up the BCS. In 2003, TCU was oh-so-close to a BCS bowl game again, only to lose by three points to Southern Mississippi at the end of the season. Last year TCU was looking good for a BCS bowl invitation until it lost another close one in Salt Lake City, despite outgaining Utah by 141 yards.
Now it seems TCU has finally arrived. By the second week in December, TCU should find out which bowl game will be paying millions for its appearance.
That national championship, however, might have to wait another year.
If Texas stays unbeaten by winning against Texas A&M and Nebraska, it will likely play the Southeastern Conference champ in this year's BCS title game. TCU fans can argue all they want – and with reason – that their school should be in that game, but it's not likely to happen. The Horned Frogs are currently one of six unbeaten teams left in the 2009 college football season, and three of those – Florida, Texas, and Alabama – are ahead of them in the BCS standings.
For TCU to have a shot at the national title this season, a few tectonic plates would have to shift in the college football landscape. The BCS rankings are determined by an algorithm that mixes a coaches' poll, the Harris poll – a collection of 114 voters who represent media members, former coaches, players, and administrators – and four separate computer rankings. A human element still influences the ranking structure, as does a somewhat arbitrary number that represents the relative quality of opponents a team has played. In short, if three or more teams remain unbeaten at the end of the regular season, TCU would need popularity votes from the coaches and the Harris poll voters to leapfrog Texas or the SEC team.
---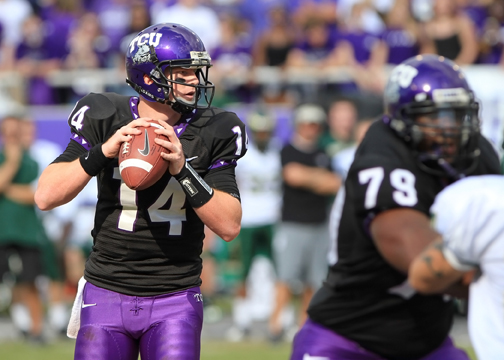 Partly because it gets less national exposure, the Mountain West has to fight harder for respect (and TV income) than the BCS automatic qualifiers. Even though the conference has more nationally ranked teams than the Big 12, Mountain West teams like TCU and Utah have to win bigger to be admitted to the arena of the elite.
Away from the field, Patterson is known as a humble, giving guy (he and his wife Kelsey started the Gary Patterson Foundation to help underprivileged children). A run for a BCS bowl game, however, has forced him to harden his heart to TCU's opponents. The Frogs haven't just beaten lesser teams, they've clobbered them. They dominated UNLV 41-0, San Diego State 55-12, and BYU 38-7. By the nature of the BCS beast, winning big is part of the game.
At this point, the Mountain West Conference winner is not even guaranteed a slot in a BCS game. Utah stayed unbeaten in 2008 but finished second in the final standings behind one-loss Florida.
TCU has to be flawless to enter into the BCS and national championship consideration. If it manages that, the Frogs could tip the scales and finally push the BCS to decide the championship either by a playoff series or a "plus-one" game to bring together teams still undefeated after the bowl games – anything to ensure the title is decided on the field and not by the opinions of voters.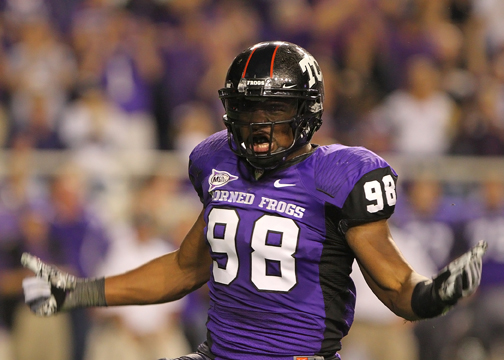 The Frogs "are a legitimate BCS-type program," said Herbstreit from a GameDay set in Fort Worth. "Their offense is playing unstoppably."
More national media types might use such strong words if they had more chances to see TCU play. Tired of being relegated to midweek ESPN games, the Mountain West recently pulled out of a contract with the ESPN/ABC networks, opting for cable channels Versus, The Mountain, and CBS-College to air their games. The Horned Frogs are available to many more television viewers now, but DirecTV's feud with Versus means the channel has been pulled from satellite dishes, making exposure a continuing problem.
"The most important thing for Patterson is to win a Mountain West championship, and there are some pretty formidable teams," Hesselbrock said.
One way some people like to knock TCU is to claim they don't play enough tough opponents, but this year's schedule already includes wins over top-25 teams Utah, BYU, and Clemson, which sits atop the Atlantic Coast Conference. The Frogs have more wins this season against top-25 teams than any school above them in the BCS rankings.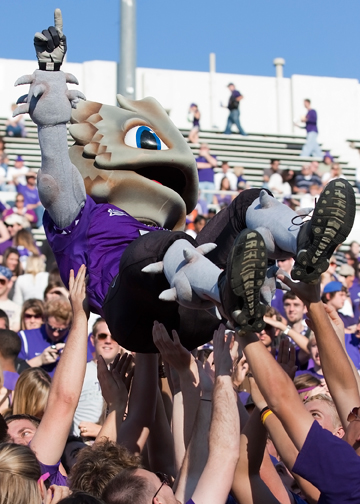 Teams from some higher-profile conferences have even balked at the suggestion of playing TCU, shying away from taking on an opponent that tough in pre-conference play. When TCU calls asking for a date, it gets turned down more often than not. The critics who complain that TCU should be playing a tougher schedule "need to be on my end of the phone call," Patterson said, to hear "how many people say no, that they don't want to play us."
TCU won't put its fans at a disadvantage by playing high-profile away games without delivering quality opponents to Amon Carter stadium. Scheduling is usually done several years in advance. In the next few years, home-and-home series include Texas Tech (which is rumored to be trying to get out of a matchup with the Frogs next year), Arkansas, Baylor, Oklahoma, Virginia, Arkansas, BYU, Utah, and Air Force. Negotiations are taking place to bring the Texas Longhorns to Fort Worth and the Horned Frogs to Austin.
When the TCU football team gets network TV time and national respect, some are convinced that much more than the football program benefits. Over the last decade, TCU has remodeled much of its campus and improved its academic programs across the board. (And its stadium will soon get a major facelift as well.) Applications for admission have skyrocketed during that period – about 5,000 potential students applied in 1998, compared to more than 12,000 last year. Officials have kept actual enrollment more steady, increasing by only about 1,000.
"TCU is small by design," Hesselbrock said, and that makes beating large state-funded schools with eight or nine times as many alumni "all the more remarkable" – and sweeter.
The football team has certainly become more of a rallying point for students, faculty, and alumni than it has been in many years. For the game against Utah a few weeks ago, a crowd of more than 50,000 filled the stadium, almost all of them in purple. Tickets worth $35 face value went for $150 on Craigslist, and the fan site www.killerfrogs.com had to switch servers to accommodate the traffic.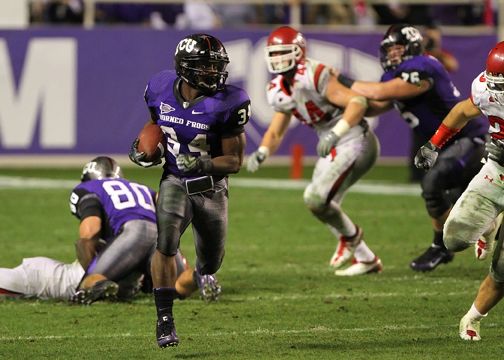 Support and attention are also increasing in the wider Fort Worth community. Mayor Mike Moncrief declared Nov. 13 "Go Purple Day." The city's web site encouraged citizens to wear purple in support of the team and its undefeated season and announced several downtown buildings would be lit in purple.
If things go according to plan, TCU football will be giving Fort Worth reason to celebrate for years to come. A lot of folks believe that 2010 will be "the year," Estridge said. "Hard to believe, but they could be better next year." Most of this year's key players will return, and the school's best-ever recruiting class, highlighted by Casey Pachall, Waymon James, and Skye Dawson, lies in wait.
BCS and its BS aside, TCU is in control of its own football destiny. If the Horned Frogs keep winning, the BCS will have no choice but to accommodate.
"Every day, I see something or read something to make me giddy like a little kid," J.W. Wilson, the former Frog player, said. "The stars seem to be aligned … and every day the excitement grows. … I never expected anything like this to be happening, but you want the guys who play after you to be even better. … Undefeated seasons and championships are realistic possibilities."
Patterson just hopes the hometown support will keep growing. "You don't understand the difference you can make," he told the crowd at a Frog Club luncheon. One of Patterson's favorite sayings is that winning takes only one point. "The one point is in the 48,000," he said, in reference to the record game-day crowd.
"I don't make promises," he said.  "We show up and give everything we got. We have come a long way, and a lot of people in Fort Worth have stood right beside us."
Coach Dutch Meyer coined one of the most popular sayings in TCU's football lore. "We'll fight 'em 'til hell freezes over, then we'll fight 'em on the ice," he said. Considering the hurdles TCU has leaped to earn back its championship stripes, it may be getting pretty cold here in Fort Worth.
Freelance writer Caroline Collier can be reached at caroline.collier@att.net.