The Blue Moon Café is near Eagle Mountain Lake and sits in a space that formerly housed the Possum Lodge barbecue café/store/gas station. Once you get past Loop 820, the café is another couple of miles on the right. Blue Moon lacks clear signage or, really, any signage at all that's visible from the road. Start looking on the right after you cross Bailey Boswell Road. If you hit the Harbor One Marina, you've gone too far.


In keeping with the place's origins, Blue Moon is decorated like a cute if slightly schizophrenic camping lodge. There are wagon-wheel chandeliers, whitewashed wood and brick appointments in the dining room, and old reach-in beverage coolers that stand near a counter with stools. Your beverages come in Mason jars (with a mini version for kids). Out back, Blue Moon has an actual bar and a patio with a small fire pit. If you make it there between 4 and 7 p.m., some drafts are only $2 apiece.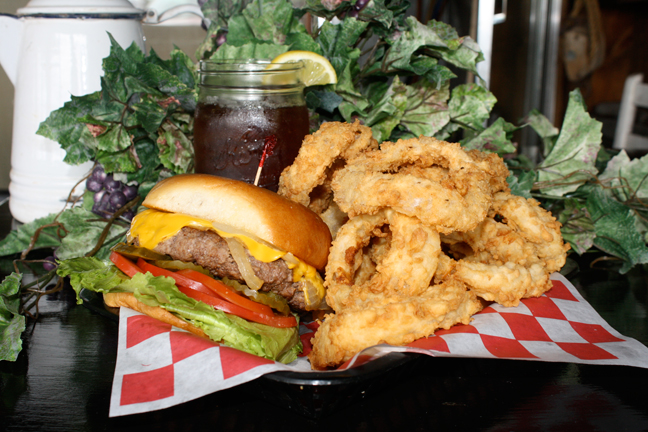 The menu is a simple, one-page laminated job. The appetizers are comfortable and not inventive, except for the "possum tails": quartered and seeded jalapeños dipped in a tasty batter and fried. The result: not overly breaded, not overly spicy snacks, served with delicious, house-made ranch dressing. The main-course section of the menu is also fairly simple, just a selection of moderately priced burgers, sandwiches, and salads.
The mushroom-Swiss burger was a satisfyingly messy double-fister of peppery, slightly charcoal-flavored beef bathed in cheese and topped with tasty grilled onions — the 'shrooms seemed to have been of the canned variety, but everything tasted fabulous, including the slightly sweet, round Texas toast that took the place of a bun. Skip the add-on fries: Mine were lukewarm and not that appetizing. Try the scrumptious, lightly battered onion rings instead.
The salad was a plain-Jane combo of hearts of romaine with shredded carrots, tomato, and croutons: not gourmet but good for dipping into more of that savory ranch dressing.
None of the above might warrant a drive from downtown to Eagle Mountain Lake, but the scales tip toward the Blue Moon when you get to the I-don't-care-how-large-my-butt-may-get fried chicken. Seriously, it might be the best fried chicken I've ever tasted. A huge boneless chicken breast arrived in a batter that was neither too salty nor peppery and deep-fried to absolute perfection. The meat was moist, and the crust was crunchy without being overwhelmingly greasy. The bird comes with heavenly cream gravy: peppery, creamy, not lumpy, and not too sweet. A hubcap-sized homemade roll and your choice of two sides complete the order.
The homemade mashed potatoes included the skins and tasted great with or without the gravy. Don't order the bland fried okra (which I suspect is one of the few things on the menu not made from scratch). Instead, go for the mac and cheese. The soft-cooked pasta in a mild, slightly tangy cheese sauce definitely wasn't from a package.
Then there was the dessert table, another strong argument for making the drive. Fancy restaurants have a cart or a tray. Blue Moon has a table. Plates of fresh cakes and pies, everything lovingly made by co-owner Kathy Brock, sit covered in plastic wrap, just teasing you to dive in. Our efficient and multi-tasking server Kenny rattled off our choices without even looking. My guests and I tried a wonderful, simple buttermilk pie that had a perfectly caramelized top. The treat was sweet but not cloying, rich but not too heavy. We also tried the chocolate meringue pie. A generous serving of about 6-inch-deep bitter/sweet chocolate filling topped by light, sweet meringue, the delectable something was enough for two and a half diners. Both piecrusts were flaky and not at all soggy.
Blue Moon Café is open for Saturday and Sunday breakfast. Kid-friendly and casual, with excellent service, it won't have you singing the blues at all.
Blue Moon Café
9120  Boat Club Rd, FW. 817-236-7979. Tue-Thu 11am-9pm, Fri 11am-10pm, Sat 8am-10pm, Sun 8am-3pm. Closed Mon. Accepts all major credit cards.