The December holidays draw ticketbuyers who would never dream of darkening a theater door the rest of the year. They seek traditional, familiar shows, and theaters naturally oblige. Stage critics, who fastidiously observe the full theater season, want something a little different come good-cheer time. It's sort of like the regular churchgoer versus the holiday pew warmer: The faithful attendees resent not only the yuletide invaders for crowded parking lots and crying tots but also the preacher for dumbing down his sermon to accommodate these near-heathens.


But when troupes do make a sincere effort to stage something challenging — or at least tie a pretty new ribbon onto a dusty old box — critics tend to be divided on how much of a difference it makes. Is the Rat King a fresh dramatic invention if he pursues Clara in cowboy boots and spurs? Occasionally, though, we ink-stained Scrooges are hit between the eyes with something novel. The old truism "more tears are shed over answered prayers" is nowhere truer than with Theatre Arlington's current staging of Mark Medoff's digital-era holiday fable Kringle's Window.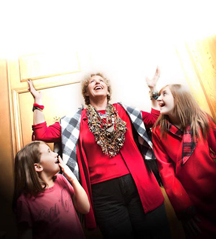 Make no mistake: This is a pretty bad script, or perhaps it only seems so clumsy because the author is Medoff, who wrote the graceful and intense 1980 play Children of a Lesser God about a pair of lovers — a hearing man and a deaf woman — who clash over his insistence that she learn to speak. More than a decade after that enormous success, Medoff was commissioned by Stage One: The Louisville Children's Theatre to write a play specifically for one of its seasons. "Commission" is theaterspeak for "I double-dog dare you to write a play for kids." The point was for writers of adult material to take a risk and conquer a different kind of audience. Kringle's Window made its professional debut in Louisville in 1992.
As directed by B.J. Cleveland, Theatre Arlington's area revival is performed earnestly and straightforwardly enough by a cast of kids and adults. Their delivery ranges from competent to comically inspired. And the curiosity value of the piece was high enough to sustain my interest — wouldn't you want to know what happens next when a wisecracking, time-traveling sorceress reacquaints a fractured family with Santa Claus via the internet?
The magical mystery lady is Mrs. Rosen (Trich Zaitoon), who can fly through outer space and cyberspace with equal ease. She's given to sitting on rooftops, which burdened me with memories of Agnes Moorehead in Bewitched. As with Endora, inanimate objects move at Mrs. Rosen's will. The audience is enlisted to help her cast spells — "Estoopay, Estoopar, Estoopan!" — that will help sisters Boomer (Abby Kaufman, 8) and Becka (Emily Baumgartner, 13) find happiness during a holiday as mom Irene (Dena Dunn) and dad Dean (Todd Hart) go their separate ways. First on the agenda is Boomer: She's still reeling from the news that there is no Santa Claus, delivered ingraciously at a mall toy store by Becka, who's trying to impress her high school crush, Ron (Nathan Smith). He's a scornful super-rationalist who could easily be a stand-in for atheist activist Christopher Hitchens. Soon Mrs. Rosen helps Becka find the secret address to Santa's web site, and — spoiler alert — the chubby old guy makes an appearance to distribute multicultural platitudes as plentifully as he would Xbox 360s.
The biggest problem with Kringle's Window is that while playwright Medoff strains not to talk down to youth audiences, he winds up talking over them. Serious themes apparently culled from an undergraduate course in comparative religion flare up regularly, but there's no joyful imagination to lend them anything like kid appeal. And every time the benevolent but incongruous Mrs. Rosen sweeps in to flout the laws of nature, the play acquires an edge of alt-universe zaniness that makes you wonder if Medoff is pulling everybody's leg. Zaitoon isn't bad, but her character is too baroque and oddball for a holiday show with a feel-good message. She steals focus from the inevitable moral about peace and universal love.
So does Santa, for that matter, during his climactic appearance. I'm all for educating kids about the great religions of the world, but even I was a little perplexed when Santa told Boomer that he harbored the spirits of Jesus, Buddha, and Allah. That strange announcement led to my new holiday wish. Dear, Santa: Please let some ambitious, well-meaning youth minister at a Baptist mega-church attempt to stage Kringle's Window as the big holiday pageant. When all of the white witchcraft shenanigans and cultural relativism hit the fan and TV coverage of the controversy begins, Medoff's confused contemporary fable might acquire new significance as political theater.