The Colorado jam band scene and the Brooklyn avant-garde would seem to be as mutually exclusive as oil and water, but this disc proves they aren't as incompatible as one might think. Since relocating to the Apple from Boulder in 2004, keyboardist Eric Deutsch has worked with guitarist Charlie Hunter and singer Erin McKeown, among a host of others.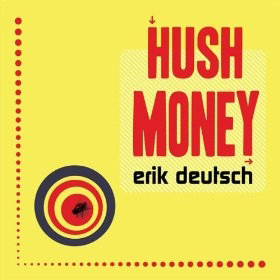 On Hush Money, Deutsch layers his keys – acoustic and electric pianos, Hammond organ, vintage synths, and even a cheesy Casiotone – the way Nels Cline stacked guitars on this year's Coward. But while Cline's album was the work of a single muso, here Deutsch is supported by his former cohorts from the '90s jam band Fat Mama as well as bassoonist Sara Schoenbeck (Wayne Horvitz's Gravitas Ensemble) and a couple of saxes.
The resultant sound is lush and orchestral in the same way as, um, a Steely Dan record, only with a few more modern referents. Guitarist Jonathan Goldberger is hardly your stereotypical jam band axe-slinger. He employs Johnny Greenwood atmospherics in place of Larry Carlton slick licks on the title track; peels off a spiky, Marc Ribot-like solo on the mutant tango "Black Flies"; and plays sonar-ping arpeggios that contrast nicely with the Bill Evans-like introspection of "Flytrap." "Dirty Osso Bucco" has a nice SNL band soul-jazz vibe to go with its title, which recalls the food-inspired titles of classic Blue Note jams in a winking, postmodern way. The cinematic "Get Out While You Can" uses a framework of overlaid ostinato figures to build tension that is released in a flurry of synth squiggles over the elegiac second movement. Overall, this is a composer's album, rather than a player's, and Deutsch is a talent to watch. Cop via www.hammerandstring.com.