Based on the unhurried look of quietly chatting customers during a recent Saturday afternoon visit, Paul's Donuts, Subs & Gyros has become a fave hangout for Southside regulars to chill over a breakfast or lunch plate. The place practically demands that you loiter. Outside, the red brick building boasts bay windows and curtains of ivy. Inside, the open dining space is both casual and soothing. The walls and floors are a warm, creamy neutral color with lots of light pouring in from those big windows.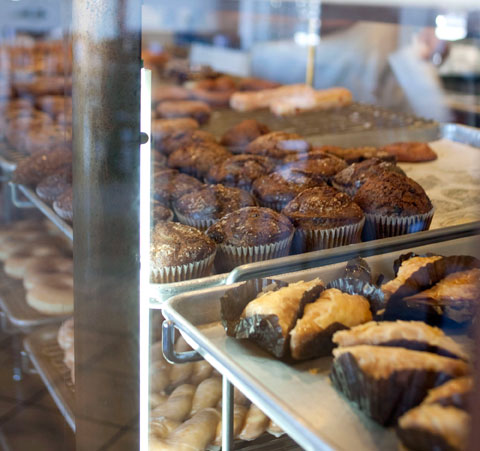 Donuts, subs, and gyros are indeed three of Paul's far-flung specialties, but the place has many personalities. It's also a convenience store, selling bottled sodas, juices, energy drinks, and frappuccinos as well as chewing gum and the local dailies next to the register. And it's a hamburger stand that prepares breakfast items and comfort food standards such as chicken-fried steak and fried shrimp on the spot from a menu listed in black plastic letters above the counter.
We called before our afternoon visit and were told that breakfast is served all day (the café's not open for dinner). When we got there, though, the woman behind the counter corrected that: Lunch is served at all hours — breakfast ended around 11:30 a.m. WTF? Images of Paul's reputedly spectacular breakfast tacos, egg-and-sausage rolls, and puffy donuts had been dancing temptingly in our heads.
Grudgingly, we agreed to lunch. But our taste buds were primed for morning-style victuals, so Paul's was going to have a hard time winning us over. Although nothing we subsequently sampled was imaginative in its planning or execution — Styrofoam plates and plastic cutlery reign here — everything was hot, fresh, and solid and surprised us with its attention to detail.
First up was the cheeseburger, served in quarter- and half-pound sizes. We ordered the half, and the medium-grilled all-beef patty came out hearty and drippy inside a yellow-mustard-smeared bun, with tart dill pickle slices, thin slices of roma tomatoes and red onions, and iceberg lettuce shreds tumbling out. Succulent mushroom slices and salty bacon crumbles, two extras, communed nicely with the melted American cheese.
The chicken-fried steak dinner didn't concern itself with presentation, either: just a breaded, medium-size patty covered with pepper-flecked white gravy accompanied by long, square-edged, straight-from-the-fryer fries and two slices of grilled toast. But the pounded-thin beef was juicy and not the least bit stringy, the tender breading held to the meat, and the whole thing could be cut with a plastic fork. The hot, smooth cream gravy easily beat out ketchup as a condiment for the thick fries.
Paul's also serves a highly recommended gyro platter, and this too was expertly flavorful despite the simple ingredients. The curled strips of gyro meat — lamb and beef ground together — were singed along the edges but dotted with beads of hot grease that promised and delivered tenderness. The tzatziki sauce (yogurt-cucumber-garlic dip) was as thick as margarine, savory, and appeared to be homemade. The accompanying Greek salad had iceberg and romaine shreds, red onion slices, slender pitted black olives, thick peeled cucumber wedges, and crumbles of soft feta in a light olive oil-and-vinegar dressing. Again, there was nothing revolutionary or even sexy about the platter. The kitchen staff was just supremely confident in its ability to wow us despite the familiarity-of-the-food factor. That's the vibe of Paul's Donuts, Subs & Gyros in a nutshell.
Paul's Donuts, Subs & Gyros
1324 Hemphill St, FW. 817-926-5500.
6am-3pm Mon-Fri, 6am-2pm Sat, 7-11:30am Sun. All major credit cards accepted.