From the company's web site: "5 & Diner [522 Lincoln Square, Arlington] is a 50's-style Diner restaurant concept offering tasty food and fun in a casual, family-friendly environment … .  The conceptual development of the 5 & Diner brand is the result of food trend research … . For franchise info contact … . " Oooh, Chow, Baby is going to hate this place! It must go now!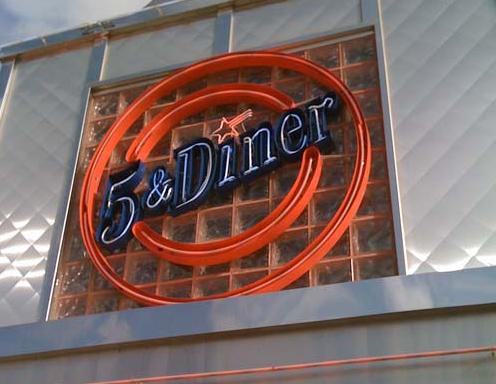 First of all, the only hints of faux 1950s in this place are the golden-oldies Muzak and some photos of Marilyn Monroe along the bathroom hallway. The counter where one would like to imagine bobby-soxed teens sharing a malt and spinning around on vinyl-covered stools is fronted instead by four-legged bistro-style chairs. Et cetera. This was all explained in Chow, Baby's postprandial perusal of the web site: What we have at Lincoln Square is the chain's "Delux" (who needs that extra "e" anyway) version, which is more contemporary and features "a much higher flavor profile." Fine, let's check out these "award-winning burgers" that are "cooked to perfection." I'm sure they'll be "just great."
The first surprise was our server, Joanna, who positively doesn't belong in a chain restaurant: Instead of trying to make us Have a Nice Day!!! all the time, she was calm, menu-knowledgeable, competent, and empty-water-glass attentive. Also she asked how Chow, Baby wanted its burger cooked and topped: big bonus points. And she gave us extra sauce for our fried calamari ($7.29), which Chow, Baby almost didn't order because that's really not a fair test for a chain diner – and yet this one nailed it, with a huge pile of light, peppery, crunchy-battered yummies. On the other hand, you'd expect a diner to do well with chili (cup $1.99), but this glop seemed to come straight from a Hormel can, down to the slightly tinny aftertaste.
As expected, the main constituent of Chow, Baby's bacon cheeseburger ($7.99 with fries) had been machine-pressed and previously frozen, but it was also hefty, perfectly charbroiled, and quite juicy. With thick bacon, mild cheddar, and "Kenny's special sauce" (basically ketchup and mayo), it was a tasty double-handful. Root beer shake ($4.39) was the perfect liquid accompaniment, though the cheese fries ($1.29 upgrade) were a failure, with lumpy, unmelted cheese shreds. Overall: Some good, some not so good; nothing really to bitch about. Bummer.
E for Excellent
Chow, Baby was aimlessly driving around Stop Six the other day when it realized, prompted by a flashing "Open" sign, that it had never eaten at the legendary Mama E's BBQ (818 E. Rosedale St.). Now? Sure!
Mama E's is in a former KFC, and it's lost any splendor it might once have had. But the folks are friendly, and the barbecue is indeed marvelous. Chow, Baby's three-meat plate ($11.50) groaned under the weight of  tender, juicy, burnt-edge brisket; not-too-hot links; and a big ol' meaty rib, all covered in secret-recipe spicy-sweet sauce. Instead of your basic BBQ beans & slaw, side offerings are Southern soul: peppery cabbage, thick red beans and rice, fresh-fried okra, and chunky mashed potatoes with that lovely grayish drippings-sheen.
Of the meat-and-three plates, Chow, Baby has so far tried only the smothered pork chops (plate $8.50) with a lovely soft crust that melts into the gravy, so fall-apart that a plastic fork is the only tool you need. But that's enough for Chow, Baby to form an opinion on Mama E's: Excellent.
Contact Chow, Baby at chowbaby@fwweekly.com.