In Britain, the tradition is that on Boxing Day (Dec. 26), there's a full slate of sports for people to enjoy: soccer, rugby, cricket, horse racing, hunting, and yes, boxing (though that's not where the name comes from). This year, through the auspices of various schedule-makers, there's something like that going on in Fort Worth for New Year's weekend.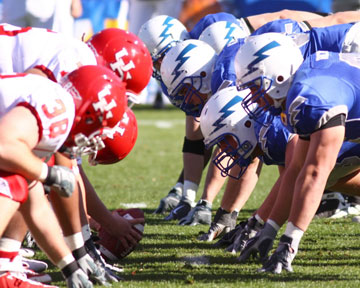 The Bell Helicopter Armed Forces Bowl looms on New Year's Eve, and if it looks familiar, that's because the two teams that contested it last year (Air Force and University of Houston) are back for a rematch. The Falcons of the USAF Academy have now lost the last two Armed Forces Bowls, and they'll be eager to break their streak, as well as avenge last year's 34-28 defeat by the Cougars.
On Saturday, TCU offers up a basketball doubleheader, with the women taking on Texas A&M-Corpus Christi before the men go up against Rice. Then on Sunday, there's the Dallas Cowboys facing the Philadelphia Eagles in a battle for supremacy in the NFC East. After that, you can head up to North Richland Hills to watch indoor soccer, as the Texas Outlaws take on NIS, which sounds like the name of an investment firm but is actually an amateur Latino team based in this area that includes several players from Mexico's third division. All in all, there's something to please everyone except fans of the Fort Worth Cats — it's too cold for baseball. As for hockey – check out Wednesday's blurb on this page.
Check Calendar for locations, dates, times, and prices of local sports events.