OK, so everybody's favorite new radio station, KERA's KXT/91.7-FM, is playing a lot of good stuff, stuff that can't be heard anywhere else on the dial except maybe on KTCU/88.7-FM during The Good Show (Saturdays from 9 a.m. to noon) or Sputnik (Saturdays from noon to 4 p.m.), songs from heavy-hitting indie-rock bands like Wilco, Ghostland Observatory, and Gomez, and from classic rockers like The Who, The Band, and the Rolling Stones, and from totally obscure but important indie-rock bands like Snow Patrol, Metric, and Devotchka (whose frontman, as I've said before, sounds a lot like Flickerstick's/The February Chorus' Brandin Lea, which is a good thing).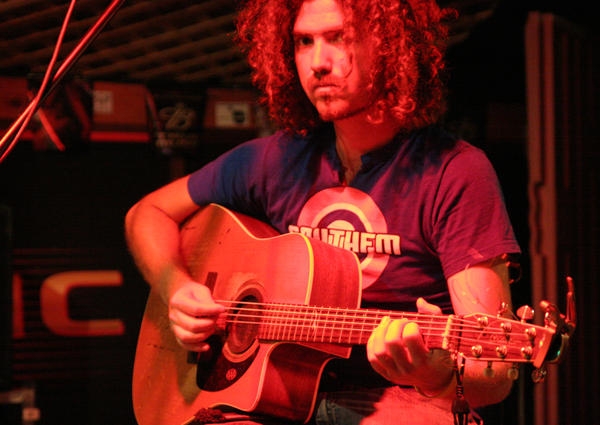 Are enough 817'ers spun during drivetime? No, but then again, if five or six of them were getting repeated airplay during the precious weekday-morning and weekday-late-afternoon hours, I'd still probably be complaining that KXT was neglecting backyard artists, who, mind you, are just as good as any major-label acts. KXT knows, though, having played Collin Herring, Telegraph Canyon, Fate Lions, Whiskey Folk Ramblers, and Goodwin, among others, during primetime a couple of times. KXT also does in-studio interviews/performances and has welcomed into its Dallas studios Maren Morris, Telegraph Canyon, and Fate Lions, among a couple of others from the 817. Anyway, the point is that I was pleasantly surprised on New Year's Eve when on the way to some friends' house, I was listening in the car to KXT and heard "Evergreen," a 2008 gem by psychedelic-folk Fort Worth singer-songwriter Daniel Katsük and an entry in my list of songs of the decade ("The Decade's Best," Dec. 30, 2009). If I had Katsük's phone number, I would have called him and been, like, "Dude! It's HearSay! Man, they're playing 'Evergreen' on KXT! Put it on now! Hurry up!" The last time I was actually giddy about the radio was back in 1983, when I listened for hours to WDVE/102.5-FM back home in Pittsburgh to hear the new single from a little band from the Great White North called Rush. (Yes, I'm still a dork, but I wouldn't listen to terrestrial rock radio for any longer than a couple of seconds today and only while driving.) Along with Fort Worth's nigh-legendary ska-dub outfit Pablo and the Hemphill 7, Katsük and his band, KatsüK (note the capital "K" at the end), will be celebrating the release of his new EP, Skeleton Key, on Friday at Lola's Saloon-Sixth (2736 W. 6th St. in the West 7th Street corridor, 817-877-0666). Based on what I've heard, I can genuinely say don't expect a lot of "Evergreen" moments — Katsük's new material is edgier, no little thanks perhaps to his relatively new guitarist and background vocalist (and informal svengali) Jeff Dahlgren, who's known for his work with hot French popster Mylène Farmer. Visit www.myspace.com/katsuk. … One of the things I'll miss about Mayfest ("Mayfest: Maybe Not," Aug. 26, 2009) is judging battles of the bands. (I'm kidding.) However, I do believe that one year I was entertained by a Fort Worth pop-punk outfit called The J. Walkers, who were really, really good. And still are. The band is in the studio now with Universal Records' Geoff Rockwell (Forever the Sickest Kids, School Boy Humor). The EP should be out by summer 2010. BTW, the band didn't win the Mayfest thingie. Feh. Check out www.myspace.com/thejwalkersband.
Contact HearSay at hearsay@fwweekly.com.