Fort Worth roots-rock quartet Chatterton has been together in one form or another for a few years now. Though frontman — and lone remaining original member — Kevin Aldridge claims Chatterton has always been a traditional band, he's never had as good an argument as he does now. The band's current incarnation, he said, is truly a collaborative effort — each member is expected to contribute. "My philosophy is, it's like building a house," he said. "I'm the architect, but we build it together. It takes everyone contributing to make a song. Otherwise, it's just a bunch of half-ass ideas."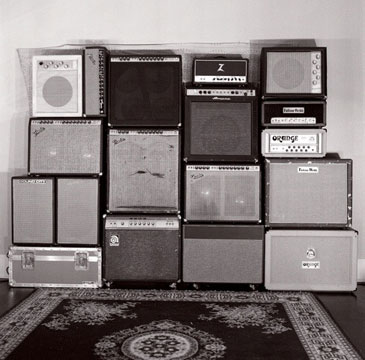 The band's new EP, The Cold Open, which was recorded over two days at The Troubadour Studio in Lockhart, reflects the new direction, sound, and collaborative energy that the band has been cultivating since the bandmember door stopped revolving last May and settled on Aldridge, guitarist Austin Woodrow Morgan, drummer Ryan McCauley, and bassist Paul Bryant.
Aldridge describes his music as "new old stock," a term used to describe a new instrument that is made using the original specs of a vintage model. "It works for us because our songs are new, but they sound older," he said. "We don't add modern touches, no bells and whistles."
The five songs on the elegantly cohesive disc range all over the roots-rock spectrum. "Here's the Thing" and the leadoff track, "Blues IV," are both jangly, Petty-esqe songs that feature haunting organ notes held over bluesy guitar. The intense, driving "Stalling Out" is one of the disc's catchier, more anthemic tracks. The only carryover from the band's early days is the bright, up-tempo "A Good Place to Start."
Aldridge's reedy, weary voice unites all of the tracks. Simultaneously catchy and melancholy, the songs convey a sense of deep regret and self-loathing but maintain an intellectuality and sharp focus. Aldridge is able to communicate even the most abstract and complex feelings so clearly that they seem familiar and relatable.
One song reflective of Aldridge's smart, brooding style is "Here's The Thing," about pretending a dead relationship is still good, just for appearance's sake. "No road goes through me," Aldridge sings. "I'm a barricade / Sitting back, saving face / My mistake / Is no hand left to lay / I sold my story cheap / I go off the page."
The biggest difference in their sound, Aldridge said, has been the addition of guitarist Morgan, who played previously with the defunct Black Bonnets. Morgan brings more of a blues-rock, Keith Richards feel to the group. "We went from being that West Coast, AM-'70s kind of a band to a more dynamic rock 'n' roll band," Aldridge said.
Morgan said that he had always liked Chatterton but thought the group's earlier sound was a little too low-key for what Aldridge told him he was trying to do musically. "It wasn't a conscious decision to change the sound," Morgan said. "I just have my own way of playing. I like to be involved in the songwriting."
Only one track on The Cold Open, "Blues IV," was written since Morgan joined. However, Aldridge said, the guitarist has breathed new life into the band's existing songs, making them sharper, edgier.
Morgan said the recording process helped him, Aldridge, McCauley, and Bryant determine the band's future sonic direction.
After the EP comes out this week, the band will do so some regional touring, mostly weekend trips. Aldridge and company already have several songs ready to be recorded.
"I've invested my entire adult life in this," Aldridge said. "I feel this is a special group of people playing together."
Chatterton
Fri w/Telegraph Canyon and Glen Farris at Lola's Saloon Sixth, 2736 W 6th St, FW. 817-877-0666.