The sprawling megaplex of the Southlake Town Center's shops and restaurants would be easy to dismiss as chain-filled and yuppified. Except, I sheepishly admit, I enjoy walking around and shopping there. On one trip, I noticed a fancy chain restaurant, Truluck's Seafood, Steak and Crab House, and thought, "Quite a step up from the Corner Bakery and Jamba Juice around the corner."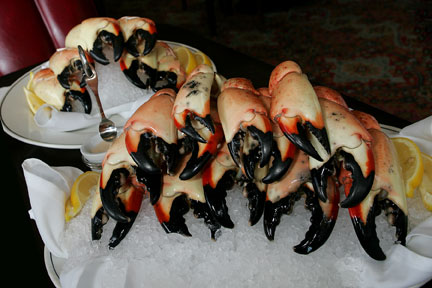 Since it's a tony Southlake restaurant, I expected a hefty dose of swank, and Truluck's did not disappoint, with its rich red banquettes, dark wooden tables and chairs, and flawlessly efficient service. Tap water is out of the question — have a bottle of Truluck's chilled, aerated water to whet your appetite.
What I didn't expect was the corporation's commitment to environmental stewardship. Endangered or overfished species aren't on the menu. The stone crab served in all of Truluck's outposts — in Texas, California, and Florida — comes from the Truluck crab fisheries in Naples, Fla., which, according to the company, "ensures that all crab is caught and prepared safely and humanely."
Some restaurants have a silver dessert tray. Truluck's has a crab tray, with three sizes of Florida stone crab claws as well as Dungeness and king crab. We started with the stone. Served icy cold with a chilled mustard-infused butter, the claws came pre-cracked, and the meat was sweeter than any other crab I've eaten.
The deep-fried calamari featured fried jalapeño slices and a crispy, salty batter that didn't suffocate the delicate rings and tentacles. The generously sized appetizer was accompanied by a spicy tomato coulis (a turn on the horseradish-ketchup cocktail sauce) and a more traditional though equally scrumptious remoulade.
The wedge salad came with icy plates and an icy fork — seriously, the fork was cold. Delicately chopped tomatoes and smoky, crisp bacon delightfully joined the Maytag blue cheese and tangy housemade blue cheese dressing.
Menu items change based on what's in season. The jalapeño salmon was a sweet, delicate fillet of Scottish salmon covered with luscious crab meat and gulf shrimp in a spicy béarnaise sauce, with some of the most delicious, creamy parmesan-accented mashed potatoes I've ever had. By contrast, the Texas striped bass Pontchartrain was surprisingly hearty. The accompanying smothered shrimp and crawfish, lightly fried in a parmesan crust, were perfect, though I enjoyed the mashed potatoes that came with the salmon more than the dirty rice from the N'awlins-style dish.
Even the beef at Truluck's arrives decked in seafood. The Niman Ranch fillet of beef Oscar was a magnificently tender cut of free-range, antibiotic-free meat, topped with sweet blue crab meat, crunchy shaved asparagus, and more of the béarnaise sauce. The 5-oz. portion looked dainty, but when all was said and done, the richness of the meat, potatoes, and sauce turned out to be more than enough.
The curry-flavored, veggie-laden side dish of crab-fried rice was overkill — most of the main dishes come with some sort of starch. You won't need any more.
Truluck's chocolate sack was easily the most spectacularly presented dessert I've ever seen. Dark chocolate is painted onto a standard-size lunch sack, and then the sack is peeled away, leaving an approximately foot-high chocolate shell that is stuffed with a mixture of berries, whipped cream, and pound cake. The whole thing is upended on a plate at your table, smashed, and, for complete excess, covered in melted Godiva chocolate drizzles. A tableful of four admitted chocoholics devoured the cake but couldn't finish the thick chocolate shell. We were too full to take the thing home. Really.
Truluck's Seafood, Steak and Crab House
1420 Plaza Place, Southlake.
817-912-0500. 5-10pm daily.
All major credit cards accepted.