I really meant to go to bed early on Monday night. Or early-ish anyway. Since I had a jam planned at The Me-Thinks World Headquarters in Haltom City, I figured I'd play some music, float home on the better part of a six-pack, and pass out around midnight. But as I was staring at the glorious stacks of beer in the convenience store cooler on the way out to The HC, I was struck with a rare moment of good judgment.


Given the 20-minute drive and my expired inspection sticker, I figured I didn't need to make myself any more of a cop magnet than I already was. I put the sixer back and grabbed a couple of Coors tall boys. Yeah, yeah, I know — half a dozen of one, 48 ounces of the other. But whatever.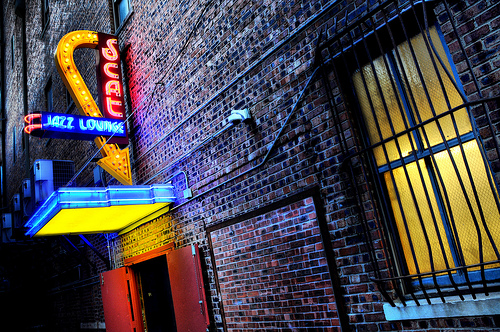 Of course, plans are made to be broken. By the time we were all jammed out, I had polished off both Banquet Beers and was looking forward to hibernating. But then I got a text. It told me to go downtown to the Scat Jazz Lounge.
I'd been to the Scat only once before on the Sunday of last Labor Day weekend. I think I saw some kind of mambo band playing, but it was a holiday, and I was drunk. I remember the joint being dark and somewhat empty, and after one drink, I wandered over to the Library Bar nearby. If you want to annoy yourself sober, try making your way through a throng of agro-dudes with pencil-thin beards giving you the stink-eye. Actually, that doesn't really work either – I just ended up drunk and menaced. But anyway, it'd been a while since I'd been to the Scat, and who am I to ignore a text instructing me to drink?
What's cool about the Scat is, well, pretty much everything, but I really like that you have to take an elevator to get there — the place is in the basement of the Woolworth Building. Taking the elevator makes you feel a little like James Bond and a lot like Inspector Gadget. I dimly recall from my last visit that there was a pretty funny couplefight going on while I waited for the elevator, and lo and behold, the same thing happened again last Monday. Call it schadenfreude, but I think most public couplefights are hilarious. I hadn't even walked in the door, and I was already having a good time!
I got in the elevator, and it took me down to the foyer. From the other side of the double doors I heard a pretty rad guitar solo going on, and when I pushed them open, I saw Big Mike Richardson shredding on a Telecaster in a jam with Josh Weathers and the True+Endeavors. I swear I didn't intend to talk about Fort Wizard's best and toughest soul band this week, but there they were, and I just report what I see. And who cares. They were making the party happen and on a Monday night
at that.
So the Scat was totally goin' off, but better still, it was goin' off for a good cause – I learned later that the night was a benefit for relief efforts in Haiti (see: Blotch, "Haiti Benefit at Scat Jazz," Tue., Feb. 2, 2010). I don't know how much money was raised, but there was a big crowd having a blast: We can assume a decent amount of ka-ching came roaring in. The bartenders were pouring from a keg of some new Rahr brew I hadn't yet tried, and since it had something to do with generating relief funds for Haiti, I felt good about "helping." (I drank a lot of it.) I didn't bother counting my empties, but my wallet felt a lot lighter by the time I settled in at IHOP a few hours later. When I finally made it home around 4 a.m., I realized an important lesson in temporal physics: If you stay out late enough, you end up going to bed early. I thus resolve to break plans more often, because it usually turns out for the best. – Steve Steward
Contact Last Call at lastcall@fwweekly.com.