The Fort Worth Grill is best described as "classic Southern diner." If food can be fried, baconated, or covered in gravy, you'll find it on the menu. The joint in North Fort Worth is co-owned by brothers Weldon and Dale Cypert and decorated in an odd combination of NASCAR racing décor and homey Down-South kitsch. The restaurant doesn't serve alcohol, although the waitress seriously considered our Sunday morning offer: "If we bring you a beer, can we have one?"


The menu is fairly eclectic for a diner, and, of course, breakfast is served all day. A vast array of lunch selections includes the classic Texas gut-buster Frito pie. Fort Worth Grill's version is the basic spicy chili-and-onion atop Frito chips covered in shredded cheddar cheese. It's a delightful, gooey mess: far better than the one at Sonic, and it could potentially beat the one served by the definitely more upscale Dutch's Restaurant.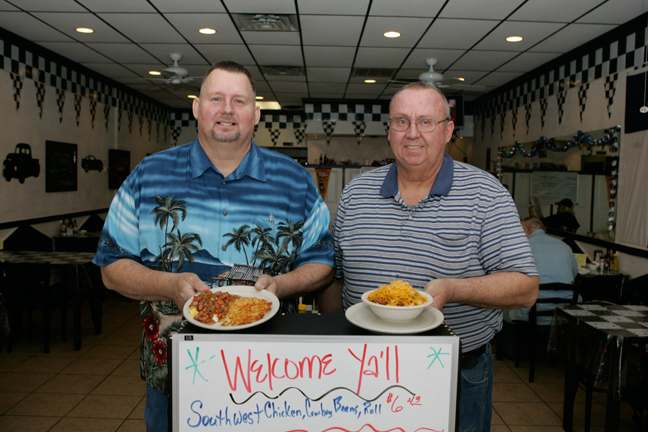 You have to love a place where the service is so attentive that, should your coffee be drained by an ounce, someone comes over with a warm-up. Ask the server "What's good here?" and someone from the next table over might chime in with his or her favorite suggestion. When we were debating about the Frito pie, a guy sitting nearby said, "Get the cowboy beans." When I hesitated, he said if we got them and didn't like them, the order was on him. "They're that good," he said. And he was right. The beans are hopped up ranch-style, with jalapeños and a host of meat seasonings mingling in a thick sauce. They were excellent atop the Frito pie mountain, although the menu also offers a beans-only adaptation of the pie.
The Cowboy Breakfast is the grill's version of the kitchen sink: two eggs, chicken-fried steak, biscuit, gravy, and French toast. The chicken-fried steak was fantastic: a salty, peppery, crispy, hefty hunk of chopped beef smothered by some of the best cream gravy I've ever tasted. It was not too salty, not too spicy, and not at all greasy. The home fries were a little odd, with an excess of red and green peppers. The eggs were soft-cooked perfectly as requested, and the server leaned in to tell us that while some restaurants' eggs come with both whites and yellows runny, at Fort Worth Grill, your over-easy eggs will have the whites cooked through, leaving the yolks delightfully runny. The French toast was basic white bread soaked in eggs and grilled. It was kind of old-fashioned and soothing, with a heady cinnamon kick, but nothing fancy.
Splurge on the pancakes. Seriously, some of the best carb-heavy offerings ever, the grill's lopsided, homemade cakes definitely had butter in the batter. The extra fat made for a crisp, slightly doughy, definitely melt-in-your-mouth product.
The biscuits with added chunky sausage gravy were tasty, though the biscuits themselves were only serviceable. The create-your-own omelet was made with egg product (too uniformly yellow to be otherwise), but it was delightfully fluffy. Sadly, most of the flavor came from the fixins' — we had picked mushroom and sausage from a laundry list of a dozen staples.
The restaurant is located north of 28th Street, and it's in a nondescript blink-and-you'll-pass-it strip that also includes a laundromat. The grill is so out of the way that one friend couldn't find it. The kitchen's pace could politely be described as "unhurried," and some plates came out much sooner than others. However, Fort Worth Grill is a nice neighborhood place, a local altar to the carb gods.
Fort Worth Grill
3257 N Beach St, FW. 817-744-7786. 7am-7pm Mon-Fri, 7am-3pm Sat, Sun.