As boilerplate as its title would suggest, Brooklyn's Finest is no different from any other gritty New York City cop thriller made in the past 35 years. If you took away the characters' cell phones, this could be a movie from 1995, and if you took the hip-hop music off the soundtrack, you could go even further back.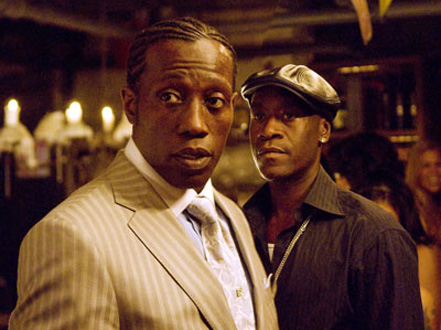 Don't believe me? Let's play Cliché Zapper with this plot summary. Don Cheadle plays an undercover cop who's infiltrated a gang under the street name of Tango, only to find that his double life is confusing his loyalties and bringing him too close to a gang kingpin (zap!). Ethan Hawke plays Sal, a crooked narcotics detective with a sick wife (zap!), a house full of kids (zap!), and another kid by a mistress (zap!) who's paying for all his expenses by robbing drug dealers. Openly jealous of large-living criminals (zap!), Sal's nevertheless riddled with Catholic guilt (zap!) over his misdeeds. Richard Gere plays Eddie, a broken-down beat cop who starts his day with a hit of whiskey and a round of Russian roulette (zap! zap!). He's a week away from retirement (zap!), and his only route to salvation is his love for a prostitute (zap!).
Presiding over this is director Antoine Fuqua, returning to the territory where he made his name. His 2001 L.A. cop thriller Training Day put him on the map, though in retrospect, that movie probably owed more to Denzel Washington and the novelty of casting him as the bad guy. Fuqua's work since then (such as King Arthur and Tears of the Sun) has revealed him as a filmmaker who's not overly blessed with imagination. He could still carve out a decent career if he picked good scripts, but as you can tell from the above summary, that's not what he's working with here.
The leads have all been better elsewhere, and the movie is stolen clean away by Wesley Snipes as the gang kingpin who's returned to the streets after eight years in prison. The 47-year-old actor has had myriad offscreen legal troubles this decade and spent the last five years headlining direct-to-DVD movies. So it's a pleasant surprise to find him here displaying the same stylish, self-assured menace that he brought to his similar character in 1991's New Jack City. Whatever Fuqua did to prod Snipes out of the constipated tough-guy posturing that has characterized his acting in recent years, it worked. It's gratifying to see Snipes rediscover the form that once made this frustrating, enigmatic actor such an electrifying screen presence.
Still, he's only a supporting player here, and the material doesn't deserve his efforts. Michael C. Martin's script is full of sudden deaths that are supposed to be shocking, yet an experienced moviegoer can predict them all down to the second. Brooklyn's Finest isn't badly made, but it's so grindingly conventional that it's no more convincing a picture of New York City police officers than Cop Out. That's not good.