The instant Chow, Baby heard that Brad Haskovec was launching a new cafe, the obsession began: Would he have the soup? Would he have the soup? A week before Freda's Place even opened, Chow, Baby was haunting 609 S. Jennings Ave. (the former Coffee House Gallery), asking bewildered workmen, "So, you think he's going to have the soup?"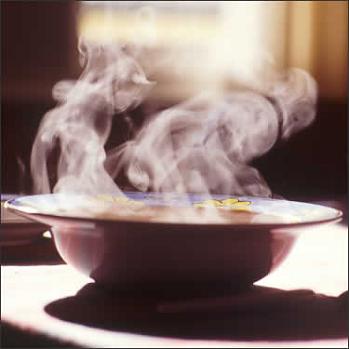 "The soup" is that fantastic, creamy-rich wild rice & bacon concoction that Chow, Baby fell in love with a year ago at Brad's Sandwich Shoppe inside the Handley Antique Mall (3129 Handley Dr.). And hurrah, it is on the menu at Freda's (cup $3.25). Better still, it's just one of dozens of knock-your-socks-off breakfast and lunch items.
So deciding on the first third of Chow, Baby's choose-your-own sampler plate ($8.50) was easy, but it took a good half hour of menu mulling to pick the second item, a half-sandwich — grilled mushroom wrap? sweet potato burrito? Ah, the cheese-oozy Monte Cristo (sandwiches $4.50 half, $6 whole). Good choice, Chow, Baby. And for a salad, mmm — salmon caesar? fruit with orange crème dressing? Chow, Baby went with warm cranberry chicken (salads $3.75 small, $5 large). There are also fancy hamburgers ($4.75-$6.50), rotating hot plate specials ($6.95), and a full breakfast menu that, not surprisingly, is chock-full of home-baked heartiness.
Brad has freshened up the old gallery a bit — now with warm tones of terra cotta and sunset yellow — but has kept the cozy coffeehouse-hangout feel. With soothing jazz and non-pushy service, this is a place to while away the hours, drinking soup all the day long. Or lattes ($3.25), if you prefer. They're good too.
No, You're a Fatty Crab
The first thing Chow, Baby liked about Fatty Crab House (5600 Rufe Snow Dr., North Richland Hills), oddly, was the décor: The place has that tin roof/fishnet theme going, but it's not nearly as overdone and silly as at most "seafood shacks" in these parts. Here, it seems almost tasteful. The second thing Chow, Baby liked was the staff: Fatty Crab House has been open only a couple of weeks, which may explain why everybody's still happy and helpful, but not how they're already so efficient at their jobs. (One of these days, a kitchen-snooping Chow, Baby is going to get itself cleaved.)
Server Paige explained the system: Order and pay at the counter, and come back when she calls your number, except if it's not very busy she'll bring your order to you. It wasn't busy at 6 p.m. on a weekday, so Chow, Baby's third-favorite part of Fatty Crab House soon arrived: the boiled seafood platter ($23.60 for two), with fully a dozen king crab legs and lots of shrimp and sausage, plus corn and potatoes. Slightly overcooked and severely underspiced for Chow, Baby's taste, but probably just right for those not suckled on Zatarain's and Tabasco. The rest of the menu is similarly aimed at Fatty Crab's family-friendly neighborhood. It's heavy on baskets of fried shrimp, oysters, catfish, and chicken strips ($5.95-$10.95 with fries and hush puppies), some of which pop up as $5.99 daily lunch specials. You won't think for a second that you're in a coastal shack, but Fatty Crab House is a welcome addition to the Rufe Snow chains — and besides, the name alone is a trip.
Contact Chow, Baby at chowbaby@fwweekly.com.