The instant Chow, Baby heard that Brad Haskovec was launching a new cafe, the obsession began: Would he have the soup? Would he have the soup? A week before Freda's Place even opened, Chow, Baby was haunting 609 S. Jennings Ave. (the former Coffee House Gallery), asking bewildered workmen, "So, you think he's going to have the soup?"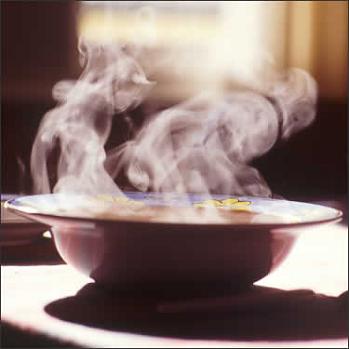 "The soup" is that fantastic, creamy-rich wild rice & bacon concoction that Chow, Baby fell in love with a year ago at Brad's Sandwich Shoppe inside the Handley Antique Mall (3129 Handley Dr.). And hurrah, it is on the menu at Freda's (cup $3.25). Better still, it's just one of dozens of knock-your-socks-off breakfast and lunch items.
So deciding on the first third of Chow, Baby's choose-your-own sampler plate ($8.50) was easy, but it took a good half hour of menu mulling to pick the second item, a half-sandwich — grilled mushroom wrap? sweet potato burrito? Ah, the cheese-oozy Monte Cristo (sandwiches $4.50 half, $6 whole). Good choice, Chow, Baby. And for a salad, mmm — salmon caesar? fruit with orange crème dressing? Chow, Baby went with warm cranberry chicken (salads $3.75 small, $5 large). There are also fancy hamburgers ($4.75-$6.50), rotating hot plate specials ($6.95), and a full breakfast menu that, not surprisingly, is chock-full of home-baked heartiness.
Brad has freshened up the old gallery a bit — now with warm tones of terra cotta and sunset yellow — but has kept the cozy coffeehouse-hangout feel. With soothing jazz and non-pushy service, this is a place to while away the hours, drinking soup all the day long. Or lattes ($3.25), if you prefer. They're good too.