The Cliburn Concerts continues its series of top-notch classical programs by presenting cellist Yo-Yo Ma at Bass Performance Hall on Tuesday. The acclaimed musician recently received a Grammy award –– his 16th overall –– for his latest album, Songs of Joy and Peace. Ma will be accompanied by pianist and frequent collaborator Kathryn Stott, winner of the 1978 Leeds International Piano Competition, who has found success as a chamber musician and more recently as artistic director of the Manchester Chamber Concerts Society in her native England.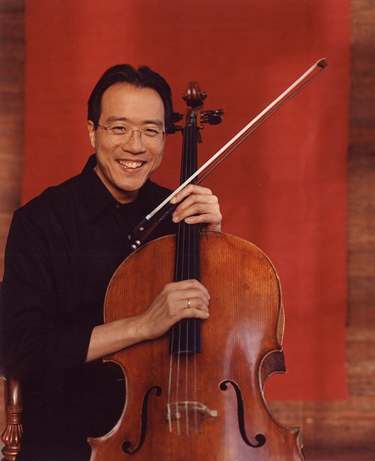 They will perform sonatas by Shostakovich, Franck, and Schubert. The Schubert piece (in A-minor) was originally written for something called an arpeggione, a curious six-stringed bowed guitar that enjoyed a brief vogue in the early 19th century and then disappeared. Modern audiences hear the music transcribed for either cello or viola and piano. The program also will include Piazzolla's "Le Grand Tango" and the Gismonti/Carneiro "Bodas de Prata & Quatro Canto."
A pre-concert talk about the program will be given by Shields-Collins Bray, the Cliburn's director of special programs, at 6:30 p.m. in Bass Hall's Green Room. Bray's discussion is free to all ticket holders.
Yo-Yo Ma performs at 7:30pm on Tue at 525 Commerce St, FW. Tickets are $15-90. Call 817-335-9000. Concertgoers must be eight years or older to attend.