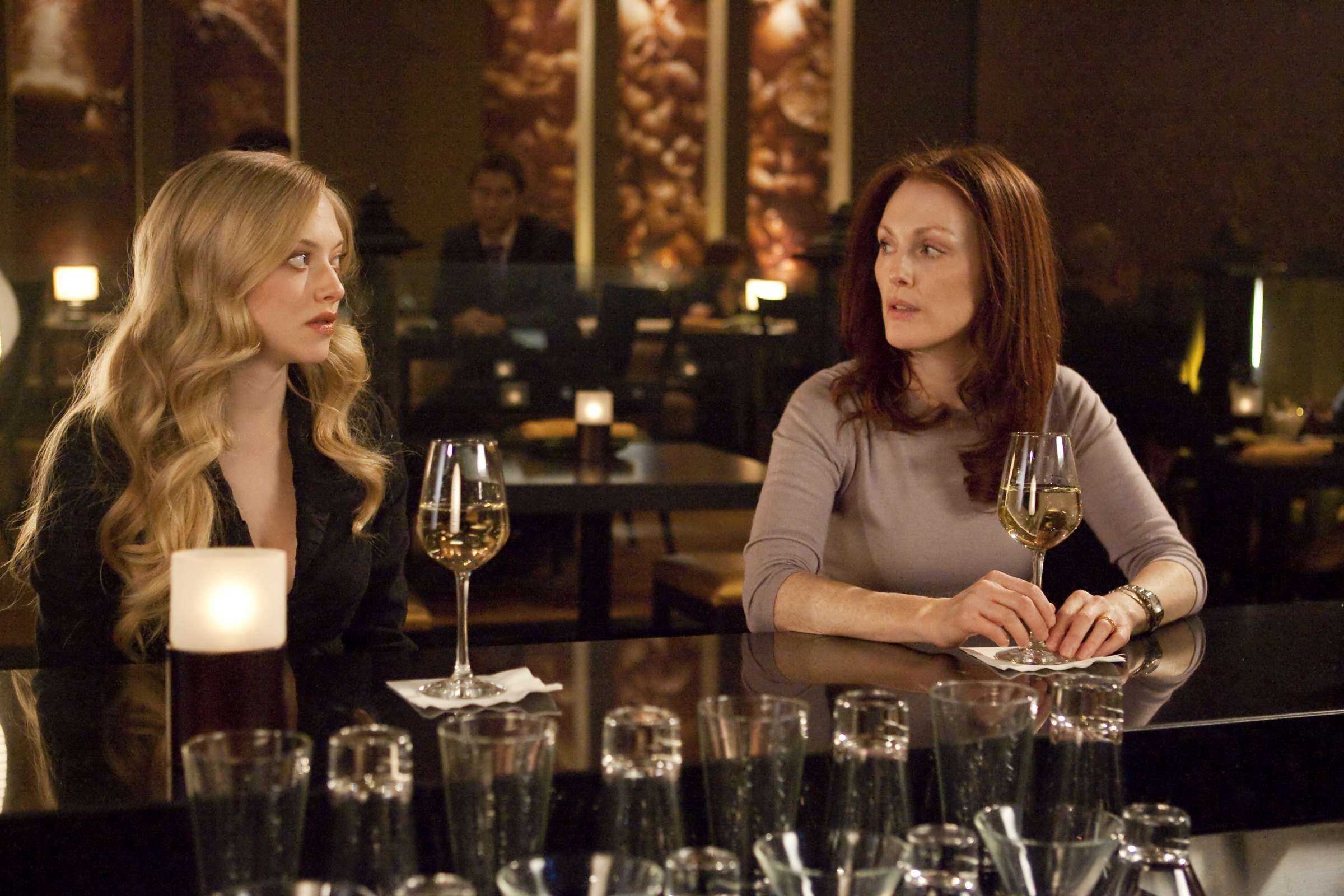 OPENING:
Chloe (R) Atom Egoyan's remake of Anne Fontaine's French film Nathalie … stars Julianne Moore as a woman who suspects her husband (Liam Neeson) of infidelity and hires a prostitute (Amanda Seyfried) to test him. Also with R.H. Thomson, Max Thieriot, Laura DeCarteret, Julie Khaner, and Nina Dobrev. (Opens Friday at AMC Grapevine Mills)


City Island (PG-13) Andy Garcia stars in this comedy as the head of a Bronx family that's riddled with secrets. Also with Julianna Margulies, Steven Strait, Alan Arkin, Dominik García-Lorido, Ezra Miller, and Emily Mortimer. (Opens Friday in Dallas)
Harmony (NR) Kim Yun-jin (TV's Lost) stars in this film as a Korean convicted murderer who decides to form a choral singing group in prison. Also with Jung Su-young, Park Joon-myeon, Na Mun-hee, Ji Seong-won, and Jang Young-nam. (Opens Friday at AMC Grapevine Mills)
Hot Tub Time Machine (R) John Cusack stars in this comedy as one of four friends magically transported back to 1986 as their teenage selves. Also with Rob Corddry, Clark Duke, Craig Robinson, Lizzy Caplan, Sebastian Stan, Lyndsy Fonseca, Collette Wolfe, Jessica Paré, Crispin Glover, and Chevy Chase. (Opens Friday)
Mother (R) The latest film by Bong Joon-ho (The Host) stars Kim Hye-jin as a rural Korean woman who sets out to prove the innocence of her mildly retarded 27-year-old son (Won Bin) after he's accused of murdering a child prostitute. Also with Jin Ku, Yoo Jae-moon, Na Mun-hee, and Kim Byung-soon. (Opens Friday at AMC Grapevine Mills)
Red Riding Trilogy (R) Three feature-length films set over a period of nine years about a British homicide detective (David Morrissey) and an investigative journalist (Andrew Garfield) who become obsessed with an unsolved series of murders in Yorkshire. Also with John Henshaw, Anthony Flanagan, Warren Clarke, Paddy Considine, David Calder, Ron Cook, Jim Carter, Tony Pitts, Mark Addy, Shaun Dooley, Sean Harris, and Sean Bean. (Opens Friday in Dallas)
Alice in Wonderland (PG) The latest film version of this story to freely expand on Lewis Carroll's adventures, Tim Burton's bizarre, unfocused adaptation stars Mia Wasikowska as a 19-year-old Alice who goes back down the rabbit hole to free Wonderland from the rule of the Red Queen (Helena Bonham Carter). Burton's at his best with material that engages his macabre sense of humor, and this doesn't fit that description. The film boasts some awe-inspiring effects and some inspired moments, but overall it's missing the small-scale whimsical absurdity that made Carroll's book into a classic. Also with Johnny Depp, Crispin Glover, and Anne Hathaway. Voices by Stephen Fry, Alan Rickman, Michael Sheen, Timothy Spall, Paul Whitehouse, Matt Lucas, Imelda Staunton, Michael Gough, and Christopher Lee.
Alvin and the Chipmunks: The Squeakquel (PG) The squeakquel turns out to be an episode of Glee with much worse writing and even more use of Auto-Tune. When good old Dave Seville (Jason Lee) is severely injured on a European tour, the Chips (voiced by Justin Long, Jesse McCartney, and Matthew Gray Gubler) have to go to high school, live with Dave's video game-addict nephew (Zachary Levi), contend with a rival group of female counterparts (voiced by Anna Faris, Amy Poehler, and Christina Applegate), and deal with dissension within the group. All this excess of plot is met with lame slapstick and groan-worthy puns, and the novelty of falsetto versions of "Single Ladies" and "Hot N Cold" wears off quick. Also with David Cross, Anjelah Johnson, and Wendie Malick.
Avatar (PG-13) James Cameron's first film in 12 years displays all his strengths and his flaws. Set in the 22nd century on a distant planet, the film stars Sam Worthington as a paraplegic Marine who hooks up his brain to the engineered body of a native to infiltrate the locals and learn about their culture. The first hour or so is dazzling stuff indeed, with the alien planet presented as a fully imagined world with gloriously realized flora and fauna — this movie is a cryptozoologist's dream come true. Yet the romance is bland and riddled with bad dialogue, and both the Earthling villains and the nature-worshipping natives are simplistic caricatures. The film uses the latest in special-effects technology, but the stale story makes it feel like a relic of a bygone era. Also with Zoe Saldana, Stephen Lang, Giovanni Ribisi, Michelle Rodriguez, Joel David Moore, CCH Pounder, Wes Studi, Laz Alonso, Dileep Rao, and Sigourney Weaver.
The Blind Side (PG-13) A Hollywood movie where most of the heroes are dyed-in-the-wool Southern Republicans, though that's the only non-cliché worth mentioning in this otherwise rote football drama based on the true story of Michael Oher, the homeless African-American teen taken in by a rich white family in Memphis and turned into an NFL-caliber left tackle. Sandra Bullock nicely underplays the role of family matriarch, which could easily have been overdone. Newcomer Quinton Aaron, though, isn't up to scratch as Oher, and writer-director John Lee Hancock leaves out too many details from Michael Lewis' book, turning an amazing story into a bland Hollywood product, without any of the uplift that he's aiming for. Also with Tim McGraw, Lily Collins, Jae Head, Ray McKinnon, Kim Dickens, and Kathy Bates.
The Book of Eli (R) More entertaining than The Road, this thriller stars Denzel Washington as a lone wayfarer/badass killer traveling on foot through a post-apocalyptic America, trying to carry the only existing copy of the Bible to a safe place. Standing in his way is a gangster demagogue (Gary Oldman, chewing the scenery as only he can) who wants to use the book to bend people to his will. This is the first film in eight years by Allen and Albert Hughes (Menace II Society), and though there are problems in the execution and Mila Kunis is overmatched as the girl who joins Eli in his road trip, the originality of the conceit and the nifty twists that the story takes are enough to make this a popcorn flick with more on its mind than most. Also with Ray Stevenson, Jennifer Beals, Michael Gambon, Frances de la Tour, Tom Waits, and Malcolm McDowell.
The Bounty Hunter (PG-13) This dreary, demoralizing action-comedy stars Gerard Butler as an ex-cop-turned-bounty hunter who's called on to arrest his reporter ex-wife (Jennifer Aniston) after she jumps bail because she's found dirt on crooked cops. The two leads may or may not be a real-life couple, but they have zero chemistry with each other regardless. The action and the comedy are both toothless, and the movie seriously bogs down during an interlude when the two hide out at the bed-and-breakfast where they spent their honeymoon. Terrible stuff. Also with Jeff Garlin, Jason Sudeikis, Matt Malloy, Dorian Missick, Carol Kane, Cathy Moriarty, and Christine Baranski.
Brooklyn's Finest (R) Just about every cliché of gritty New York City cop thrillers gets worked over in this drama with intersecting plotlines about a crooked narcotics cop (Ethan Hawke), an undercover officer (Don Cheadle) who's in too deep, and a suicidal beat cop (Richard Gere) on his last week on the job. Director Antoine Fuqua needs quality scripts to make an impression, and that's not what he's working with here in a movie that's full of shock deaths that are supposed to be shocking but can be predicted down to the second. Wesley Snipes steals the movie clean away from the leads as a stylish, self-assured gang kingpin. Call it petty larceny. Also with Brían F. O'Byrne, Will Patton, Jesse Williams, Michael K. Williams, Shannon Kane, Lili Taylor, Ellen Barkin, and Vincent D'Onofrio.
Cop Out (R) The original title of this was A Couple of Dicks. Kevin Smith's massive failure of a film stars Bruce Willis and Tracy Morgan as bumbling New York City homicide detectives who follow a trail of stolen baseball memorabilia to a kidnapping case involving a drug kingpin (Guillermo Díaz). Smith's direction is too slack to make this work as a cop thriller, Robb and Mark Cullen's script is too unfunny to make this work as a comedy, and Morgan's performance is a disaster zone regardless of what he's trying to do. (As a thief with parkour skills, Seann William Scott is almost as annoying as Morgan.) The failed comic business drones on and on in this movie. Also with Ana de la Reguera, Adam Brody, Kevin Pollak, Juan Carlos Hernández, Cory Fernandez, Michelle Trachtenberg, Rashida Jones, Susie Essman, and Jason Lee.
The Crazies (R) This accomplished but unnecessary remake of George A. Romero's 1973 horror movie stars Timothy Olyphant as a sheriff in rural Iowa who watches a killer virus turn the inhabitants of his small town into homicidal psychopaths. Director Breck Eisner (Sahara) avoids the genre's worst excesses and gets some good performances out of his actors, especially Joe Anderson as the sheriff's deputy. However, the movie misses the anti-nuke message of Romero's original film and doesn't come up with anything to replace it with. The result is palatable, but it could have been far more disturbing. Also with Radha Mitchell, Danielle Panabaker, Christie Lynn Smith, Brett Rickaby, John Aylward, and Glenn Morshower.
Crazy Heart (R) Jeff Bridges wears drunken dissipation like an old, tattered, comfy shirt in this drama about a country music legend who's forced to sort out his life. This debut film by Scott Cooper doesn't wallow in its main character's hard-drinking life, and Bridges gives a deservedly Oscar-nominated performance. The film features a bunch of newly minted songs, many written by Fort Worth natives T-Bone Burnett and the late Stephen Bruton, and all of them are good, from the rowdy honkytonk number "Somebody Else" to the sparse, haunting "Brand New Angel." The rest of the film is pretty slight, and you could argue that without Bridges and the music there wouldn't be much left. Ah, but they are here. Also with Maggie Gyllenhaal, Colin Farrell, Tom Bower, Ryan Bingham, and Robert Duvall.
Diary of a Wimpy Kid (PG) The first book in Jeff Kinney's best-selling series for kids turns into this clunky movie about an 11-year-old boy (Zachary Gordon) who schemes to become popular in middle school but sees his ventures backfire while his best friend (Robert Capron) becomes cool. All that's fine as far as it goes, and some of the set pieces are actually funny. Mostly, director Thor Freudenthal makes hash out of the episodic structure, and Gordon doesn't have the charm to make the status-obsessed hero into a likable kid. Like its hero, this movie wishes it were cooler than it is. Also with Steve Zahn, Rachael Harris, Devon Bostick, Karan Brar, Grayson Russell, and Chloë Grace Moretz.
The Ghost Writer (R) Roman Polanski finished this movie in prison, but there's little strain in evidence in this chilly, brainy, resentful, fleet-footed political thriller. Ewan McGregor plays an unnamed British ghostwriter who digs up some dangerous political information while collaborating on the memoirs of a disgraced former British prime minister (Pierce Brosnan). Based on a bitchy, thinly veiled novel by Robert Harris, the movie features clever plotting, excellent acting (except for Kim Cattrall as a flirty chief of staff), and a terrific backdrop in the ex-P.M.'s austere beach house. The cinematic equivalent of a good airport novel. Also with Olivia Williams, Tom Wilkinson, Timothy Hutton, Eli Wallach, Jon Bernthal, and Jim Belushi.
Green Zone (R) This would have been a Movie of the Year candidate in 2005, but now it's just a slightly-above-average thriller starring Matt Damon as a U.S. Army officer in the early days of the Iraq invasion who teams up with an Iraqi informant (Khalid Abdallah) to track down who's responsible for the bad intelligence that led to the war. Director Doug Liman (the first two Bourne films) does all this up professionally, but his critique of the war rehashes old talking points, and he never finds anything new in the chaos. The film is based on Rajiv Chandrasekaran's book Imperial Life in the Emerald City, which paints the arrogance of American planners in much starker and funnier terms. Also with Brendan Gleeson, Greg Kinnear, Amy Ryan, Yigal Naor, and Jason Isaacs.
Our Family Wedding (PG-13) Well-intentioned but soggy farce stars Lance Gross and America Ferrera as an L.A. couple fixing to get hitched when their respective African-American and Latino families start to meddle. Director/co-writer Rick Famuyiwa and his collaborators try to squeeze some dramatic juice out of the racial tension between the families, while Forest Whitaker and Carlos Mencia try to squeeze some comedy out of their roles as the respective fathers. Neither of it works. The pace is too sluggish to take advantage of some potentially interesting dramatic situations that pop up; this might have worked better as a straight drama. Also with Regina King, Diana-Maria Riva, Lupe Ontiveros, Anjelah Johnson, Charlie Murphy, Shannyn Sossamon, and an uncredited Taye Diggs.
Percy Jackson & The Olympians: The Lightning Thief (PG) Chris Columbus, who directed the first two Harry Potter movies, brings the same leaden, derivative touch to this adaptation of Rick Riordan's best-selling fantasy-adventure novel. Logan Lerman plays a teenager who discovers that he's the son of a Greek god and must use his superpowers to forestall a war among the gods that would destroy the Earth. The movie remains resolutely unmagical despite the liberal use of CGI effects. In a star-studded supporting cast, the only actor who makes any impact is Steve Coogan, playing Hades like a burned-out heavy metal rocker. The lame, uninventive script reduces this would-be epic to an overstuffed mess. Also with Alexandra Daddario, Brandon T. Jackson, Pierce Brosnan, Uma Thurman, Sean Bean, Kevin McKidd, Jake Abel, Rosario Dawson, Melina Kanakaredes, Joe Pantoliano, and Catherine Keener.
Remember Me (PG-13) Heinous. Robert Pattinson stars in this romance between two damaged souls with domineering fathers: him the directionless son of a big-shot lawyer, her (Emilie de Ravin) a cop's daughter who's been overprotected. Pattinson displays an engaging slacker charm in the parts where he acts as parent figure to his 12-year-old sister (Ruby Jerins), but the movie pulls a manipulative trick on both him and the audience by making the 9/11 terrorist attacks figure in as a major plot point. It tries for an air of inexorable romantic tragedy, but it just winds up leaving a bad taste. Also with Pierce Brosnan, Chris Cooper, Tate Ellington, Kate Burton, and Lena Olin.
Repo Men (R) This deceptively bleak futuristic sci-fi thriller stars Jude Law as a man who repossesses replacement human organs when their owners default on their payments, usually killing said owners in the process. The film offers up some unexpectedly sharp satire on both the cosmetic surgery industry and the current financial crisis, which keeps you watching during the middle section, when the movie turns into a routine action flick. The movie teases you with a conventional ending and then hits you with a ferocious downer. It's more interesting than the usual. Also with Forest Whitaker, Alice Braga, Liev Schreiber, Carice van Houten, Chandler Canterbury, Liza Lapira, and RZA.
The Runaways (R) Kristen Stewart plays a teenage Joan Jett as a tough-talking mostly gay trailer-park girl, and her sexually charged performance makes this uneven music bio compulsively watchable. Floria Sigismondi's film tells the story of the short-lived trail-blazing 1970s all-girl rock group, based on the memoir of Runaways' lead singer Cherie Currie. The scenes with Cherie (Dakota Fanning) trying to overcome her drug addictions don't pull their weight. However, Sigismondi does a nice job with the grungy atmosphere and creates real electricity when the Runaways are on stage. The actors do their own singing and are a smidge better than the real-life Runaways. Watch for Michael Shannon's wildly entertaining performance as music producer Kim Fowley. Also with Stella Maeve, Scout Taylor-Compton, Alia Shawkat, Johnny Lewis, and Tatum O'Neal.
She's Out of My League (R) A movie so charming that you'll wish it were better than it is. Jay Baruchel plays a Pittsburgh airport security guard who falls for an event planner (Alice Eve, an English newcomer with a pretty good American accent). Lots of romantic comedies pair up a hot girl with a not-so-hot guy, but this one truly deals with the implications of that, as both their friends threaten the relationship by constantly telling them that she's too good for him. The leads are appealing and the supporting actors are well-cast. All that makes you want to overlook the fact that the comic material simply isn't there. If you're in a charitable mood, maybe you can. Also with T.J. Miller, Mike Vogel, Nate Torrence, Lindsay Sloane, Krysten Ritter, Kyle Bornheimer, Jessica St. Clair, Geoff Stults, and Debra Jo Rupp.
Sherlock Holmes (PG-13) Most of the fun in this loud, busy, moderately diverting thriller comes from the comic bickering between Robert Downey Jr. (playing Holmes as a rumpled but swashbuckling action hero) and Jude Law (a smarter, fitter Watson who's less tolerant of Holmes' personality quirks). The great detective goes up against a lord (Mark Strong) who claims to possess supernatural powers in this latest adventure, which is not to be found in Arthur Conan Doyle's stories. The plotting is ramshackle, and director Guy Ritchie isn't comfortable with the period setting. But making Holmes and Watson more equal partners is a terrific idea, and the rapport between the languorous, scruffy Downey and the light, smooth Law bodes well for this duo's further adventures. Also with Rachel McAdams, Eddie Marsan, Kelly Reilly, Geraldine James, Hans Matheson, Robert Maillet, and James Fox.
Shutter Island (R) Martin Scorsese turns Dennis Lehane's novel into this surprisingly generic Gothic potboiler. Leonardo DiCaprio and Mark Ruffalo star as U.S. marshals sent to investigate the disappearance of an inmate from an asylum for the criminally insane. The director's shock tactics don't work any more in our time, and one gets the feeling that the movie would have been better if Scorsese had done either less or more with the material. On the other hand, the plot twists go down smoothly, and the supporting actors (especially Michelle Williams, Ted Levine, Emily Mortimer, and Patricia Clarkson) do some terrific work as the various crazy people populating the scenery. Disposable rather than shattering, this is still a fair puzzle of a movie. Also with Ben Kingsley, Jackie Earle Haley, John Carroll Lynch, Elias Koteas, and Max von Sydow.
Tooth Fairy (PG) Who thought this would be a good idea? Dwayne Johnson stars as a minor-league hockey player who's forced to spend one week working as a tooth fairy, complete with wings that sprout up when he's on call. Unbelievably, the execution is even worse than the idea. The lame comedy set pieces are bad enough to sit through, but the movie ladles on a bunch of sanctimonious platitudes about the importance of believing in tooth fairies, and the ending is astonishingly bad. Feel sorry for everyone here, especially Julie Andrews as the fairy in chief. Also with Ashley Judd, Stephen Merchant, Seth MacFarlane, Brandon T. Jackson, Ryan Sheckler, and an uncredited Billy Crystal.
Valentine's Day (PG-13) This star-laden romantic comedy has at least 10 intersecting plotlines, only three or four of which are worth the trouble. Julia Roberts has the best storyline as an Army officer flying home to see her loved one, while Jennifer Garner has the best character as a teacher who finds out her boyfriend is married. Taylor Lautner and Taylor Swift score a few slapstick laughs as a high-school couple running track with disastrous results. Other less memorable storylines and roles are assigned to Anne Hathaway, Ashton Kutcher, Jamie Foxx, Jessica Alba, Jessica Biel, and Shirley MacLaine. It all adds up to a slight, mostly forgettable viewing experience. With all the talent on display here, it should have been more. Also with Bradley Cooper, Patrick Dempsey, Eric Dane, George Lopez, Topher Grace, Hector Elizondo, Emma Roberts, Carter Jenkins, Bryce Robinson, Kathy Bates, and Queen Latifah.
DALLAS EXCLUSIVES:
44 Inch Chest (R) Ray Winstone stars in this British film as a married man whose friends kidnap the young Frenchman (Melvil Poupaud) who's having an affair with his wife (Joanne Whalley). Also with Ian McShane, John Hurt, Stephen Dillane, Dave Legeno, Steven Berkoff, and Tom Wilkinson.
A Prophet (R) Jacques Audiard's thriller stars Tahar Rahim as an Arab-French convict who must use his wits to survive in a gang-infested prison. Also with Niels Arestrup, Adel Bencherif, Hichem Yacoubi, Reda Kateb, Jean-Philippe Ricci, and Gilles Cohen.