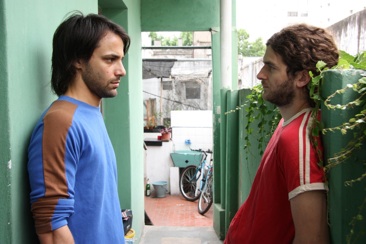 WED ? 24
Q Cinema's offering this month comes to us from Argentina. Plan B is about a man who plots revenge against his ex-girlfriend by seducing the man she left him for. Well, that's one way to get revenge. The film screens at 8pm at Four Day Weekend Theater, 312 Houston St, FW. Tickets are $6.50-8.50. Call 817-820-0079.


THU ▪ 25
TCU's theater department is putting on No Exit this week, which takes place in hell. UNT's show Ghetto takes place in a more concrete underworld. The script is based on the true story of Jews in World War II who formed a theater troupe while imprisoned in a Nazi concentration camp in Lithuania. The play runs Mar 25-Apr 1 at UNT University Theatre, Welch & Chestnut sts, Denton. Tickets are $7.50-10. Call 940-565-2428.
FRI ▪ 26
Cedar Walton, a pianist and Dallas native who made it big in New York's jazz scene, returns to North Texas to headline the TCU Jazz Festival, going on all weekend. Also on the bill is saxophonist Mario Cruz Jr., who recently relocated to his hometown of Fort Worth. The festival runs Fri-Sun at Ed Landreth Auditorium and PepsiCo Recital Hall, 2800 S University Dr, FW. Tickets are $10-20. Call 817-257-7602.
SAT ▪ 27
Time once again for Spring Gallery Night. This year's festivities include new work by Weekly contributor John Holbrook at Halo Salon, plus weekend-only shows at Firehouse Art Gallery and other venues. We're most interested in the show of erotic art at Studio 5 called Lathered in Paint and Pinned Against the Wall. We're thinking that first word should be "slathered." The displays run 11am-9pm at various locations in Tarrant County. Check Calendar for addresses and phone numbers.
SUN ▪ 28
You've probably never seen the U.S. $100,000 bill, which features Woodrow Wilson's portrait, because it's only used when in dealings with foreign governments. However, a number of those bad boys will be on display at the National Money Show, a must for numismatists and those fascinated by currency. The show runs Fri-Sun at Fort Worth Convention Center, 1201 Houston St, FW. Tickets are $6. Call 719-482-9857.
MON ▪ 29
The bass trombone is not an instrument that's usually featured in chamber music concerts, but it'll be front and center at this evening's Spectrum Chamber Music Series of Fort Worth concert. Patrick McCarty's Sonata for Bass Trombone and String Quartet will be on the bill, with its unusual brass-backed-by-strings sonorities, along with music by Mozart and Beethoven. The concert is at 7:30pm at First United Methodist Church, 800 W 5th St, FW. Admission is free. Call 817-377-0668.
TUE ▪ 30
For every shade of every mood that you've ever had, it seems that Frédéric Chopin wrote a small character piece that perfectly captures it. The 200th anniversary year of the composer's birth continues apace, so British pianist Ian Hobson will be at UTA to perform an all-Chopin recital. The performance takes place at 7:30pm at Irons Recital Hall, 700 Greek Row Dr, Arlington. Admission is free.