The other night, I stopped into VIP Lounge on White Settlement Road for a beer. Being a Monday and all, the place was pretty dead. I ended up staring at a muted episode of CSI: New York, wondering if the Greek chick would ever go out with me, but the TV just underscored the eerie silence.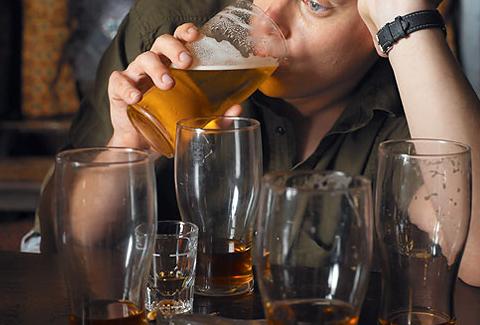 "Vips" or "The VIP," as it's loving referred to, is a big room, and if it's empty, you can hear everything. The beeps from the electronic dartboards were as stentorian as a creaky floorboard in a horror movie, and you can catch almost everything everyone says. Never mind that "Vips" sits across the street from a cemetery. Never mind that the bar is allegedly haunted. I didn't meet any apparitions, but the palpable stillness kind of gave me the willies.
A conversation between the bartenders and a regular stirred the silence, but the portentous serenity of it all made me wonder for a second if I'd missed out on The Rapture of something. "It's just a slow Monday," I thought to myself. "Mondays are always slow. At every bar." Still, the ominous atmosphere got me thinking about mortality, and in the course of that, I started to ponder a related phenomenon: Why are Wednesdays also dead?
It's true. Go around town on a Wednesday night, and you'll find that even popular bars are proverbial ghost towns. I have my theories. In order to really figure this problem out, I've looked at a particular indicator, in the way that economists measure fiscal health by studying the construction industry and global-warming scientists ogle the Antarctic ice floes. In the case of the nightlife-cooling crisis, I think that college students are a good barometer. Going over my completely accurate and not-at-all fuzzy memory, I recall that Thursdays used to be the big party night. Back when I was in college, long-gone meat markets like Boomers and The River thumped with the sounds of the No-Limit Soldiers and Quad City DJs and thronged with sketchy dudes trying to pick up TCU chicks. The Aardvark and The University Pub were packed just about every night of the week, and Fat Harry's and Scooners (now Halo and Buffalo Bros. respectively) were crammed with 19-year-olds bearing convincing fakes. Of course, this was also back when a gallon of gas was under $2, so … .
Thing is, while Thursdays were the big work-week party night back then, Wednesdays and Tuesdays were pretty strong, too. And Sundays, now that I think about it. No wonder my transcript is kind of embarrassing. I dunno — maybe college kids are trying to get better grades these days.
I did see a ray of hope last Wednesday, when I went out with some friends for St. Flogging Molly T-Shirt Day (a.k.a. St. Patrick's Day). Eschewing our usual haunts, we first went to Spencer's Corner, which teemed with revelers on both floors. Drinks were 50 –– that's right, five-O –– cents, and you had to elbow for room to place an order. Downstairs had a busy beer-pong tournament going on and upstairs thronged about a massive karaoke nightmare. Business was good. After a lot of drinks for a little and a couple of games of air hockey, we decamped for Sarah's Place on the West Side.
Again, we faced more karaoke horrors, this time featuring a kid who looked almost exactly like the late Ronnie Van Zandt, if the late Ronnie Van Zandt wore Mardi Gras beads and sang Buckcherry songs. But like Spencer's, Sarah's was also pretty busy. Given that that particular Wednesday fell on everyone's favorite ethnic drinking holiday, I understand that the promising party volume was probably an anomaly. And anyway, let's be honest — the obvious explanation for dead Wednesdays (or any day, for that matter) is the recession.
At "Vips," I didn't encounter any ghosts, but the specter of our shitty economy was very real. At the opposite end of the bar from me, a regular had a book full of what I gathered were rare German coins. He was talking about how he might turn them into cash (replete with a tenuous grasp of eBay mechanics). The bartenders told him he was probably better off looking for a steady job. I didn't want to be a cynic, but the odds of either strategy bringing him financial security are about even. Nevertheless, I'll keep my fingers crossed for him. I really want Wednesdays (and Mondays and Thursdays) to pick up. For everyone. –– Steve Steward