BB and Luigi's Vineyard Steakhouse, near the Great Wolf Lodge in Grapevine, is a newish semi-Italian restaurant in a spot formerly occupied by a full-blooded Italian place. The only difference on paper might be BB and Luigi's focus on beef — co-owner Luigi Santos was previously associated with the Grapevine locations of Silver Fox Steakhouse and Bob's Chop House.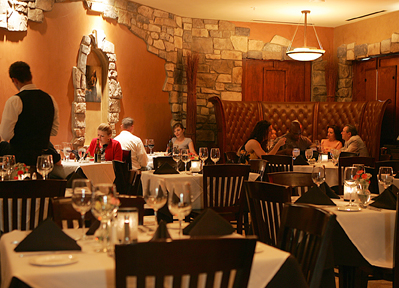 A server named Bryan greeted the table with glasses of sparkling wine — apparently to celebrate the recent opening. The first round is on Santos and co-owner Bob Williams. The wine list is extensive and impressive, and you might get bogged down if you only halfway know what you're doing. The menu is less extensive but equally impressive. The warm Bucheron goat cheese appetizer featured a ramekin of melted cheese with dried cranberries, honey, and a touch of thyme, served with crisp flatbread to dip. The dish had a bubbly, caramelly top, and it was neither too sweet nor too goat-ly pungent. It was an unusual combination of flavors, but it was delicious.
The lobster bisque was absolutely phenomenal. Every spoonful contained large chunks of –– surprise! –– real lobster. No potato filler, just giant chunks of the titular shellfish bathed in cream, sherry, some spices (maybe nutmeg), and white pepper. The Caesar salad was pleasant. Giant shavings of Parmesan cheese and anchovies punched up the heavy, garlicky, creamy dressing that clung to the fresh romaine mix. Between the salad and main course, a raspberry sorbet and mint palate cleanser arrived — completely unexpected, very lovely, and useful given the amount of garlic and spice on our tongues.
There's something for almost everyone on the dinner menu: veal, fish, lamb, chicken, and more steak than you could eat in a month. The almost fork-tender filet mignon steaks come in small (6 oz.), medium (8 oz.), and large (12 oz.) portions. Order a size down, because the entrée comes with your choice of potatoes –– garlic mashed, scalloped, or baked –– and the portions are generous. The salt-and-pepper-crusted filet came topped with horseradish-infused microgreens and a side of spicy tomato relish. The scalloped potatoes were an impressive brick of soft, mild Italian cheeses layered between thinly sliced spuds.
The salmon, listed on the menu as poached, was actually grilled to succulent perfection, with a slightly crispy glazed crust. The pale yellow saffron cream sauce was rich, yet not discernibly flavorful. And the beautifully cooked fish didn't need any embellishment. The garlic mashed potatoes were whipped smooth and impressively piped into their serving dish. Not too garlicky and slightly sweet, the spuds were so tasty that they did not make it into the take-home container.
Because the entrées come with a generous serving of starch, it seemed imprudent to order a side of the lobster macaroni and cheese (no matter how good the lobster/gruyere cheese combo sounded). The grilled asparagus, coated in Parmesan and served in a luscious and tangy lemon-butter sauce, was a great choice. In fact, that sauce was wonderful with the salmon.
Maybe it's odd to order dessert when your appetizers are being served, but the chocolate soufflé — a mudslide of decadently rich chocolate — takes a good half-hour to make and comes out all puffy on the outside and spectacularly gooey on the inside. The dessert menu also features a mild, poppy-seed-flecked Italian wedding cake, bathed in layers of cream cheese frosting. Cake like that is usually simply a vehicle for the obscenely creamy frosting, but it was still moist and lovely the next day as well.
The restaurant interior is gorgeous: all tawny faux-stone and terra cotta walls. The music –– wonky jazz and smooth Sinatra –– was the only flaw. And that seems petty. Almost everything else about the atmosphere was conducive to a wonderful evening out. The service was of the caliber you'd expect in a much older, much fancier place. Bryan had the style and panache of someone who's been in the business for a long time, providing that balance of attentiveness without obsequiousness –– definitely unusual from a rockstar-looking twentysomething guy. The courses all flowed perfectly, and the food was amazing.
BB and Luigi's Vineyard Steakhouse
1000 Texan Trail, Ste 130, Grapevine. 817-328-6111.
11am-2pm Fri, 4-10pm Sun-Thu, 4-11pm Fri-Sat.
All major credit cards accepted.