Décor-wise, Cowtown Diner (305 Main St.) is more of a bistro than a diner, though if it had called itself "Cowtown Bistro," Chow, Baby probably would have carped that its menu is more diner-y than bistro-y. This place is a real challenge for people who like their restaurants to stay in neat little categories. Antlers adorning chandeliers. Hearty roasted chicken pot pie ($9.95) capped with bistro-y puff pastry.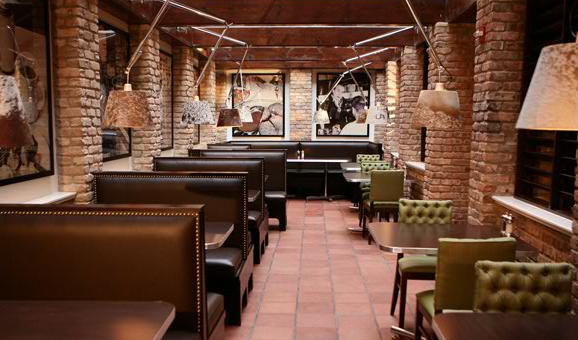 Mod overhead lamps sporting cowhide shades. Grilled ham and cheese ($7.95) with four cheeses, plus piquillo pepper mayo. Booths and chairs upholstered in either Diner Dark Brown or Bistro Mint. Tasteful and tasty, but Chow, Baby was a tad confused.
All the hip bistro kids are doing short ribs, but not like this: Slow-cooked to comfort-food tenderness, the pot-roast-style braised short ribs (lunch $12.95) are paired with incongruously classic mashed potatoes with no truffle oil, no funny cheeses, no green onions. Appetizers kicked down-home up a few more notches: Pigs in a homemade quilt ($7.95) were grilled venison sausages wrapped in (more) puff pastry, with punchy honey-mustard dip; deviled eggs ($8.95) had been wrapped in pepper bacon and jalapeños, then tempura-battered and deep fried, like something you'd see at the Bistro State Fair, maybe.
So: bistro or diner? Tie goes to the service: Instead of veteran hey-hon waitresses, we get cute server dudes whose enthusiastic apologies more than make up for their frequent disappearances. Bistro it is. And Cowtown Diner isn't really that Cowtown-y, either, not with this attention-to-detail décor and these kinda-high-for-lunch prices (but dinner entrées seem reasonable, $10-$17). You probably thought Chow, Baby was going to bring up Dallas again, but actually Cowtown Diner feels more like Austin: not style just for style's sake, but style and substance, both cooked to perfection. That's a lot more fun and definitely a lot cooler.
When Worlds Collide
Now here's a good conversation starter: When was the last time you wore fishnet stockings? "This very minute," for several young women milling outside Rockstar Sports Bar & Grill (5151 Bridge St.), which had Chow, Baby (Rocky Horror revival) and Chow, Pal (high school Color Guard) feeling old, underexposed, and clearly at the wrong bar. Inside, though, sprawled around the shiny red-lacquered tables and shiny black vinyl booths, was a congenial mix of young and old, black and white, dreds, mullets, Easy Rider sideburns, porkpie hats, all bobbing to DJ-spun old-skool hip-hop. Man, this is when Chow, Baby really loves Fort Worth. We can too all get along!
Chow, Baby also loves being pleasantly surprised by bar food. Buffalo Wings from Hell ($6.95 for 10) were meaty, heckishly tingly, and thankfully not overcooked. Loaded Rockstar Skins ($6.45) took a while to come out because Cookie was fresh-frying the bacon, an unexpected garnish-treat. Headlining the entrées section was another nice riff, a spice-sparked, hand-breaded chicken-fried steak ($9.99). Chow, Baby's Rock-On cheeseburger ($6.99) was about par for a bar burger, but major points for thinking outside the box by replacing the bun with crumbly sweet-cornbread pancakes — not a plus for people who insist on picking up their burgers with their hands, but certainly an interesting flavor dimension. You can't tell from the outside, but Rockstar is a nice place to hang out and nosh, no matter what or who you are.
Contact Chow, Baby at chowbaby@fwweekly.com.