Call it good karma. After performing last year at a club in Denton, singer-songwriter Daniel Katsük met the guy who would produce his band's new EP, Skeleton Key. (The band is called KatsüK, with two capital Ks. The singer is Katsük.)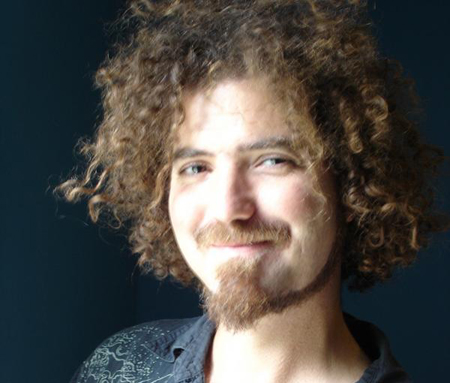 Katsük had returned to Fort Worth in 2008 after an aborted attempt at forming a band in Boulder, Colo. Soon after coming home, he formed KatsüK, featuring members of hard-rocking Sally Majestic, and released the CD Out in the Wind. He and the Sally guys parted ways, and Katsük began hunting for new collaborators. That's when Jeff Dahlgren –– a producer, musician, and occasional actor who's worked with French pop chanteuse Mylene Farmer –– caught KatsüK live and introduced himself after the gig.
Dahlgren, it turned out, had a direct link to Katsük. "He's married to my shaman master's daughter," Katsük said with a laugh. The singer-songwriter says he's part Cherokee, and he follows a New Age-informed path of native spirituality that includes yoga classes and sweat lodges facilitated by Silver Ra Baker at Blue Thunder Lodge in Denton. Dahlgren "had moved to Denton from L.A. with his wife to be closer to Silver," Katsük said. "He set up his recording equipment at Blue Thunder, which is an amazing place. … There are these open spacious rooms and a Japanese garden."
Katsük assembled an eclectic mix of musicians, including Dahlgren on guitar and 817 stalwarts Matt Skates from Shuttle on bass, Orion Pitts on violin and mandolin, and Goodwin's Damien Stewart on drums, to lay down the seven tracks that would become Skeleton Key. (Stewart is replaced in live settings by Nick Werth.) After the free-form instrumental interludes that adorned KatsüK's Out in the Wind, the new collection has a slightly more straightforward pop edge that emphasizes the rhythm section, hook-based choruses, and the songwriter's patented mix of the personal and the political. The world-conscious "B4 U Shoot" is about the people of Afghanistan caught between the Taliban and U.S.-led allied forces. The consoling "Cut the Cord" concerns the emotional toll that people inevitably pay when they forge an independent path in their lives. The songs were selected to make the broadest emotional impact possible in the shortest time, Katsük said.
In terms of musical arrangements for the EP, the artist said he had been "getting off on how Coldplay and old U2 [albums] were recorded, enjoying the huge sonicness of Pink Floyd but also appreciating the thick reverbs and simpleness of Fleet Foxes and Muse. I try to capture a little bit of every sound that I love."
Though Katsük is lyrically attracted to the concepts of transcendence and enlightenment, he is involved in two side projects that explore darker territory. Dia De Los Muertos is a Goth-inspired dance-music ensemble that he formed with Spoonfed Tribe guitarist Shonuff, incorporating influences as diverse as Sade and Dead Can Dance. In live settings, the music is staged with actors in a theatrical setting that celebrates death as rebirth. The Skin and Bones Drum Cult, Katsük's other side project, is a loose all-percussion 10-piece that includes members of Spoonfed, Pablo and the Hemphill 7, and Trailer Park Princess, inspired by the primal, sometimes chaotic qualities of the drum circles that Katsük has participated in over the years.
For the moment, though, he's focused on helping Dahlgren shop Skeleton Key around to major label reps. If the duo can find the right financial backing, they'd like to incorporate the seven songs from that EP into a more ambitious double album that will weave together folk, reggae, ska, funk, and tribal beats — a signature KatsüK combination. Katsük would also like to get his current band signed as the opening act on a national tour by a major headliner.
As he contemplates aiming for national exposure, Katsük can't help remarking on the uniqueness of the current Fort Worth music scene.
The musicians, he said, "share ideas and work on projects together and just enjoy what everyone is doing. [Dahlgren] said he's never seen anything like it." On the other hand, "Musicians are fickle and outrageous and insane, and you can't put faith in our everlasting cooperation," he said. "So come out and support great local music while it's still here."
KatsüK
4pm Sat w/ Brave Combo, Trigger Fish, Blackland River Devils, and several other artists as part of Prairie Fest in Tandy Hills Park, 3400 View St, FW. 817-731-2787. • 8pm Sat, May 1, at Lola's Saloon-Sixth, 2736 W 6th St, FW. 817-877-0666.