Watching La Mission is a real whiplash experience. Writer-director Peter Bratt's second feature follows intense, emotionally resonant scenes with moments that are so ham-fisted and underdeveloped, you have to stifle a giggle. Bratt earned critical attention 14 years ago with his debut, Follow Me Home, a shoestring road trip flick about four Los Angeles mural artists who jump in a van and head for Washington, D.C., with the idea of making the White House their canvas.


La Mission has a more personal, arguably less political goal: to navigate the emotional land mines after a hyper-macho, working-class Latino widower discovers that his honor roll-student son is not only gay but dating a white guy from a wealthy family. The intentions behind this family drama are noble, but the director periodically loses control of his material and lets it slip into canned and clumsy melodrama.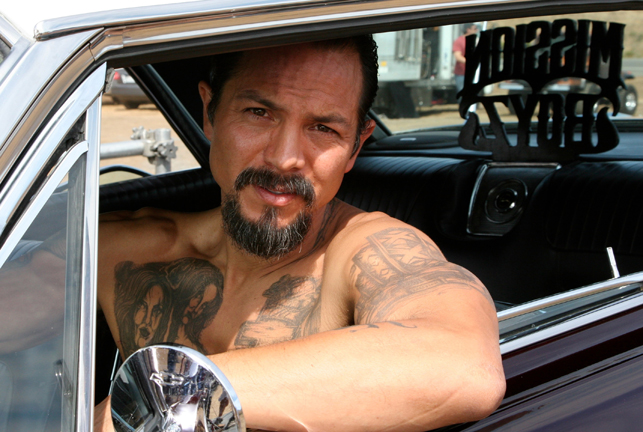 Benjamin Bratt, the filmmaker's brother and an actor best known for his TV roles in Law & Order and the recently cancelled rehab drama The Cleaner, stars as Che, a tatted-up city bus driver with a perilous grip on sobriety and his own temper. Only two things seem to be keeping Che on the 12-step path: his love of decked-out low-rider cars and his dedication to his boy Jes (Jeremy Ray Valdez), a closeted high-school senior who's managed to avoid the thug life of their San Francisco neighborhood and is eagerly awaiting graduation and his first semester at UCLA. After Jes' secret boyfriend Jordan (Max Rosenak) takes him on his first trip to a gay club in the Castro, Che uncovers photographic evidence and nearly beats the shit out of his son. Soon Jes' sexuality becomes fodder for neighborhood gossip. His uncle Rene (Jesse Borrego) becomes his stalwart defender, and upstairs neighbor Lena (Erika Alexander), a burgeoning romantic interest for Che, also offers gentle counsel until she realizes that Che's hotheadedness is compulsive and maybe deadly.
Benjamin and Peter Bratt grew up together in the blue-collar, ethnically vibrant Mission district of San Francisco, where La Mission was filmed and gets its name. The movie sets up an ambitious agenda for itself: to celebrate the flamboyant, historically sophisticated murals and car culture of the scene and the trash-talking camaraderie of its male denizens while condemning the homophobia that rises like a stink from the ever-present machismo. Indeed, the movie explicitly links gay-bashing with gang violence and domestic assault as expressions of the impotence men like Che feel toward a much-loved district that's rapidly changing economically, racially, and sexually. All of these elements are nicely balanced, with a minimum of liberal finger-wagging.
Unfortunately, La Mission could've used a gay story consultant. And a romance subplot consultant, too. Or maybe just an all-around emotional intimacy expert who could help writer-director Bratt juice up his more fragile, more uncomfortable scenes with something like authenticity. He completely skips any background information on what might have drawn the vastly different Jes and Jordan together. His script tends to rely on tinny dialogue ("You're dead to me!" "I didn't wake up one morning and decide to be this way!") and stock motivations. (Lena works at a women's shelter and talks so much about female empowerment that it's too close to cliché when she turns out to have a victimizer in her own past.) And, oh, the music. The soundtrack lays on mysterious native flutes just as heavily when Che rages at a photo of his son kissing another male as when Che and Lena inevitably fall into bed. Mark Kilian's original score seems to fancy eerie woodwinds as an all-purpose accompaniment to the many moods of hetero Latino men. Instead, the instruments are just distracting and unintentionally funny.
The uniformly dedicated cast of La Mission rises above the awkward moments. Benjamin Bratt is one of those workaday actors who's so reliably good that audiences usually take him for granted. In Bratt's performance, Che is a total slave to his emotions even when he doesn't want to be –– Bratt makes that disconnect palpable and painful. He can turn on a dime from charismatic street sage to repellent bully, and we believe the contradictions. In his feature film debut, Valdez as Jes registers fear, tenderness, and determination with his eyes alone. As Lena, Alexander –– despite the unwieldy prop of her character's political activism –– smoothly hits the emotional notes she's required to, from pissed-off to protective to heartbroken. You get the feeling that if only sophomore filmmaker Peter Bratt had directed more features over the years since his debut, La Mission might be as assured as its actors.