Next week, May rolls around, and — barring any surprise climactic horror — the heat will come with it. I mention this because, as I've gone about town over the past couple weeks, I've noticed a ton of bar patios rolling out. I'm not going to name any of them, because I don't know who got permits to build them and who didn't, but I'm pretty stoked about doing a lot of outdoor drankin'.
I'm always stoked about indoor drinking, of course, and when the weather heats up, there are few things I appreciate more than slinking into a dark dive and diving into a double. Or a beer. Whatever's on special, that's what I'm having.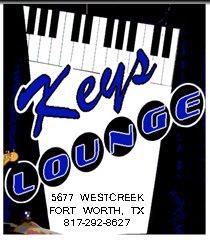 As a trial run for my summer Last Call cruising, I went to Keys Lounge for the first time last week. Yeah, yeah, I know. About time, right? Better late than never, though — as long as you make it before last call, anyway.
I had Wednesday off, and I found out that Big Mike's Box of Rock was playing at The Keys, as the place is affectionately known. While I hear Big Mike's band every Tuesday at The Moon, where I tend bar, I'm hard pressed to say no to classic rock covers at a place I've never been before. All I knew about The Keys was that it hosted a lot of blues jams and that it was in Wedgwood, so a friend and I rolled one up and rolled on out, hoping to roll into said lounge before we had to decamp for Crowley. (Long story.) Almost as soon as we got going, though, we were lost in southwest Fort Worth. If you ever get sick of all the shiny shit dotting the skyline around West 7th Street, get on McCart and head south of I-20 — I'm pretty sure that part of town hasn't changed since the mid-1980s. I only wish it had more bars.
The directions I got denoted a shopping center and a Mexican restaurant, but when we finally stumbled onto The Keys' street, Westcreek Drive, the joint was pretty hard to miss. I'm fairly sure you can see its giant, glowing sign from outer space. Needless to say, we were already pretty amped, and we hadn't even been through the front door.
Like some of my favorite haunts (A Great Notion, VIPs, Starlite Lounge), The Keys appears to have been built during the '70s, and, given the light-up tiles above the parquet dance floor, I'd gather it may have even gone through a disco phase. While it wasn't totally packed, the tables were mostly full of nice folks patiently waiting for some awesome rock 'n' roll action. My buddy and I had just missed blues master Buddy Whittington's set, but you can catch him there just about every week, along with a lot of other killer players. Coming up on Friday is blue-eyed-soulster Josh Weathers, and the following weekend is the multiple-Grammy-award-winning Brave Combo.
In fact, now that J&J's Blues Bar has gone the way of the dinosaur, it looks as if The Keys is the destination for blues (and then some) in Fort Worth. On top of the tunes, there are badass specials all week long. Every night features a particular macrobrew bottle for $2.25 and a nightly shot for $3.25.
So The Keys is rad, especially if you're sweating it out in the Great Southwest and if you're a day drinker, since the place opens at 11 a.m. on most days. Keys Lounge may not have a patio, but the beer's cold and the lights are dim. If you get lost, just poke your head out the window and look for the huge sign. –– Steve Steward
Contact Last Call at lastcall@fwweekly.com.