Rivera's Mexican Grill & Market, located inside the Ridgmar Farmers Market building across from Ridgmar Mall, was hopping like a roadhouse last Saturday night. Outside, the red-and-white-striped roof and a sign advertising the new happy hour (the place's liquor license just came through) beckoned motorists to pull in from Alta Mere Drive. Inside, the high curved ceiling and wide-open dining space teemed with the joyful noises of diners chatting, margarita glasses clinking, and contemporary country hits twanging from the speakers.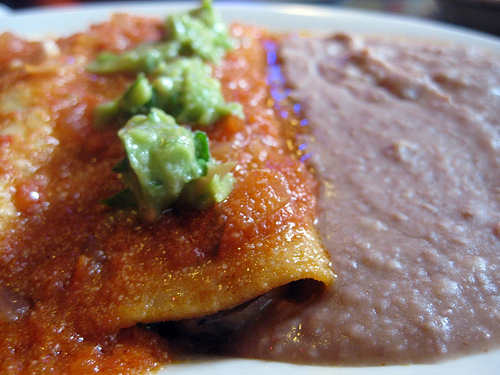 A section of the original farmer's market still operates on one end of the building, but restaurant co-owners Richard and Dresden Rivera use the lion's share of the interior space for their family catering business and Rivera's. They earned quite a following over the years with Café Rivera's, their White Settlement eatery that closed several months ago. Much of that restaurant's Tex-Mex menu has made the move to the new spot along with a fairly extensive list of house-smoked barbecue meats and sides. We kept to the Tex-Mex selections and were not disappointed.
Most of the entrées are accompanied by the predictable refried beans and rice, but even here, the results were strong. The frijoles were light and rich at the same time, making them an ideal dip for corn tortillas. The rice was a similarly addictive starch: fluffy, soft, and pale golden.
The Mexican dinner consisted of two small cheese enchiladas and a large beef tamale. The enchiladas were a hot, gooey, tasty mess, with strands of mild yellow cheese stretching from the plate to each lifted forkful. The tamales were smothered in a reddish brown and savory ground-beef gravy with shredded brisket tucked inside the moist, silky masa coating.
The smoky brisket made a return appearance inside the beef quesadilla dinner along with a thick melting load of yellow cheese. The quesadilla's warm, soft, grilled flour tortillas were the size of a small pizza, making this entrée suitable for sharing.
The Rivera's menu also features some healthy –– make that healthier –– choices that still boast generous servings and fresh ingredients. The Chicken Vera Cruz held two of the plumpest poultry breasts I've ever seen. They were lean and juicy, basted and grilled with a mildly spicy sauce of peppers, onions, and tomatoes that also had a potent citrus flavor.
Similarly, the chuleta de puerco featured a lean but thick chunk of flesh –– in this case, a grilled bone-in pork chop –– that was tender and hearty. Tangy, slightly pulpy, dark green tomatillo sauce was spread liberally over the chop to make it even more mouthwatering.
Given the ample restaurant experience of its owners, Rivera's Mexican Grill & Market didn't need much time to perfect its menu. With a booze permit now in hand, the joint is poised to be this summer's Westside hotspot for great Tex-Mex.
Rivera's Mexican Grill & Market
900 Alta Mere Dr, FW. 817-367-0109.
7am-9pm Mon-Thu, 7am-10pm Fri, 7am-11pm Sat, 9am-5pm Sun.
All major credit cards accepted