Throughout the first act of Circle Theatre's production of The Great American Trailer Park Musical, I had the nagging sensation that this raucous, perfectly detailed staging reminded me of another artist's work that I couldn't quite recall. Then, at the beginning of the second act, a wired-up stalker named Duke (Andy Baldwin) puts a handful of uncapped Magic Markers to his nose and takes a long whiff. "The color pink makes me horny," he snarled and proceeded to wag his tongue lasciviously over the tips of the markers.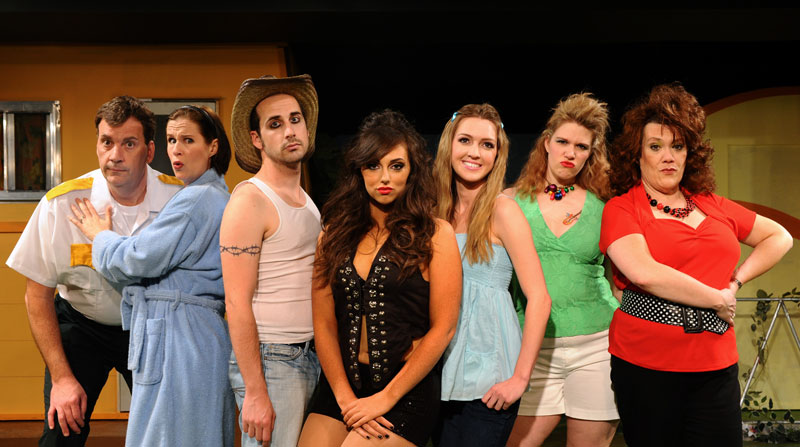 That's when it struck me: This was John Waters territory! With Trailer Park Musical, lyricist/composer David Nehls and writer Betsy Kelso manage to out-Waters the sanitized big-budget musical versions of Waters' movies Hairspray and Cry Baby. Circle Theatre's uncompromising version, under the direction of Chris Robinson and the company's inspired designers, gets the trash master's skanky aesthetic right: the big hair, the cleavage tats, the ill-fitting and inappropriate garb, the well-timed F-bombs, the spouses on death row, and, above all, the shamelessly flaunted libidos. The show's musical director, Hans Grim, writes in the program that the characters on stage turn out to be real people with whom the audience can sympathize. Well, sort of. Luckily, no one at Circle is too interested in sentimentalizing these hard-living outsiders, least of all the top-shelf cast of seven actor-singers who play them to the hilt.
Trailer Park Musical is set in a Florida "manufactured housing unit" called Armadillo Acres, nicely realized by set designer Clare Floyd De Vries' knickknack-strewn double-wides. The show follows the scandalous affair between new resident and stripper Pippi (Grace Neeley, sporting bodacious curves and attitude) and tollbooth operator Norbert (the effectively lunk-ish Jim Johnson). Norbert's wife Jeannie (a sweetly yearning Heatherton Hardy Wilson) is a Lifetime Channel-obsessed agoraphobic who hasn't left the trailer since their baby was mysteriously kidnapped back in the '80s. The angles of this love triangle are explored songbird-style by park residents and commentators Betty (Sara Shelby-Martin), Lin (Mary Gilbreath Grim), and Pickles (Kayla Carlyle), a white-trash version of The Supremes whose personal lives spill over with Jerry Springer-style drama. The aforementioned marker-freak Duke arrives on the scene, pistol in shaky hand, to settle an old romantic score.
The secret to Circle's staging may be that the cast possesses uniformly splendid singing voices, so that each tune in the score is a genuine pleasure on its own rather than just a musical way to flesh out the characters and advance the plot. Neeley purrs and growls through a delicious bump and grind striptease number called "The Buck Stops Here." Sporting wild black wigs and glittering body suits that might've been stolen from the Grand Ole Opry costume shop, Shelby-Martin, Grim, and Carlyle lead the cast through a surging forecast of imminent trouble called "Storms A-Brewin'." If Johnson's voice isn't as flashy as his female co-stars', it has that stoic, rumbling Conway Twitty/Ray Price quality in "Owner of My Heart," a plaintive duet with Wilson.
Obviously, The Great American Trailer Park Musical relies on fairly thin story material that features character types we've seen before, so Circle Theatre deserves enormous credit for investing its production with the energy and ingenuity to ensure that it never feels forced or repetitive. Circle also earns a tip of the hat for not soft-pedaling all of the lowbrow one-liners and gags that are more crude than graphic but still have the potential to offend. (When one actor delivered some particularly naughty bit, and the audience replied with stiff silence, he followed their uncomfortable pause with, "C'mon, that was funny!"). In addition to all of the glorious musical talent and expert comic timing on display, this Trailer Park retains enough gravel and grit to feel honest and a little risky.
The Great American Trailer Park Musical
7:30pm Thursdays, 8pm Fridays, 3 & 8pm Saturdays thru May 29 at Circle Theatre, 230 W 4th St, FW. $25-35. 817-877-3040.