Louisiana cooking isn't completely foreign to Fort Worth, but restaurants specializing in Cajun cuisine here can probably be counted on one hand. All of them also involve someone of Looziana background. Add one to that short list: Boo-Ray's of New Orleans, with locations in Hudson Oaks and now Lake Worth. Scott Marks, who co-owns the business with Richard Sloan, hails from the Crescent City and spent a couple of decades as part of the Razzoo's chain. Boo-Ray's was established as a place for Marks to bring to life his Louisiana recipes.


Based on a recent meal at the Lake Worth location, Marks' recipes are being done justice. The shrimp and crawfish fondue appetizer melded the crustaceans with spinach, creamy cheese, and spices. The dish came with huge slabs of garlicky French bread and featured generous hunks of shrimp and crawfish. The creamy, cheesy goo in which they swam looked more like nacho cheese than fondue. Still it was very tasty.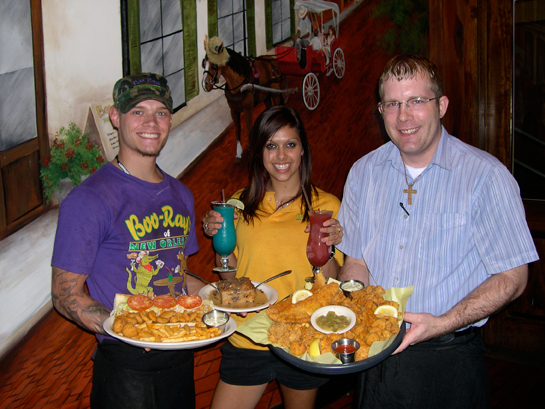 The fried seafood platter was, seriously, enough to feed a football team (or at least a hungry family of four). After we ordered, our server looked at us quizzically and said, "Y'all gonna share that, right?" Catfish, shrimp, oysters, and alligator were all breaded in a flour-based (not cornmeal) batter, which managed somehow to both be delicate and stick completely to all that it covered. It was heavier than tempura but lighter than chicken-fried batter and was spiced to perfection. Everything was cooked perfectly. The catfish and alligator weren't dry, and the oysters and shrimp weren't rubbery. (The youngest diner observed that the alligator "tasted like calamari, just not as chewy.") The plate was rounded out by hush puppies loaded with whole corn kernels and completely superfluous though supremely tasty battered fries.
The shrimp po-boy was stuffed with what appeared to be nearly a hundred fried shrimp. Seriously, they were falling out of the buttery French bread, there were so many of them. The best part: They weren't overcooked. The side of tartar sauce was laden with dill, which was a lovely surprise. (Worth noting: You can substitute fries for any other side.) Boo-Ray's jambalaya offered a nice blend of spices and interesting textures. The sausage wasn't exactly plentiful, but it was savory, and the okra was cooked just a little past al dente, so it didn't have a glue-y consistency, which can happen with okra. Pleasantly, the rice wasn't cooked to mush.
The crawfish étouffée featured another generous serving of crawfish meat, mixed with veggies and covered in a heavy, almost-sweet brown gravy with steamed rice. It was tasty but not as good as the other dishes. Skip the red beans and rice. They were pretty unremarkable, and if you're craving carbs, you can always opt for those amazing fries.
The dessert menu is sparse. But absolutely, positively save room for the bread pudding: a hearty brick of deliciousness, studded with pecans and raisins in a velvety custard, sloshed with some of the stiffest bourbon sauce ever to pass these lips. The chocolate brownie sundae was merely serviceable.
The owners of the giant barn-like structure near Lake Worth are clearly aiming for a non-corporate, swampy atmosphere. There are fake alligators all around and some real Spanish moss adorning a giant archway in the center of the room. Boo-Ray's is a family-friendly place, and when we went for Sunday lunch, the restaurant was packed. Still, the service was prompt, helpful, and pleasant, and our iced tea glasses never went unfilled.
Boo-Ray's of New Orleans
7255 Boat Club Rd, FW. 817-236-6149.
11am-10pm Sun-Thu, 11am-11pm Fri-Sat.
All major credit cards accepted.
Shrimp and crawfish fondue $8.69
Shrimp po-boy $6.99
Seafood platter $22.49
Crawfish étouffée $9.29
Red beans and rice $4.29
Pecan bread pudding $4.99