According to the USDA, the food price index for "food away from home" (that is, dining at restaurants) increased 6.4 percent in 2008 and 0.5 percent in 2009; it's projected to increase by about 2 percent for 2010 and another 2.5 percent in 2011. That's a cumulative bump of, let's see, 11.797 percent since Chow, Baby's last budget raise.

Unfortunately, the boss failed to see how this proves that Chow, Baby's expense account should now be doubled or even tripled and instead proposed to ease the fiscal crunch by treating Chow, Baby to lunch on her own much bigger dime. Hmm. Hmm. How could Chow, Baby profit the most from this offer?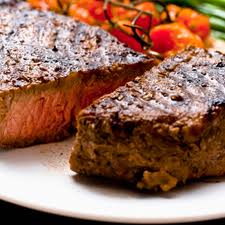 Unfortunately for exploitative purposes, the 22-ounce cowboy-cut rib-eye ($49) is dinner-only at Bailey's Prime Plus (2901 Crockett St.); sadly, the most Chow, Baby could blow on a lunch entrée was a mere $23, for the 6-ounce filet mignon. Server Laura volunteered the steak's provenance: supplied by the legendary Allen Brothers out of Chicago, Chow, Baby's favorite USDA Prime vendors. (That's just reputation halo, of course; Chow, Baby probably couldn't pick their beef out in a blind taste test, though it sure would like to try.) Certainly the filet was marvelously tender and flavorful, but Chow, Baby, having strayed outside its rib-eye expertise, had the usual is-it-me-or-is-it-them angst: The filet, ordered medium rare, was neither juicy nor particularly pink — is that the fault of the cut or the cook? Probably the latter; in the four months since it opened in the West 7th development, Bailey's has already gained a foodie-blog rep for inconsistent beef-doneness nailing.