On Bluebonnet Circle in the space formerly occupied by Ocean Rock, a popular seafood restaurant, comes Rock Bottom Bar and Grill. The menu is heavy on fish (mostly shrimp, catfish, and tilapia) but has enough other stuff (salads, burgers, and wraps) to keep the place from seeming like Ocean Rock II: The Sequel.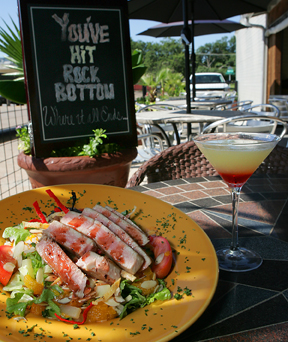 The appetizer sampler featured the Spartichoke dip (spinach, artichoke, and cheese), plus giant onion rings, cheese sticks, and queso with chips. On the menu, the Spartichoke is described as "award-winning." Not sure about that, but the dip –– a creamy white cheese sauce loaded with chunks of artichoke and not-too-mushy spinach –– was deliciously, deceptively spicy. It sent my dining companion running for her Rolaids, but I liked the level of heat. Equally tasty were the cheese sticks: plain tubes of mozzarella battered and studded with jalapeño for a spicier-than-average kick. The queso blanco was a little thin and lacked zing (although after the spinach dip, the mildness was welcome). The fat battered rings were a waste of calories.
The Black and Bleu burger was a huge, succulent, goopy mess of peppery patty, blue cheese sauce, blue cheese crumbles, lettuce, tomato, and pickles on a whole wheat bun. The wheat bun was a pleasant surprise, though all of that cheese pretty well canceled out the bread's healthful qualities. The hand-cut fries that accompany all of the half-dozen burgers on the menu were perfectly salty/spicy.
The fried shrimp entrée turned out to be a generous serving of fairly utilitarian shrimp (described on the bill of fare as "hand battered," which I took to mean "not from a frozen-food package"). Also along for the ride: tasty, crispy jalapeño-laced hush puppies (a plus!) and coleslaw, which wasn't that great. You can substitute sweet potato fries for the regular fries. We did and were pleased with the simple, crinkle-cut orange spuds.
The most inventive thing on the menu isn't homemade but brought in from a local bakery. Cake flights are three teensy, four-bite portions of your choice of red velvet cake, strawberry cheesecake, lemon sponge cake, hot fudge chocolate cake, or key lime pie. Sadly, Rock Bottom was out of key lime at the time of our visit. Of our three choices, the lemon sponge was by far the best: the perfect blend of sweet, tart, soft, and creamy. The red velvet was moist and yummy, but, confusingly, the confection was topped with whipped cream, not the traditional cream cheese frosting. The strawberry cheesecake's chocolate crumb crust augmented the strawberry flavor.
The restaurant has been open only about three weeks, so I expected that our waitress might not have complete grasp of the menu. My fear was unfounded, although she did have to go ask what kind of fish was in the Baja tacos. It's tilapia, in case you like that sort of thing. But she proved expert at running down the bar menu. Rock Bottom's specialty drink is called a "Polliwog," kind of a combo of a margarita and something heinously pink. Our waitress brought us samples, which was appreciated, since it turned out we weren't really crazy about it. But that's OK. A lovely selection of alcohol, including purple beer, is available. Rock Bottom isn't fine dining, but it is a fine addition to the neighborhood.
Rock Bottom Bar and Grill
3468 Bluebonnet Cir, FW. 817-923-7625. 11am-midnight Mon-Tue, 11am-2am Wed-Sat, 10am-midnight Sun All major credit cards accepted.