Theater artist Erin K. Orr, 36, spends most of the year in New York City, but she likes to "summer" in Texas. It's not the hundred degree-plus temperatures that bring her to Fort Worth in August, though: For eight consecutive summers now, she's taken a break from the East Coast urban bustle to come and work at Hip Pocket Theatre with co-founders Johnny and Diane Simons and their daughter Lake, a writer, director, puppeteer, and clown.


"Hip Pocket offers an incredible opportunity to leave New York and enter a magical colony of artists," said Orr, a puppeteer who teaches the artform to children. "We recharge our creative batteries when we come down here to design puppets and costumes and perform with the Simons family."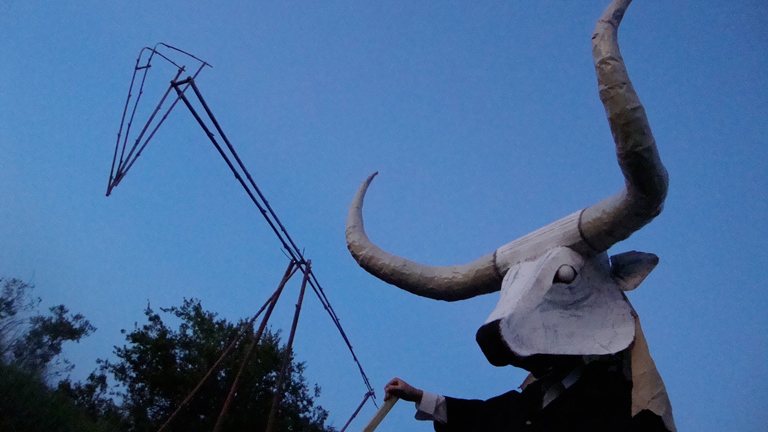 Lake Simons also lives in New York for most of the year. In 2005 the first Cowtown Puppetry Festival was created so she could maintain a regular artistic presence at Hip Pocket Theatre, where Lake and her sister Lorca, an acclaimed stage actress who currently lives in London, were immersed in dad Johnny's brand of multimedia theatrical whimsy almost since birth. Since she moved away, Lake has recruited various New York friends and collaborators to return with her during the summer and work at Hip Pocket and the puppetry festival. She met Orr in 2001 when the two were performing as bunraku artists in puppet maestro Basil Twist's version of the tragedy Petrushka at Lincoln Center.
The final weekend of every Cowtown Puppetry Festival features the Puppetry Pageant, a large-scale, site-specific production created and co-directed by Orr, Simons, and another New York artist, Chris Green. They take many of their cues from the Vermont-based Bread and Puppet Theater, where Green has worked in the past. That company stages an annual extravaganza that Orr calls "the mother ship of large-scale, outdoor, community-based puppetry pageants" in the United States. Bread and Puppet leans toward politically conscious works that have sometimes challenged war and the excesses of capitalism. Orr is quick to clarify that Hip Pocket's Cowtown Puppetry Festival –– and the Puppetry Pageant –– are strictly apolitical and intended for all audiences.
"Bread and Puppet has the same circus-style format for its pageant every year," she said. "It usually involves one huge puppet, six or so medium-sized puppets, and dozens of tiny puppets. We wanted our pageant to be radically different from year to year. One year we had the audience walk on a path with a tour guide. They encountered bizarre puppet images from coyote folk tales. Another year we had a combination of pantomime and puppets and didn't use spoken words in the narrative."
This year's Puppetry Pageant is called The Avid Listener's Walking Tour and was created around an original ambient composition by musician Bruce Balentine, who also designed a series of visually ornate string and woodwind instruments for the occasion. The experience is all about listening, Orr said: Audience members will be guided around the Hip Pocket campus, where they will encounter Balentine's nature-influenced sounds along with small- and large-scale bird, insect, water-, and land-creature puppets.
Both the puppets and the musical instruments are being crafted in "open studio" sessions this week by adults and children from the area who've signed up in advance to participate. Since no particular skill level is required of the participants, Orr, Simons, and Green will work with them to make sure a certain standard of artistic quality is maintained. At press time, Orr didn't know how many people would show up for the open studios this year. In past pageants, the number has ranged from a dozen to more than 30.
The Avid Listener's Walking Tour will take place at sunset each day this weekend in the outdoor environment of the Hip Pocket compound, immediately before the mainstage production Lowdown Wax, the second half of the 2010 Cowtown Puppetry Festival, written and directed by Lake Simons and choreographed to the music of Squirrel Nut Zippers. Orr hopes people will come to both shows without preconceived notions about what they will experience.
"We're not doing political or educational theater," she said. "Theater as poetry –– the power of visual poetry –– is what we're trying for." As for the Puppetry Pageant on the Hip Pocket grounds, she said, "We want to take Texas landscapes that people look at every day and reconfigure them in a theatrical way."
The 6th Annual Cowtown Puppetry Festival
8pm Fri-Sun at Hip Pocket Theatre, 1950 Silver Creek Rd, FW. $5-15. 817-246-9775.