Well, the U.S. Department of Transportation, through the Federal Highway Administration's Texas Division Office, has officially shut down plans for the Trans Texas Corridor-35, the huge roadway that Gov. Rick Perry dreamed would be his path to the White House. (It's a dream that could become a nightmare now that the anti-Perry Houston trial lawyer and heavy Democratic campaign contributor Steve Mostyn is running a television ad calling Perry a liar on property rights in regard to the TTC).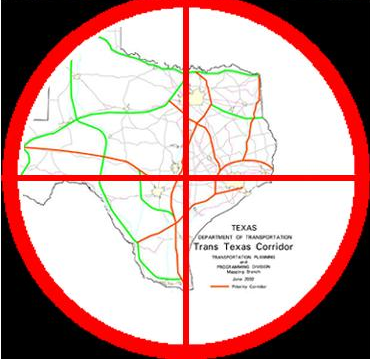 The official decision was handed down on July 20 by joint action of the federal highway agency and Texas Department of Transportation. Even now, the possibility remains that the creature could be reawakened someday. However, the official decree stipulates that none of the project work done to this point can be utilized in the future — so any rejuvenation would have to begin at square one. "The TTC-35 project is formally concluded," the document said.
TTC-35 was one of eight gigantic toll roads that would have carved Texas up like an apple pie. It was intended to be a quarter-mile wide, 500 miles long, and run from the Mexican border at Laredo to Dallas. The corridor would have landed like a giant paving machine on towns, school zones, and wildlife. It would have consumed nearly 6,000 square miles of private property, much of it the richest farmland in Texas (of which most would probably have had to be taken by eminent domain), negatively affected a million Texans, and placed land, control, and toll-charge decisions in the hands of the Spanish Cintra Corporation for the next 50 to 100 years.
Terri Hall, of TexasTurf.org, one of the most vociferous TTC-35 opponents, said she's happy about the decision — but she warned that other heads of the Trans-Texas hydra are still waving about. One that's very much alive is TTC-69, which runs from Laredo to Texarkana, with a swing just west of Houston. It's going to be owned by ASC, a Spanish corporation, with an Australian company as a minority partner. And there are two other TTC toll roads under development, both "ports-to-plains" projects, which will run from the coast into Central Texas, as well as La Entrada de Pacifico, to reach from Presidio through Big Bend and up through Midland and Odessa and then through Lubbock and Amarillo. "So this is only a partial victory" over the whole Trans-Texas Corridor, Hall said, "even though the TTC-35 is officially dead."
Kudos for the partial victory should go out not just to Hall, but to David and Linda Stall of CorridorWatch.org; Mayor Mae Smith of Holland, Texas; Fred Grant, president of Stewards of the Range; Ralph Snyder; and thousands of unsung heroes who banded together despite political differences to lop off at least one head of the monstrous project.