Ever been to the Capital Bar? I mean, you probably have — it's been open for almost a year, and from what I've seen, it gets pretty busy. I'd been there one time last fall on a Friday, when the place was elbow-to-elbow with people generally dressed more sharply than me. Not that there's a dress code or anything — I'm sure Capital Bar honchos don't care much if you're wearing an Iron Maiden t-shirt, but they'd probably prefer that it still had its sleeves.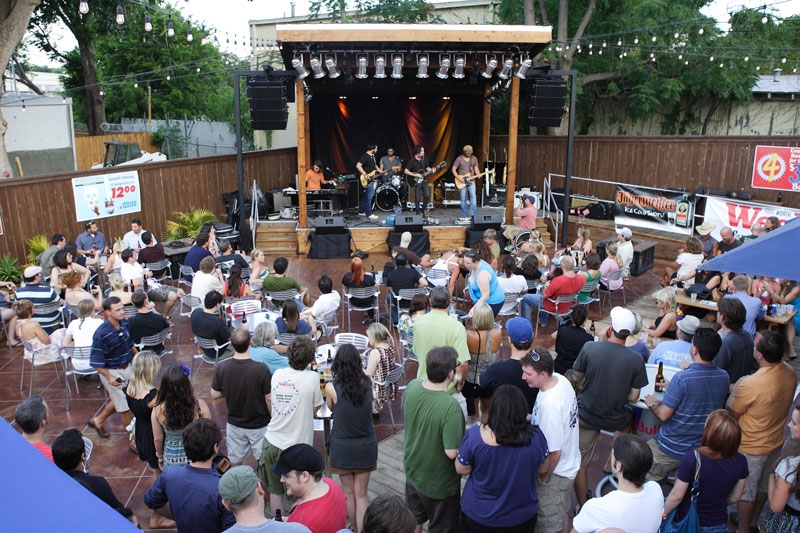 Sleeves or no, that night I had a time: not a bad time, not a good time, just a time, one in which I held a beer and wondered what else was going on. I did some people watching, finished a Miller Lite, and headed for parts unknown. The Capital Bar receded into the dark of a million bygone Fridays. On Monday, however, I hit the road with no more plan than a mind for some beers, and the Capital Bar is where I ended up spending the bulk of my night.
I started out on West Berry Street for tacos rather than Tecates. A week or two ago, a dude named Ramiro Ramirez (!) started parking a taco trailer called Salsa Limón in front of the Cellar, and since then, I've probably eaten my weight in barbacoa. (I work right across the street at the Moon.) The trailer is the satellite kitchen of the restaurant of the same name in La Gran Plaza. Both specialize in "unapologetically Mexico City-style tacos." (Read our review, "Hidden Treats at Salsa Limón," July 28, 2010.) I've tried and enjoyed everything but the chicken. I recommend the habanero sauce, but the mild stuff (the green tomatillo sauce) is good too. Anyway, I got a couple lengua tacos and crossed the street to my place of employment, but not, on this night, to work.
On Mondays, the Moon regularly has $1 domestic bottles, and I regularly have a dollar. I washed my dinner down with half a Budweiser and hit the road. Aimlessly headed north on University, I saw the Capital Bar's sign just in time to hang a right onto Morton Street. I pulled into the parking lot and headed for the bar's door.
Capital Bar is probably best known for its covered rooftop patio. The westward tilt of this cover combined with the palm trees flanking the building's north façade gives the Cap Bar a sort of Malibu air. I didn't go onto the patio though; I find the inside of this place fascinating enough. Maybe it's because I spend too much time in dumpy dives, but when I'm confronted with a comparatively upscale bar, I feel a little bit like I'm drinking in the future. This makes perfect sense when you figure that my favorite bars have looked the same for 40 years, but whatever. I guess I'm easily wowed, so long as I'm served in a polite and timely fashion. And true to form, the bartender was quick with a "what're-you-drinking?" The Capital Bar's top shelf was full of liquor I'd never heard of; I opted for a Budweiser.
For a while, I was the only person there. Juan, bartender on Mondays and Tuesdays, shot the shit with me about the usual shop talk — college kids, cops, being a college kid and encountering cops — and then his wife and her friend came in. They too were both servers. It occurred to me that I was in the midst of an unintended service industry night with people I didn't know. I thought that was pretty cool. For all the time I've been behind a bar, I've never intentionally gone out on a "service industry night," so running into one accidentally was nice coincidence. Would we go out a lot more on a typically dead night if bars started marketing to us in that way? I don't know. It's not like we're a union or anything. I'll always be a champion of the service industry, but I don't think the trade carries as much solidarity as all our complaining would have you believe. Still, I had a good time hanging out with some people who happened to be professional colleagues. Spread the word around, and maybe Mondays will turn into a party there more often. –– Steve Steward
Contact Last Call at lastcall@fwweekly.com.