Is there a spate of new bars that happen to have good eats? Or is this phenomenon really a spate of new restaurants conveniently doubling as bars? Fort Worth is home to a few taverns boasting better-than-usual bar fare: 8.0 in Sundance Square and The Pour House in the West 7th corridor are two prime examples. To that short list, add both the Wild Rooster Bar and Delaney's Irish Pub. Both "bars" feature earlier-than-usual opening times, plainly to capitalize on the need for lunches with pints.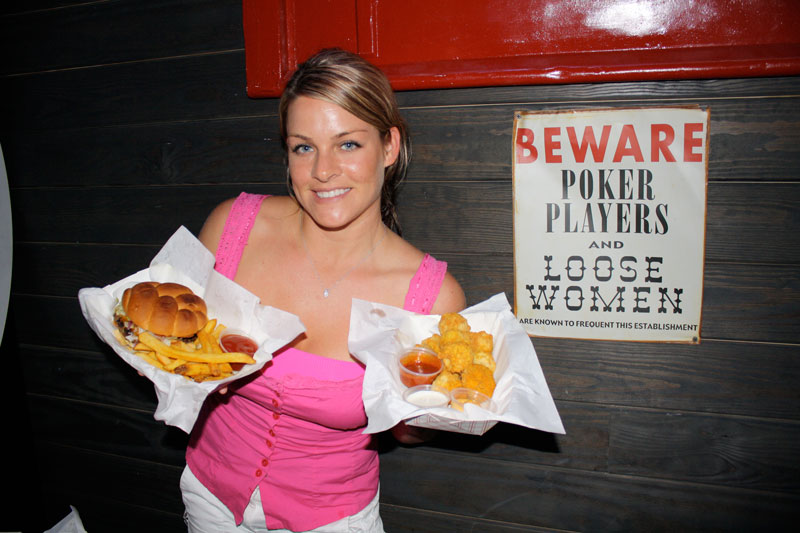 Judging by the (large) size of the lunch crowd on a recent weekday afternoon, the Wild Rooster, located in the Cultural District, fills a need. The meal started with Rooster Balls (basically fried jalapeños), queso, and wings. Wild Rooster has three temperatures for its wing sauce: mild, medium, and Pissed Off, which sounded too funny not to try. The meaty, crust-less wings and "drumettes" packed plenty of vinegary spice. Pleasantly, the jalapeño balls were stuffed with cheese that was at least partially of the real, shredded variety, and they weren't too spicy. Skip the queso; it was unremarkable, and you're going to want to leave room for the tacos.
The tacos come with either chicken or brisket filling. Each taco consists of two soft corn tortillas with melted cheese between them, stuffed with meat, lettuce, and even more cheese. The brisket tacos were amazingly, succulently good and are the better choice if you have to make one.
Finally, the menu-described "legendary" Elvis sandwich was a horrific masterpiece: banana, peanut butter, and applewood smoked bacon stuffed between two slices of Texas toast, battered Monte Cristo-style, and served with jelly. The melding of sweet battered bread and banana with salty peanut butter was amazing. Sadly, the Elvis is resting in peace in the great kitchen in the sky –– Wild Rooster staff says that surprisingly, nobody was ordering the beast. Pfft. Thanks a lot, weight watchers.
Overall, the food was spectacular, the service was friendly, and the drinks were cheap and strong. The downside is that since the Wild Rooster is considered a bar, it can skirt those restaurant rules prohibiting smoking inside.
The difference between Wild Rooster and Delaney's Irish Pub is in the depth of the latter's menu. Wild Rooster's bill of fare is a page long. Delaney's is about as thick as Ulysses. Oddly, for an Irish pub, the menu pulls a lot from Americana cuisine, specifically Tex-Mex (lots of jalapeños).
Joining such quasi-Irish delicacies as "Rusty Nuts" (fried jalapeños stuffed with diced bacon and mashers) and Irish eggs, the chicken fondue turned out to be a delightfully spicy, unusual queso-like appetizer of fontina cheese and a definite kick courtesy of jalapeño. The portobello mushroom sandwich was a wonderfully "meaty" double-fister of spicy sherry-marinated 'shroom on a flat bread bun. And the chicken carbonara was out-of-this-world tasty. A generous serving of penne pasta and grilled chicken arrived coated in a luxuriously creamy sauce and perked up with a little bacon.
There were some misses: The blackened chicken salad wasn't that blackened (or spicy), and the gyro sandwich featured pre-processed beef/lamb log on a stale-tasting pita. All of the sandwiches and wraps come with your choice of sides; the salad with homemade ranch dressing was exceptionally tasty. If you have room for dessert, the bread pudding is a lovely chunk of moist goodness augmented with cinnamon apples and a stiff brandy sauce. And unlike at most Irish pubs in town (Poag Mahone's, Conlon's, the Shamrock), smoking is prohibited in Delaney's dining room and bar area, although you can smoke on the patio outside.
The Wild Rooster and Delaney's share some similarities besides the gourmet bar food. Both places try really hard to establish an identity: The Wild Rooster's is Texan, and Delaney's is Irish, though the place is about as genuinely Irish as any other Irish-themed pub not in Ireland. In addition to some Irish-sounding dishes, Delaney's also offers a ginormous selection of Irish whiskeys and beers, including Guinness. Delaney's web site advertises "gourmet food at pub prices," but the prices were a little steeper than at most other pubs. As an Irish friend says, "If it can't be described as a dive, it's not an Irish pub." Oh, well.
Wild Rooster Bar
3204 Camp Bowie Blvd, FW. 817-332-9453. 5pm-2am Mon, 11am-2am Tue-Sun. All major credit cards accepted.
Delaney's Irish Pub
2973 W 7th St, FW. 817-289-2711. 10am-2am Mon-Fri, 9am-2am Sat-Sun. All major credit cards accepted.