The thought of going to Jerry Jones' overly expensive monument to himself was never within my realm of possibilities. Every time I drive through Arlington, I curse the monstrosity. I swore I would never go to a game at Cowboys Stadium –– until, of course, TCU announced it would be playing Oregon State there in the season opener on national television. And more than I loathe Jerry Jones, I love TCU. So off to the "Boss Hogg Bowl" (as my dad calls it) I went.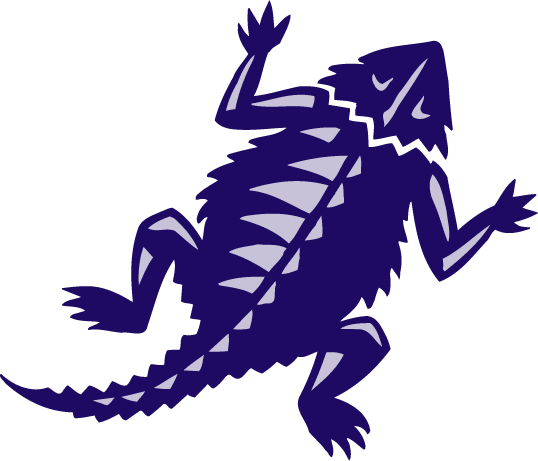 As expected, parking was the huge pain in the ass that it's reported to be. Jerry wants every penny of ours that he can get, but my crew and I showed him who was boss. My friend Jessica, who teaches high school, found parking across the street at a Cici's Pizza. Major bonuses included one free pizza per car and knowing that you somehow stuck it to Mr. Big Man.
Some Oregon State fans were equally clever, having discovered the discounted parking spot right next to ours. We didn't even have to ask if they were actually from Oregon. The way they were fanning themselves while commenting on the heat was a dead giveaway. Despite these Oregonians' smiles and outwardly pleasant behavior, I had learned from beaverfansite.com (wonder how many misguided visitors it gets!) that some OSU diehards secretly look down on TCU fans because they wear purple. I'm not sure if those people just inherently dislike the color purple or are simply jealous of TCU's success. Either way, I knew there had to be some jerks among the visitors.
Well, come to think of it, they might have a point. As Jessica, her husband Stephen (an OU fan), and I walked across the sea of concrete surrounding the gaudiest monolith known to man, he remarked on how TCU fans just don't dress like normal football fans. While most male football fans across the country, based on numerous photos and videos, wear casual clothing to games –– reasonable t-shirts or jerseys, shorts or jeans, and tennis shoes or flip-flops –– the average male TCU athletic supporter togs a collared shirt and cowboy boots. (Many female TCU fans, like their sistren in other warm-weather conferences, wear tube dresses with cowboy boots. It's a fad that's become something of a uniform at football stadiums all over the South and along the coasts.)
We wandered through the interminable lots 2 and 3 before reaching the promised land of 4. When we didn't find the professional tailgaters for whom we were searching (yes, people get paid to promote products in parking lots on game days), I texted my friend Ira, who had advertised on Facebook that he would have a satellite television at his truckbed shindig.
His exact text said, "We have a TCU flag flying." Thanks, dude. There were around 100 TCU flags flying.
After taking a few free Jell-O concoctions that a smiling guy called "purple passion shots" and drinking cans of beer (Modelo Especial for me) while carrying a cooler through the vast parking lot, we did find Ira's tailgate by the crowd gathered around a three-foot-tall purple metal horned frog.
"Where did you get that frog!?" asked people of all shapes and sizes (and all dressed in purple). Being a TCU fan is a unique badge to wear, and true adherents are constantly searching for unique frog collectibles. I can't begin to count how many of the aforementioned have turned up in my Christmas stocking over the years.
In addition to the metal statue, Ira had a purple cooking grill. He proudly told the story of how he had to order special engine paint and how the purple color is rare.
Ira, who really does throw great parties, also brought tents to keep the sun at bay. Stephen wandered away to visit scalpers while Ira explained that he was probably going to skip going into the stadium in favor of watching the game on the satellite. On cue, a random guy in front of the television asked to turn it to the Texas-Rice game. Turns out he was one of the rarest of creatures –– a Rice fan!? He overheard Jessica and me talking about the upcoming game and remarked, "Well, dang, you guys take this shit seriously."
Before I could answer with something witty, Ira's drunk friend popped up from her nap on the grass and asked if it was time for the beer pong game. Apparently, everyone doesn't take game day as seriously as I do.
The drunk friend immediately turned to a passerby and asked for a lighter. He stopped to chat, and it turned out he is Coach Gary Patterson's brother. He invited us to share his stash of Coors Original and Hooters wings. Two blond guys in his entourage explained they were from La Crosse, Kan., near Coach P's hometown of Rozel. When I looked at them with a blank stare, one of the guys said, "Oh, they're close. It's kind of like Dallas and Fort Worth." Oh.
To break the awkward silence, Ira pointed to a purple tube-dress-clad blonde in cowboy boots walking by with several bottles of champagne. "Now that is your typical TCU girl," he said "I just don't get it."
Looking around, it did appear as though the several thousand women in lot 4 had purchased every purple tube dress on the continent. I don't know how many of them bring champagne to tailgate parties, but no one seemed too surprised. This Jerry Jones-TCU deal might be an ideal match after all.
Author's note: After TCU's statistically dominant 30-21 win over Oregon State, Big Boss Hog announced that LSU and Oregon will be playing in the 2011 game at the stadium. Sound business sense, Jerry: forgoing all of that purple money in your backyard in favor of teams not even from Texas.
— Caroline Collier