Not to compare Chow, Baby's beloved East Side of Fort Worth to the beleaguered South Side of Los Angeles, but one neighborhood similarity is striking: the dominance of fast-food chains over yummy mom & pops. Sensibly agreeing with Chow, Baby that this is a Bad Thing, though not for the same reasons, the Los Angeles City Council is about to vote on whether to make permanent its two-year moratorium on new fast-food restaurants in South L.A.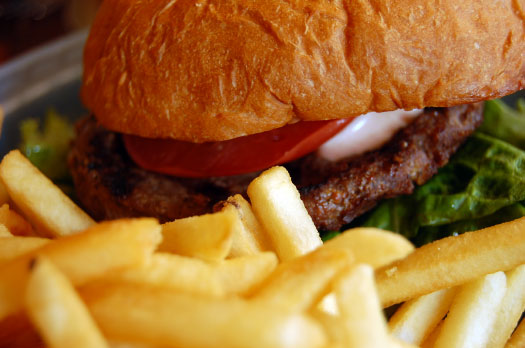 There are good arguments on both sides: Yes, the government should do something about the high rates of obesity and diabetes among poor people in fast-food-dominated neighborhoods. No, the government shouldn't be telling us what we can eat and telling McDonald's not to open new stores in certain neighborhoods (some have called the rezoning "food apartheid"). Debate amongst yourselves.
Unlike those poor South Angelenos, though, we cash-strapped Eastsiders don't have to depend on McDonald's for our value meals. Westside soul food king Drew's Place has finally reopened its Stop Six location as Drew's Burgers (5012 E. Rosedale St.). And what a value meal the burger special is: a quarter-pounder with fries, drink, and hot apple pie for $3.99. It's far from the biggest, juiciest burger in town, but it satisfies the tummy as well as the wallet. Another great value: the lunch-special chicken-fried steak ($4.99), a mini version of Drew's $8.99 plate across town, complete with real mashed potatoes and expertly doctored green beans. With the money you save, get a slice or two of Drew's incredible sweet potato pie ($2.49).
Drew's Burgers opened just a few weeks ago and is starting off slowly, both in hours (11a.m.-7p.m. Tues-Fri, 11a.m.-5p.m. Sat) and in menu offerings — breakfast may come later, but for now it's just burgers and daily specials like catfish and pork chop baskets (a low, low $4.99). Another Westside ex-pat, though, is bringing it full force. Wilson's Bar-B-Q has opened on the East Side (6513 Brentwood Stair Rd.) with the entire menu from its old Como location, which for years was the barbecue joint by which Chow, Baby measured all others (and the others always failed). Tender brisket, fall-apart ribs, crispy-skinned sausage, squishy bacon-flavored beans — it's all back, plus the prices are lower (plates start at $9.99), plus 24-hour weekend drive-thru for those 3 a.m. bolo cravings.
To avoid hungrily rushing into buying everything on the menu, frugal Chow, Baby came up with a smart plan: get a chopped-beef sandwich ($5) for an appetizer, settle at one of the fast-food-like tables, and calmly decide on one thing to order for dinner. Indeed, the sweet-sauced, slightly smoky chopped beef was as tasty as Chow, Baby remembered and, piled high on a big toasted bun, was a full meal all by itself. But wait, there's more: Though Chow, Baby hadn't noticed it when ordering, chopped-beef sandwiches are two-for-one, just like in Wilson's olden days. Lunch and dinner for a mere fin! That's your Eastside value meal: great barbecue at a great price. No government intervention required.
Contact Chow, Baby at chowbaby@fwweekly.com.