If you'd asked anyone living around Mansfield a decade ago if the town had a traditional Japanese restaurant, you might have been laughed at. Oh, how times have changed. Sake Hibachi Sushi & Bar is one of a few sushi joints in town. The restaurant is housed in a building that used to be a chicken restaurant, complete with a giant silo rounding out one corner of the building. The interior, however, is less Ol' McDonald, with a tranquil wall of running water by the entrance, glossy neon-lit bar, subdued colors, and Asian-inspired art.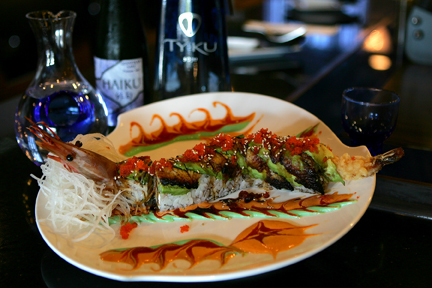 What's unusual about Sake is that you don't have to choose between sushi and hibachi. Sit at the hibachi tables and watch the chef do magical things with eggs, raw meat, and veggies, or opt for a seat in the other side of the restaurant and choose from a variety of pan-Asian offerings brought to you. In addition to Japanese noodles, sushi, and rice, the menu features Thai items such as Tom Kah and Tom Yum soups and pad Thai as well as Vietnamese coffee.
The Tom Kah soup was pleasant enough but didn't taste traditionally Thai: The coconut broth was a little thin, and there seemed to be less lemongrass flavor than I'm used to from places that serve only Thai food. The crab puffs were succulent little morsels of krab (not real crab) and cream cheese, wrapped in wonton skins and lightly fried. The six-piece appetizer disappeared quickly. The ahi tuna tower, from the app menu, was an intriguing combination of immaculately fresh spicy tuna, mayonnaise-y krab, velvety avocado, and cucumber, layered in a circular edifice atop rice, with plate accents of wasabi cream and soy. The avocado plainly had been cut to order, sporting no brown spots at all. The more we ate of the spicy, creamy mixture, the more we liked it
From the entrée menu, the Chilean sea bass came perfectly pan-seared with a mild garlic and soy sauce, accompanied by asparagus. The simple preparation highlighted the freshness of the fish. The hot wok sear left a crispy crust, and the garlic was definitely present but not overpowering.
The menu doesn't list the prices of the sushi, but most rolls hover in the $10 to $12 range. Helpfully, the fully cooked rolls are highlighted on the menu in boldface. For reasons still not understood, all the rolls are named for cities or places, but nothing in the roll ties to the geography. The OKC roll featured shrimp tempura, avocado, and cream cheese, in a lovely creamy, crispy, crunchy amalgamation. It was tasty, but when did Oklahoma City become known for tempura shrimp? The Vegas roll was a California roll covered in sweet, tender scallops and a little too much mayonnaise-y sauce. It was still very flavorful.
One of the highlights of the meal was the Aloha fried rice –– shrimp, scallops, scallions, onions, pineapple, basil, and rice, all tossed in a wok to golden, slightly crunchy perfection. The sweet pineapple, fragrant basil, and salty soy sauce proved to be an exceptional combination.
If you're sushi-averse, there is a variety of meat, chicken, and seafood dishes to be had. While the appetizers are fairly inexpensive, the sushi seems a little on the costly side, and the hibachi dinners run between $16 and $30. At the sushi bar, though, everything looked, smelled, and tasted scrupulously fresh, which is probably worth paying for. The restaurant does offer some well-priced sushi combos if you make it in between 11 a.m. and 3 p.m. While nothing about Sake Hibachi Sushi & Bar is especially better than any of the 817's finer sushi places, if you're in Arlington or Mansfield and don't want to hassle with driving or parking, it's just what the Itame (sushi chef) ordered.
Sake Hibachi Sushi & Bar
100 W Debbie Ln, Mansfield. 817-453-5888. 11am-10pm
Mon-Thu, 11am-10:30pm Fri-Sat, 12-10pm Sun. All major credit cards accepted.
Tom Kah soup $5
Crab puffs $5
Ahi tower $12
Aloha fried rice $14
Chilean sea bass $16
Vegas roll $12
OKC roll $10