Fall can drag here sometimes, either with school starting back up or the weather just not getting as cool as we want. But fall also means the build-up to Halloween, and Fort Worth becomes host to a plethora of spectacular haunts.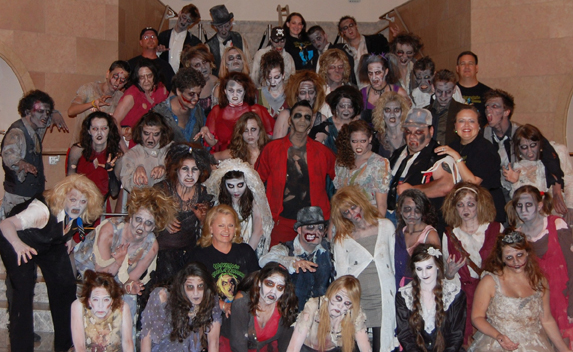 Cutting Edge Haunted House (see this week's cover story) is already open and brings its world-class scares to downtown Fort Worth. The sight of its nightmarishly decorated building is familiar to anyone traveling I-30 during the fall. Cutting Edge's reputation is legendary, being named a top haunt by the likes of Fangoria and the Travel Channel, and it currently holds the Guinness World Record for the longest walk through a haunted house.
If Cutting Edge has any true competition, though, it has to be Hangman's House of Horrors. Hangman's 22nd season starts up this Friday with four attractions: the classic Hangman's; The Swinery, a terrifying tasting room; Obscurities, a nightmarish maze; and a trip down the rabbit hole called 3-D Wonderland. It has been named a "Best of Fort Worth" tourist attraction by the U.S. Local Business Association and as one of the top haunts in the nation by MSNBC.
Of course, Arlington isn't without its scares, and it pulls out the big guns when Fright Fest opens at Six Flags. Starting on Oct. 1, the park will be filled during the day with the normal cavalcade of attractions and at night with ghouls and haunted houses. Being scared all day and evening, from roller coasters to monsters, is a pretty good way to enjoy the season of All Hallow's Eve. Regardless of the weather, North Texas won't be lacking in great chills.
Cutting Edge Haunted House is open Sep 18, 24-25, Oct 1-2, 8-10, 15-17, 21-31, and Nov 5-6. Tickets are $23-38.50. Call 817-500-6434.
Hangman's House of Horrors is open every Fri and Sat from Sep 17-Oct 30, plus Sundays Oct 24 & 31 and Wed-Thu Oct 27-28. Tickets are $4-20. Call 817-336-HANG.
Fright Fest at Six Flags Over Texas opens Oct 1-31, Fri-Sun. Tickets are $35-55. Call 817-530-6000.