When Richard Blake joined Pantagleize Theatre as managing director last fall, he told co-founder and artistic director Violet O'Valle that he intended to find the tiny company a permanent home. Pantagleize had been staging its small-scale comedies and dramas by international playwrights at various venues, including the Sanders Theatre at the Fort Worth Community Arts Center and the Fort Worth Montessori School, since the company was created in 2002. Blake began driving around the city looking for buildings that appeared dormant but promising.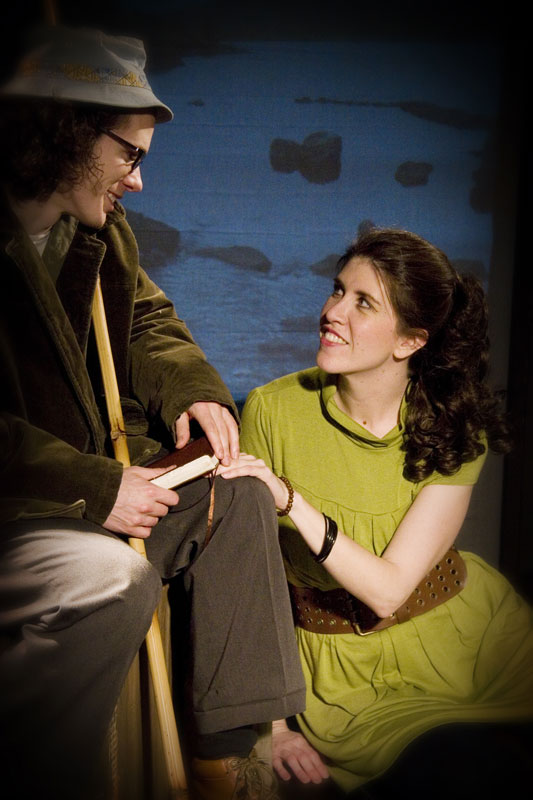 "I'm not shy about walking up and knocking on the door and saying, 'Who owns this place?' " Blake said. "I looked at old warehouses and VFWs and strip mall spaces. Finally I saw this great old art deco building south of downtown, got out of the car, and talked to someone there."
That "great old art deco building" is the 80-year-old Fort Worth Public Market, a registered Texas historic landmark that sits on a lot with two other structures at 1400 Henderson St. All three buildings are owned by Bowen Properties, and, coincidentally, the Bowen family had been looking for tenants to help reestablish the Public Market complex as an active presence in the city. In June, Pantagleize Theatre signed a lease to move into the third building on the property, a former restaurant and banquet hall that was built in 1954. (A fire last week destroyed the nearby second building and interrupted the theater's operation for several days. The fire also devastated an attempt to reinstitute an actual farmers' market in the complex.)
Blake and O'Valle decided that they didn't have to do major renovations –– the space was laid out almost exactly as they needed it. Offices, rehearsal area, costume and prop room, and an intimate performance space were created by adding a few interior walls and doing a lot of painting and cleaning up. To launch the Public Market theater, they're currently staging the world premiere of And All His Songs Were Sad …, a two-act play with music about the Irish songwriter Sean McCarthy and his complex relationship with the singer Peggy Sweeney. Her gorgeous, definitive recordings of McCarthy's folk tunes about death and unrequited love were responsible for cementing his fame throughout Ireland. McCarthy died on Halloween night 1990 at the age of 67 with Sweeney at his bedside. She is alive and well in her late 50s, working as a registered nurse in Ireland and incorporating song into her therapy sessions with autistic children. Although Sweeney has eschewed a steady career as a professional singer, she was thrilled to talk with O'Valle about recreating the "artistic friendship" between herself and McCarthy as a Fort Worth show for Pantagleize.
"I set up a meeting with Peggy last summer at a pub in Dublin," O'Valle said. "She sang some of Sean's songs for me on the spot. She cried a lot and spoke lovingly of him. It was a star-crossed thing between them, I think. Sean was about 30 years older than Peggy. When they first met [in 1972], she already knew all of his songs and would sing them for him when they walked in the bogs of County Kerry" in Ireland. "If there was something more to their relationship, they never talked about it. Both of them were married to other people."
And All His Songs Were Sad … was developed from an original script by Mattie Lennon, a Dublin bus driver and amateur McCarthy scholar whom O'Valle met through a friend of a friend in 2008. The title of the show comes from a quote by the English writer G.K. Chesterton, whose ode to the Irish famously declared that "all their wars are merry / And all their songs are sad." Lennon had never met McCarthy; his script was based on interviews and newspaper accounts of his life and of his musical partnership with Sweeney. Blake, who directed the show, started corresponding with Lennon back in February via phone and e-mail, to add narrative and context to the script. Meanwhile, Sweeney provided intimate details of the songwriter's life that Lennon didn't know.
"[While directing the play] I danced around the subject of whether Sean and Peggy were romantically involved," said Blake. "The audience can decide for themselves. In America, we've got a jaded view that says, 'How could she be so naïve as to become friends with Sean just for the pleasure of singing his songs to him?' I think they had a deep relationship but on a different level than most of us can relate to."
And All His Songs Were Sad …
8pm Fri & Sat and 3pm Sun thru Oct 3 at Pantagleize Theatre, 1400 Henderson St, Ste 3, FW. $15. 817-472-0032.