It's odd, and oddly disappointing, that the Chow, Baby web page gets only the very occasional e-comment accusing its namesake of bragging on itself, most recently for having attended a cheap state university and for driving a 35-year-old rattletrap whose fuel pump is about to blow. Oh, and for talking about itself in its own column. That one Chow, Baby does every single week, yet only gets crap for it a few times a year. Where are all the a-holes on the internet we keep hearing about? Don't you love to hate me any more?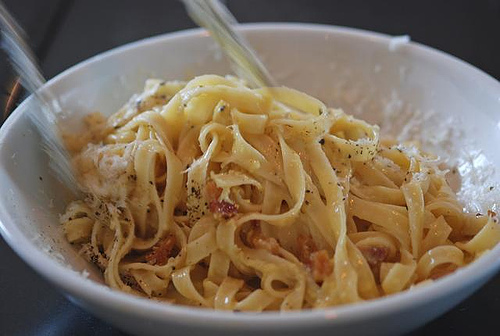 The eerie thing is that these "you think you're so smart"-type comments always seem to arrive when Chow, Baby is indeed feeling particularly smart. It takes a genius, really, to determine whether Family Italian Restaurant Birra Poretti's (668 Lincoln Square, Arlington) should also be subcategorized as a Neighborhood Italian Gem. There are some fine distinctions in play here. Like all Gems, Birra Poretti's has a lengthy menu of Italian-comfort-food dishes, fairly reasonable prices (entrées start at $7.50), and convivial service (from cheerful Erica). But instead of being in a Gem-proper aging strip mall or renovated fast-food hut, Birra Poretti's is housed in clean, near-upscale Lincoln Square. And inside it's generic-looking, with blah mass-produced art and the kind of chairs you buy in lots of 100. Gems usually have a bit more charm.
For the most part Birra Poretti's follows the standard Gem cookbook — the chicken marsala ($12.95), lasagna ($9.95), and Americanized linguini alla carbonara in cream sauce ($9.95) taste as great here as anywhere. But sometimes it goes rogue, like with stuffed mushrooms ($5.95) with breadcrumbs mashed up with flavor-popping ricotta and spinach instead of the Gem-typical crab/krab. Tough call, but a sharp observer will notice that Birra Poretti's menu does not list the single defining characteristic of Neighborhood Italian Gems: pink sauce. That makes Birra Poretti's a gem but not a Gem, and Chow, Baby pats itself on the back for analyzing the situation so neatly.
The week's other brain-scrambler was even tougher: Chow, Baby liked its cheeseburger and fries at Five Guys (4833 S. Hulen St.). That is, really liked them. "Loved" would not be a stretch. This is terrible! Five Guys is a national chain, and therefore stupid and beneath contempt. Even though Chow, Baby is really, really smart, it had to sit for an hour in this too-bright, too-loud diner-style joint to figure out how to adjust its worldview to accommodate all this.
"All this" began with a surprisingly juicy cheeseburger ($5.29), "surprisingly" because the grillmeister insisting on overcooking it. "We cook everything well done" is often the mantra of people who don't trust their meat, but these are some very trustworthy-tasting patties: two of them, each just under a quarter pound, stacked on a smallish sesame seed bun so they look even bigger. Toppings are fresh, free, and plentiful. The unwieldy bun/burger/toppings stack fatally collapsed midway through the meal, but that was mainly because the bun was juice-soaked, so that's OK. And if you like crispy-edged fresh-cooked fries ($2.79 for lots) with just enough grease to spot up the take-out bag, you'll love these. Boy, Chow, Baby was smart to find this heavily advertised and talked-about burger place. You should try it, because Chow, Baby knows best.
Contact Chow, Baby at chowbaby@fwweekly.com.