Plenty of kids and kids at heart will be dressing up like their favorite super-heroes this weekend, and some fans of the genre make their devotion even more permanent — with tattoos. But imagine going to get a tattoo of, say, Wolverine and seeing Wolverine's actual costume from the X-Men movies standing amid the inks and needles. Knuckle Up Tattoo by the Stockyards houses a personal museum's worth of such memorabilia.



Knuckle Up may be the only ink parlor where the tattoo designs have to fight for the customer's attention. Walls and cabinets are filled with props and costumes from dozens of movies. V's mask from V for Vendetta sits above Wolverine's outfit from X-Men: The Last Stand. A glass case displays the prosthetics used to turn Ron Perlman into Hellboy. And in the middle of the studio sits an impaled Spartan warrior from 300.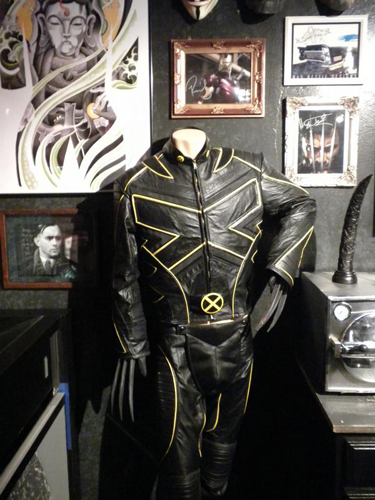 Owner Drago Reid (how awesomely appropriate can you get?) has been filling his store with movie memorabilia for several years. He has a longstanding connection to the film business, working at Los Colinas studios as a makeup artist and doing contract work for movies such as Pumpkinhead, Alien: Resurrection, and The Addams Family. He also knows many horror legends personally, including George Romero of Night of the Living Dead fame and Doug Bradley, the actor known for portraying Pinhead in the Hellraiser series (who, according to Reid, is also "a totally serious British guy –– he wears suits everywhere and loves tea time").
Reid began collecting after he went online to look at the costumes actors wore, and "it just took off from there." He can't remember the first piece he bought, but he has no trouble naming his favorite one: "Definitely, the Wolverine costume." The Hellboy prosthetics and Raul Julia's M. Bison outfit from Street Fighter, the last costume the actor ever wore, are also high on his list.)
Reid is not the only one interested. "People keep trying to buy my stuff," he said. Sometimes he even gets actors wanting to buy their old costumes back. He was contacted by rapper Eve, who wanted to buy her costume from Whip It. He's never given one back. "Considering the amount of work I put into acquiring it, I'm a little too attached," he said. Customers also inquire about purchasing props from his parlor. His most sought-after piece? "The Punisher body armor," he said. "People are always after that."
Buying the costumes and props is an adventure in itself. "You have to be preapproved to take part in these auctions," he said, "prove that you can afford the bidding." The auctions don't occur often — the horror fanzine Fangoria, for instance, puts on only one sale a year, in October. Despite his passion for the stuff, Reid does try to be smart about what he buys and how much he pays. "I've spent about $200,000 on everything," he said.
The most expensive thing in his collection? "The Wolverine outfit," he said. "It took about a year to pay off. They made so many different types for Hugh Jackman to wear, with increased amounts of battle damage. The one I have is one of the few undamaged ones in existence." He added that Wolverine's claws are the most expensive props out there. "A full set goes for about $15,000," he said.
Not everything he buys is from a famous movie. "I buy it because it looks cool," he said, citing props like binoculars from Transformers and dismembered limbs from Outlander as totally cultish acquisitions.
Unfortunately, Reid can't put all his props in his shop. "I'd say about 10 percent of my collection is shown in my shop," he said. But customers can at least look at all of it online. Sometimes he gets inquiries from other collectors, asking for specs on items he owns so authentic reproductions can be made.
What's next? "I'm ordering a set of John Travolta's wings from Michael," he said.