The six guys in the Hanna Barbarians are hippies, indubitably, but they have put a decidedly practical spin on their freewheeling peace 'n' love aspirations. The music is Southern-fried, psychedelic, and open to improvisation, but this is no jam band. Rather, the Barbarians are working hard to let each band member be his natural self while achieving a focused unity as a group. With two EPs and a three-state tour already under their belts, they are on the verge of recording a debut full-length and see lots of good music and good times in the future. "We know it is a long process," said guitarist Raef Payne. "But we feel like this is a job well started."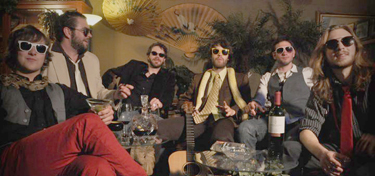 The band officially got together in early 2009, when Payne and keyboardist Colin Cashman were living in a Fort Worth home and recording studio dubbed The House of the Rising Sun. Back then, the band had horns and no bass player. Over time, they joined with drummer Tyler Fleming and guitarist Alex Zobel and started to gig somewhat informally. The band solidified when it annexed singer Blake Parish after he opened for them as a solo act one night at The Grotto in the Cultural District.
About two years later the Hanna Barbarians, which now includes bassist Chris Evans, have rented a two-story Riverside-area house –– where they all live –– and are planning a peaceful assault on the music world. They believe that living like a family will help strengthen their musical and personal bonds. Having a soundproof rehearsal space in the garage doesn't hurt either "We are always together," Evans said. "We have our own ideas and creative ways, but this is making us an amazing unit."
All of the guys except Fleming, who does freelance graphic design, work in the developing West 7th Street area.
Their insistence on being on the same page carries over into the music. What Evans calls a "cohesive sound" will tie together the songs on the upcoming Hanna Barbarians album, including many that are leftovers from Parish's and Zobel's days as solo songwriters. The two bring chords and words to the table, and the band, together, "Barbarianizes" the ideas into something that everyone can claim as his own creation.
The band will record the as-yet-untitled album in the new Red Star Recording Studios with producer Robby Baxter (Levon Helm, Moby, God's Joke). The band and Baxter plan to start next month and hope to have a pressed and finished product by Christmas.
Don't expect a collection of singles aiming to be radio hits. Rather, the guys want a Pink Floyd-style epic record in which their Doors-and-Dr. Dog-inspired songs will segue into one another without much fanfare. "It will be a true artform, not another mp3," Payne said. To highlight the classic-rock roots over which the band's feel-good lyrics are delivered, the Hanna Barbarians and producer Baxter will do the whole thing live and on one-inch tape, no corners cut.
When it comes to playing live, the band wants to do as much as possible, in Fort Worth and elsewhere. Last summer they rented a party bus from the only company they could find that didn't charge by the mile and drove it from the Fort to Austin to Albuquerque to Boulder –– in four days. "We would either break up and kill each other or totally bond," Parish said. Even with open cans of sardines in the small bus and a tiny crowd in a strip mall in Boulder, the experience was "nothing but fun," Parish said.
The guys plan on many more road trips, but seeing what's "out there" makes them very happy to call Fort Worth home. This town "is on the cusp of something cool," Parish said. The Hanna Barbarians feel they are part of an up-and-coming roots-rock scene in town, a scene that includes Jefferson Colby, Skeleton Coast, and Red Starlet. But the Hanna Barbarians will happily play shows with any band. "We want to create good feelings and good times," Parish said.
Being part of a scene isn't limited to folks in bands, and the Hanna Barbarians are extremely thankful for the support they have received thus far from friends and fans. "It takes a lot of people to make this happen," Payne said about growing his band's profile. "The fans are part of the same entity. The unity stretches further than the stage."
Whether it's through after-parties or downloads, the guys want to give back the positivity they have received. They may have idealistic hopes for this musical undertaking, but that optimism helps make the band what it is. "Music is a powerful tool," Payne said. "With the right intention and right love, it can be really effective."
The Hanna Barbarians
Sat, Nov 13, at The Grotto, 517 N University Dr, FW. $5. 817-882-9331.