If you're a regular reader, you're probably well aware of Indian Casino Records, a Seattle label run by Haltom City ex-pat John Frum. Though times have been hard, the label continues churning out product, including a new barnburner by Seattleite Andy Gassaway. Hellfire is cowpunk –– but it isn't. Just when you think the twang in any particular song is leading toward tear-in-my-beer territory, Gassaway throws you a curveball. Maybe a sudden shift in tempo. Or an odd chord. But he never undercuts what he's doing.


Nothing ever sounds gratuitous or calculated. He's just a masterful, adventurous songwriter. "Nom de Plume" is a simple arrangement of twangy finger-plucked guitar and walking-tempo beat that, with Gassaway's unfazed echo-laden voice, calls to mind a Doors B-side. "Primrose Freeway" is a sloppy, jangly it-feels-good-to-feel-bad number that sounds as if it had been recorded in a roadside diner broom closet. The instrumental "Havana Loon" is a calypso-ish, guitar-centric "Green Onions." "Come on Back" has an old-timey C&W feel. For more information, visit www.indiancasinorecords.com.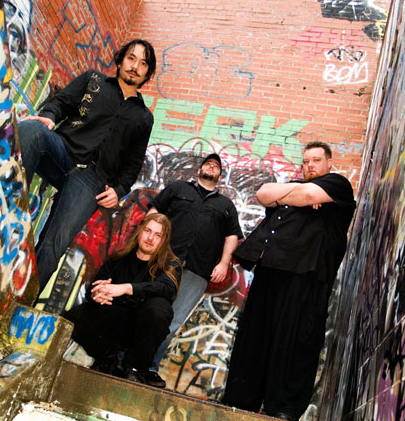 The Mansfield prog-metal quartet Waking Alice has just released a killer new EP. The Shaping has a lot of purely melodic moments, though it's still hard charging. Perfect for The Eagle or The Edge. The album was recorded at Reeltime Audio in Denton and produced by Eric Delegard (Drowning Pool, Brave Combo). The band will celebrate the release of The Shaping on Friday at Ridglea Theater (6025 Camp Bowie Blvd., 817-738-9500) with No Scope, Minor Damage, Evenmark, Silver Loves Mercury, and Trimmer. Visit www.wakingalice.com.
Featuring Colleyville bassist Rex Brown (Pantera, Down), drummer John Luke Hebert (King Diamond), guitarist Ben Bunker, and frontman/guitarist Lance Harvill, Arms of the Sun is about to release its debut album, produced and mixed by Terry Date (Deftones, Pantera, Soundgarden). You've probably heard some of the songs on The Eagle. If not, the sound is hyper-melodic and heavy. Very Queens of the Stone Age-y mixed with Stone Temple Pilots. Visit www.armsofthesun.com.
On Sunday from 7 to 10 p.m. at McDavid Studio (301 E. 5th St.), a who's-who of local bluesmen will gather for a memorial show for Mike Cotham, Bass Performance Hall CFO and McDavid Studio booking agent who passed away last week at the age of 64. The event is free and will be a three-hour jam session featuring Dave Millsap, Bugs Henderson, Jim Suhler, Anson Funderburgh, and others, all of whom were friends of Cotham's. For more information, visit www.basshall.com.
The Thursday Fort Worth Music Co-Op show at Lola's Saloon (2736 W. 6th St., 817-877-0666) is quite a coup. Whiskey Folk Ramblers, Austinite-via-Fort Worth Collin Herring, and These Mad Dogs of Glory are slated to play. At Lola's, the night before, Wednesday, is also pretty promising. On tap are Calhoun, Husband and Wife, and Chatterton's Kevin Aldridge, who's putting the finishing touches on his forthcoming solo album. It's being recorded in Austin with drummer Kenny Smith and guitarist Scott Davis, whose day jobs are with mega-singer-songwriter Hayes Carll, who, incidentally, is playing Billy Bob's (2520 Rodeo Plaza, Stockyards, 817-624-7117) on Saturday. On Saturday at The Grotto (517 University Dr. in the Cultural District, 817-882-9331), KatsüK will be playing. Get there early. There'll be a shit-ton of people there.
Contact HearSay at hearsay@fwweekly.com.