Well, the big news in town this week was that Jeff Bridges and T Bone Burnett played Saturday night at Eight-O as part of the Lone Star International Film Festival. I didn't get to go (thanks, work), but I know it was sold out from a chagrined someone else who didn't get to go. And I hear (from someone who enjoyed it while standing on the sidewalk) that it was cool, but perhaps even cooler was the rumor that the two stars had an under-the-radar jam at the Capital Bar on Monday (or was it Tuesday?).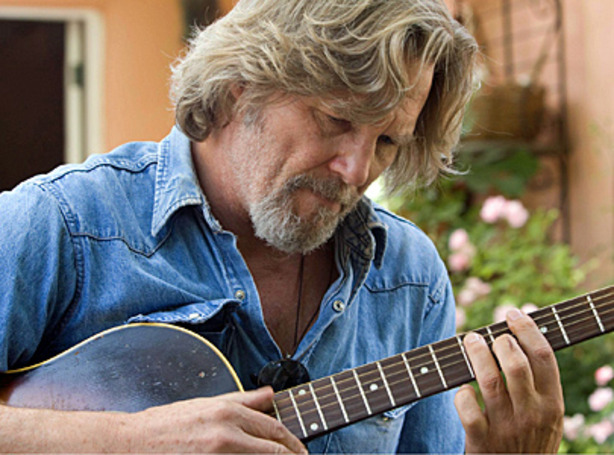 Of course, I didn't go to that either. While I missed out on what were ostensibly good shows, the one that I did see might have been even better. Sunday night, Apache 5 –– Joshua Loewen's new band –– played its first show, at Lola's Saloon, opening for this band from San Francisco called Leopold and His Fiction. Apache 5 kicked the doors open with Kinks-inspired rock 'n' roll run through with Wilco-ish hooks. If I hadn't known otherwise, I would have thought this band had been playing together for years.
Then Leopold and His Fiction loaded in and fired up. They're a three-piece in which everyone sings and the drummer also plays an old synth. They played hot-as-shit hard rock with rad harmonies and acrobatic riffs. And let me tell you, they know what they're doing. Especially the bass player, a.k.a. the Hottest Woman in the World.
I know what you're thinking. "Oh, of course they have a hot chick who plays bass." But it's true. Not only was she gorgeous, she was also very, very good. Like John Paul Jones good. But if John Paul Jones were petite. And moved like a go-go dancer. She played bass the way Bruce Lee played kung-fu. In fact, the whole band exhibited the sort of preternatural musical telepathy that led to me suspect that seeing this band with a crowd of 40 other people was a pretty awesome experience. Like, for example, what it might have been like to see an early Zeppelin gig.
Of course, by the time Leopold and His Fiction were halfway through their set, I was red-eyed, grinning, and High-Lifed, so I might be a little biased. My hyperbole, while sincere, could be a matter of a guy getting wasted on a Sunday while he watched a tight band play some cool riffs.
Really, you just had to be there. Probably like if you saw Jeff Bridges play a few songs at the Capital Bar. –– Steve Steward
Sunday Shows
Speaking of Sunday shows, Fort Worth has had some good ones of late. The Chat Room and The Grotto had mutually stellar bills on Halloween, which fell on a Sunday. The aforementioned show at Lola's is easily on my top five shows of the year, and The Moon is now rolling out a Sunday night showcase called the Sunday Sideshow. The cover is cheap ($3), there are specials ($1.50 PBRs and $2 wells), and the bands are mostly from out of town. In the you-had-to-be-there category, you guys really missed Lonely H, hailing from Nashville by way of Port Angeles, Wash. Next week, it's all North Texas acts, namely Adrian Hulet, Cocker Spaniels, and The Illus Ocean. –– S.S.
More Had-to-Be-There News
On Sunday at 2 p.m., you're gonna wanna go downtown to the library, and I'm talking about the place that smells more like books and less like a flood of Axe body spray. The Fort Worth Library is hosting a screening of You Must Be Weird or You Wouldn't Be Here, a short documentary about one of Fort Worth's most notorious bars, The Cellar. Known as the epicenter of some legendary guitar heroics during the '60s and '70s, The Cellar developed a reputation that is the stuff of legend, featuring all the important tropes: longhaired dudes with low-slung Gibsons and Strats shredding a party-fueled haze to electrify girls stripped to their underwear. (Yes, there were go-go dancers.) Name a famous Texas guitarist and he probably cut his teeth at the bar during its wild-eyed heyday. The doc is short, and some of the people who were actually there will be in attendance to reminisce about a time when rock clubs were like the best parts of a Western and nobody ever got in trouble for smoking weed in a bar. — S.S.
Contact Last Call at lastcall@fwweekly.com.