SoDo is short on places for quick lunches and late-night food options. Fortunately, with the arrival of Rio's Downtown Bar and Grill (and Embargo's expanded menu), that's changing. Rio's (not affiliated with the Rio Mambo mini-chain) is open for everything from early lunch to late night and actually delivers a version of street tacos and other goodies to most downtown addresses.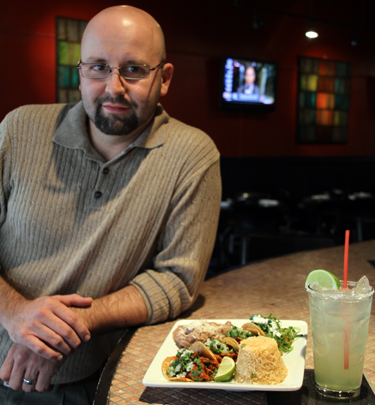 Rio's menu is fairly simple. After all, the place has been open for only a few weeks. Co-owner Brandon Rook says that when the new walk-in fridge arrives later this month, Rio's will start offering more entrées, salads, and maybe desserts. But the heart of the little place is in the mini-tacos and mini-burgers.Cute, sweet, and tapas-like, these little gems are deceptively filling.
Although the menu is only seven items long as of this writing, Rio's bar is fully stocked. Rook is an excellent bartender, and he's willing to share recipes. The outside of the building (still a little dumpy) belies the sleek new red and black interior. The genial Rook will pull up a barstool if he's not too busy and chat about, well, pretty much anything. When asked if he was taking a calculated risk opening a new restaurant while construction is limiting access to his street and a lot of his parking, Rook just grinned. "I figure this is going to be about as bad as it's going to get," he said.
And really, he's performing a community service. Late at night (or early in the morning, depending on how you look at it), people are going to need a little something to help soak up the alcohol. And most restaurants close down by midnight. "As long as people are hungry," Rook said, "I'll keep serving."
The tacos are a double thickness of little stuffed corn tortillas. The meat is marinated for hours every morning, in different sauces for beef, chicken, and pork, and the tacos are served with chopped onions, cheese, and a little crème fraiche (a thinner sour cream). The beef marinade had a sweetish flavor, while the chicken tasted more traditionally spicy. Order them by the basket (three, which is enough for an appetizer), or order the plate: four tacos along with some exceptionally smooth, flavorful refried beans, which, we were assured, had no lard in them. The plate also came with traditional dirty rice that tasted acceptably good, not fabulous. No matter. Either way, your tacos arrive with two sauces served in tiny plastic cups. The slightly creamy avocado sauce was spicy, salty goodness, and the molcajete sauce was hot enough to singe eyebrows. Rook tells the story of the first time he ran into a habanero pepper in Mexico –– the encounter left him a few taste buds poorer but with a lifelong affinity for spicy food. Rio's chef has played with the spices a little, so the molcajete sauce is hot enough for Rook, which is perhaps just a shade too hot for a normal person.
One of my dining companions wondered aloud if it was acceptable to lick the paper liner of the little red basket that housed his tacos. We decided that would be tacky and, instead, ordered two of the mini-burgers. Each sirloin burger was about the size of a silver-dollar pancake, came with onion and cilantro, and was topped with cheese, a little lettuce, and tomato. The juicily good patties came packaged in slightly sweet mini-buns, and at under $2 apiece, you could easily have one mini-burger for an appetizer or two (maybe three) for a meal. You won't get any fries, but you'll hardly notice their absence.
One of the heartier menu items is the quesadilla: beautifully grilled flour tortillas containing gooey cheese and fajita chicken. Grilled green peppers and caramelized onions complemented the dish superbly. This fancy version of Mexican grilled cheese also came with rice and beans.
Rio's opens for lunch every day at 11 a.m., including on Sundays.
Rio's Downtown Bar and Grill
911 Houston St, FW. 817-877-1114. 11am-12am Sun-Thu, 11am-2am Fri-Sat. All major credit cards accepted.
Mini-burgers $1.99
Quesadillas $6.99
Taco plate $6.99
Taco basket $2.99