When Jeevan Antony was a boy living in Dubai, he didn't yet know how to play an instrument, but, undeterred, he filled notebooks full of sappy, idealistic lyrics. Jeevan and his younger brother, Mathew, formed their opinions on love and life by watching their eternally romantic parents, whose torch, lit when both were teenagers in their native India, had never been extinguished. In high school in Dubai, the brothers picked up guitars and joined a metal band named Decoy Death Trap.


Now that both are Fort Worth residents and students at TCU, they make up the heart of Fou, an easy-listening but emotionally heavy indie-rock band. Jeevan, who writes the lyrics, has been forced to re-think his optimism after going through some adult problems, but his music has only strengthened as he has matured.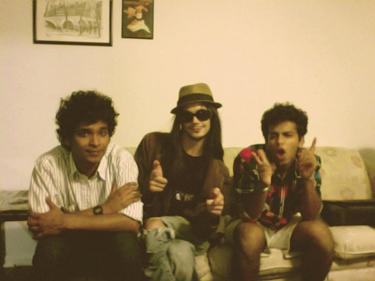 When Jeevan moved to Fort Worth three and a half years ago, not having a band to back his guitar stylings forced him to focus on his acoustic guitar. He would record his deceptively simple progressions in his dorm room and then e-mail them back to Dubai, where Mathew would add keyboards and percussion. Last year, Jeevan connected with drummer Houston Holtman, who had returned to percussion after a long break, and they, along with keyboardist Adam Horvath, gave life to Jeevan's early Fou creations.
The band was progressing quickly until Jeevan's longtime girlfriend, who was living in Australia, broke up with him unexpectedly. She told him he was free to spend all his time on music. In his head, that translated to, "Music had made me spend less time with her." Before leaving for his summer studies at the London School of Economics, Jeevan called Holtman and Horvath and ended the burgeoning Fou experiment.
"I knew he'd come around," said Holtman, who, unlike Horvath, is still in the band.
Sure enough, over the summer,
Jeevan and Mathew began fleshing out what would become Fou's unofficial "summer demo" via e-mail. The resulting five songs are reverb-soaked, quietly moody compositions referred to by the brothers as "sleepy-rock." Jeevan wrote all of the songs, including "dreamdippedsincerity" and "mother,ihavelearned," and they are imbued with his extremely affective, almost shy vocals.
"Jeevan has always been romantic and over-emotional," Mathew said. Both brothers attribute their idealistic worldviews (Mathew's is slightly less so) to their parents' relationship. In India, where arranged marriages are still the norm, the brothers' parents "had to go through a lot," Mathew said, to preserve the love that began when they were 13-year-old neighbors and not promised to each other by their families.
The songs on the demo were written by a younger Jeevan, who believed that he also would have an effortlessly happy love life. Now that his script has unraveled, he is trying to figure everything out through music. "I was new to the idea of people fucking over other people," he said. "Now, the songs I write are a little more pessimistic or realistic. At the same time, there is that hope that I can still have something that my parents have."
When Jeevan returned to Texas last fall, Mathew enrolled at TCU, and Holtman rejoined the band. Mathew especially marvels at how quickly things have progressed. "I'm 18 and have already played all these open-mic shows," he said. "In Dubai, you don't get the opportunity."
At their parents' high-rise apartment, Jeevan could practice his instrument only for a few hours a day — any more, and the neighbors would call the police. Now that he lives in a house with a jam room, he can play as loudly and as often as he wants.
This spring, the band plans on veering into a more electronic, experimental direction. Jeevan recently purchased a sampler and wants to utilize clips from his favorite French movies –– "fou" is a French word that translates roughly into "crazy." "Fou was me embracing the fact that I could be myself," Jeevan said.
In the next batch of material, all three members will sing. Along with the electronica and tri-vocal approach, Fou's new music may incorporate traditional Indian rhythms. Jeevan recently delved back into his boyhood Indian folk favorites and has been re-inspired by what he sees as their inherent innocence.
He is also contemplating changing the name Fou to Boy, a word that Holtman uses when ribbing Jeevan about his maudlin tendencies. Jokes aside, the drummer appreciates Jeevan for who he is. "The thing I like most is opening my world up to [life's] boyish aspects, things you rid yourself of in high school," Holtman said. "You try to toughen up, but his is a pure essence of what a person is" stripped of his pretenses.
Boyish or not, the music works because its creators aren't afraid to share who they really are.