OPENING: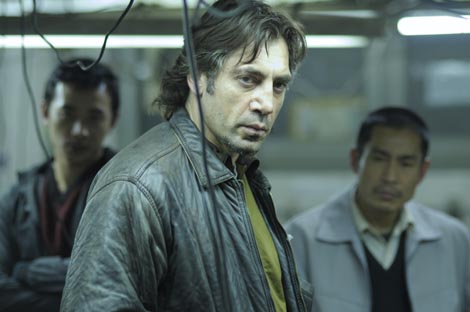 Biutiful (R) The latest drama by Alejandro González Iñárritu (Babel, 21 Grams) stars Javier Bardem as a small-time criminal in Barcelona seeking redemption before he dies. Also with Maricel Álvarez, Hanaa Bouchaib, Guillermo Estrella, Eduard Fernández, Cheng Taishen, Luo Jin, and Cheikh Ndiaye. (Opens Friday in Dallas)



Another Year (PG-13) Mike Leigh's latest drama stars Jim Broadbent and Ruth Sheen as a middle-class couple who meet with their friends at four points over a year. Also with Lesley Manville, Oliver Maltman, Peter Wight, David Bradley, Martin Savage, Karina Fernandez, Phil Davis, and Imelda Staunton. (Opens Friday in Dallas)
The Company Men (PG-13) Ben Affleck, Chris Cooper, and Tommy Lee Jones star in this drama by longtime TV writer John Wells (ER) as business executives trying to cope after being downsized from the same company. Also with Rosemarie DeWitt, Maria Bello, Patricia Kalember, Eamonn Walker, Craig T. Nelson, and Kevin Costner. (Opens Friday)
From Prada to Nada (PG-13) This contemporary update of Jane Austen's Sense and Sensibility stars Camilla Belle and Alexa Vega as sisters forced to move in with an aunt in L.A. after their father's death. Also with Kuno Becker, Wilmer Valderrama, April Bowlby, Nicholas D'Agosto, and Adriana Barraza. (Opens Friday)
Inside Job (PG-13) Charles Ferguson's Oscar-nominated documentary details the 2008 financial meltdown in clarifying and enraging terms. With the help of some vivid graphics and a series of interviews with heavy hitters (including Nouriel Roubini, George Soros, Barney Frank, Eliot Spitzer, and Singaporean Prime Minister Lee Hsien Loong), the movie lays out how deregulation created an economic system with a staggering lack of accountability. It's no surprise that the financial sector corrupted the government, but the movie also exposes how it has bought off economists at top-ranking universities to defend deregulation and the status quo. Michael Moore covered much of this territory in his Capitalism: A Love Story, but this is the stronger and more rigorous film. (Re-opens Friday at AMC Grapevine Mills)
Ip Man 2 (R) This second film in a trilogy about a real-life martial-arts master stars Donnie Yen stars as a man trying to set up his business teaching Wing Chun kung fu in Hong Kong in 1950. Also with Sammo Hung, Lynn Hung, Simon Yam, Huang Xiaoming, Fan Siu-Wong, Kent Cheng, and Darren Shahlavi. (Opens Friday in Dallas)
The Mechanic (R) Jason Statham stars in this thriller as a contract killer teaching the trade's finer points to an apprentice (Ben Foster). Also with Tony Goldwyn, Jeff Chase, Mini Anden, James Logan, and Donald Sutherland. (Opens Friday)
Black Swan (R) One of 2010's best horror movies. Also possibly the best ballet film since 1948's The Red Shoes. Natalie Portman stars as Nina, a high-strung, perfectionistic ballerina who suffers terrifying psychotic delusions as she prepares to dance the lead in Swan Lake. Darren Aronofsky's film takes a realistic, detailed look at the work that goes into dancing at this level but also presents us with hallucinations that build an all-pervading sense of dread, especially with the wounds and deformities that Nina sees visited upon her body. Portman does much of the dancing herself, and her hyper-intense acting style has never looked more appropriate. The story indulges in drippy melodrama and shopworn ideas about artists, but the feverish, heavily coded terms make this movie ballet-like in its tragic power and beauty. Also with Mila Kunis, Vincent Cassel, Barbara Hershey, Benjamin Millepied, Ksenia Solo, Sebastian Stan, and Winona Ryder.
Blue Valentine (R) This one hurts so good. Ryan Gosling and Michelle Williams star in Derek Cianfrance's drama with concurrently running plotlines about a couple who fall in love, then that same couple six years later as their marriage ends. The movie stubbornly resists any attempts to pin blame on one partner or the other, and it'll likely provoke fierce discussions about everything that goes wrong. The matrimonial hell of the present always feels like a logical outcome of the bliss that came before, and the movie depicts both of these with wrenching honesty. The actors, heavily improvising some of their scenes, don't shy away from these characters' unattractive sides, but also note the simple joy they take in each other's company. The material should be crushing, yet the film is oddly uplifting and sends you out into the world sadder and wiser. Also with Faith Wladyka, Mike Vogel, and Ben Shenkman.
Country Strong (PG-13) A bad movie that's nevertheless hard to shake off. Gwyneth Paltrow portrays a country music superstar pulled out of rehab by her husband/manager (Tim McGraw) to go on tour with an aspiring singer-songwriter (Garrett Hedlund) and an upcoming starlet (Leighton Meester). The cast sings quite well, and Paltrow has a great, close-to-the-bone scene that makes you feel like you're watching a performer melt down in front of an audience. Still, writer-director Shana Feste loads her characters down with too many issues, and the tangle of romantic relationships turns quasi-incestuous. The movie turns into a weirdly meandering overheated melodrama. Listen to the songs on the soundtrack, and the movie you construct in your head around them will probably be better than this. Also with Jeremy Childs and Jeffrey Buckner Ford.
The Dilemma (PG-13) Director Ron Howard seems caught in his own dilemma about whether to make this a serious adultery drama or a hip, lowbrow comedy. He partially succeeds at the former and totally whiffs on the latter. Vince Vaughn plays a guy who catches his best friend's wife (Winona Ryder) cheating and wrestles with how to break the news to his high-strung buddy (Kevin James), who's also his business partner working on a big project. The hero mishandles the situation in every possible way except a funny way, and Vaughn's comic ad-libbing devolves here into mere babbling. This material would have been better off played straight. Also with Jennifer Connelly, Channing Tatum, Amy Morton, Rance Howard, and Queen Latifah.
---
The Fighter (R) Mark Wahlberg stars in this solid, well-crafted drama about the real-life welterweight boxing champion Irish Micky Ward, who returned from an injury-related hiatus in the late 1990s to win his first title. Wahlberg is strong in the lead, but the acting honors are stolen clean away by a live-wire, alarmingly thin Christian Bale as Micky's crack-addicted half-brother who taught him how to box. David O. Russell (
Three Kings
) lays out the story without any of his customary frills and with an eye for the New England atmosphere. Fitting that a comeback story should be a comeback vehicle for its director. Also with Amy Adams, Melissa Leo, Mickey O'Keefe, Jack McGee, and Frank Renzulli.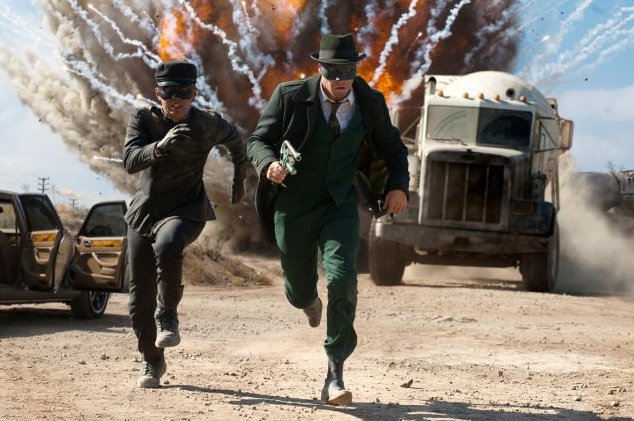 The Green Hornet (PG-13) This film has a tortured history, so it's no surprise that it comes to the screen a bit confused, though it's better than you'd expect. A slimmed-down Seth Rogen plays a newspaper heir who bands together with his late father's kung fu-fighting, weapons-inventing auto mechanic Kato (Jay Chou) to become a duo of masked crime fighters. Rogen's tossed-off ad libs are funny and Christoph Waltz has a ball as the chief bad guy who thinks he's not hip enough. Still, the daddy issues in play are a drag, and the hero brings too little to the table — he's an idiot, a klutz, and a douchebag. The sequel needs to be just about Kato. A better 3D transfer wouldn't hurt, either. Also with Cameron Diaz, Tom Wilkinson, David Harbour, Edward Furlong, Edward James Olmos, and an uncredited James Franco.
Gulliver's Travels (PG) A bunch of yahoos must have made this absolutely unwatchable update of the classic novel, a late entry in the Worst Film of 2010 race. Jack Black stars as a fledgling travel writer who's transported to a kingdom of miniature people in 19th-century garb. The novel's sharp satire is replaced by stupid gags, lazy pop culture references, rote romantic plotlines, and stilted attempts to write "period" dialogue. It's hard to believe the director and writer of Forgetting Sarah Marshall were involved with this monstrosity. For a Jonathan Swift adaptation, this ain't nearly Swift enough. Also with Emily Blunt, Jason Segel, Amanda Peet, Chris O'Dowd, T.J. Miller, and Billy Connolly.
Harry Potter and the Deathly Hallows: Part 1 (PG-13) A movie that's not meant to stand on its own and doesn't. After Voldemort (Ralph Fiennes) overthrows the government, Harry and his friends (Daniel Radcliffe, Emma Watson, Rupert Grint) become fugitives, leaving school to destroy the cursed objects that contain Voldemort's soul. Because this is only the first half of the seventh and last installment, this movie is all buildup and no payoff, with pacing issues we haven't seen since the first two Harry Potter movies. There's no emotional traction, and even the temporary breakup of Ron and Hermione doesn't achieve much, though it leads to a nice bit with Harry cheering her up by dancing with her. This might well have worked better as the first half of a five-hour gigantic finale. Also with Helena Bonham Carter, Jason Isaacs, Alan Rickman, Timothy Spall, Guy Henry, Andy Linden, Brendan Gleeson, Clémence Poésy, David Thewlis, Evanna Lynch, John Hurt, Rhys Ifans, and Bill Nighy.
The Heart Specialist (NR) Brian J. White portrays a medical-school student who's mentored by an older doctor (Wood Harris) into using his talents for the greatest good. Also with Zoë Saldana, Mya, Marla Gibbs, Method Man, Jenifer Lewis, Jasmine Guy, and Ed Asner.
The King's Speech (R) Colin Firth gives one of 2010's great performances as King George VI of England, who must overcome a speech impediment when he unexpectedly must assume the throne. Director Tom Hooper does up the stagey material in sturdy fashion; the choppiness in the second half is due to David Seidler's script. The best thing here is the acting: Geoffrey Rush (reining himself in for once) plays the Australian speech therapist whose unusual methods yield results, and who becomes the king's friend. The long therapy sessions between Firth and Rush are impeccably played, and Firth is an inspiring figure as a scared man thrust into a job he never wanted who struggles and finally rises to the occasion. Also with Helena Bonham Carter, Guy Pearce, Michael Gambon, Jennifer Ehle, Timothy Spall, Derek Jacobi, and Claire Bloom.
Little Fockers (PG-13) Let's see: Gaylord "Greg" Focker (Ben Stiller)? Still hapless and neurotic. Jack Byrnes (Robert De Niro)? Still creepy and controlling. Greg's parents (Dustin Hoffman and Barbra Streisand)? Still smothering and oversharing. Greg's wife Pam (Teri Polo)? Still lacking any personality whatsoever. Pam's ex Kevin (Owen Wilson)? Still far wealthier than Greg. The jokes? Still lame and predictable in the extreme. This latest sequel tosses in a couple of kids and some more famous people (Jessica Alba, Laura Dern, and Harvey Keitel), but nothing has really changed at all. Next! Also with Blythe Danner, Daisy Tahan, Colin Baiocchi, Kevin Hart, and Tom McCarthy.
No Strings Attached (R) Everything in this movie works except the main plot, which is why it feels so strange. Natalie Portman stars in this comedy as a hospital doctor who hooks up with a Hollywood flack (Ashton Kutcher) and then tries with all her might to keep the relationship on a purely physical level. The lead actors have no chemistry, director Ivan Reitman paces the film sluggishly, and the doctor's neuroses are so badly written that the character comes out incomprehensible. Yet there's tasty stuff along the edges of the story from the girl's friends, the guy's famous-actor dad (Kevin Kline), and the guy's work on a Glee-like TV show. The seriously talented supporting cast steals the laughs and the charm away from the leads. Also with Greta Gerwig, Lake Bell, Olivia Thirlby, Jake Johnson, Mindy Kaling, Ophelia Lovibond, Abby Elliott, Cary Elwes, and Ludacris.
127 Hours (R) James Franco gives an impressive performance as Aron Ralston, the real-life Colorado engineer who in 2003 became trapped in Utah's Blue John Canyon and eventually freed himself by amputating his right arm, which was pinned by a fallen boulder. Director/co-writer Danny Boyle (Slumdog Millionaire) stages flashbacks and hallucinations that keep the movie from being stuck in one location, and the scenery in Utah is shot with an unearthly beauty. This helps us through the unflinching depiction of Ralston's amputation. This movie tries to tease some philosophical meaning out of Ralston's accident, but it's not a deep movie by any means. It's just a nice survival yarn with a charismatic star turn. Also with Kate Mara, Amber Tamblyn, Clémence Poésy, Lizzy Caplan, Kate Burton, and Treat Williams.
Season of the Witch (PG-13) Nicolas Cage stars in this dreary, monochrome period supernatural thriller as the leader of a band of medieval knights charged with delivering an imprisoned young girl suspected of witchcraft (Claire Foy) to be judged. Director Dominic Sena cloaks everything in gray. Possibly he's under the impression that the sun never shone in 8th-century France, but more likely he's trying to disguise the cheesy special effects. Thankfully, this cast doesn't put on any fake British accents — even the British actors match their accents to the American stars. Still, the only thing that accomplishes is to make this movie too dull even to be enjoyably bad. Also with Ron Perlman, Stephen Campbell Moore, Stephen Graham, Ulrich Thomsen, and Christopher Lee.
The Way Back (PG-13) Based on Slavomir Rawicz' disputed account of his flight from captivity during World War II, Peter Weir's historical drama stars Jim Sturgess as an accused Polish spy who escapes from a Siberian gulag with a group of other prisoners, including a hardened criminal (Colin Farrell) and an American expat (Ed Harris), and walks 4,000 miles through Mongolia and China before finding freedom in India. This slow-rolling epic offers some splendid visuals, especially during an interlude in the Gobi Desert, but the characters are barely distinguishable from one another. There's a fatal lack of personality here. Also with Mark Strong, Dragos Bucur, Alexandru Potocean, Gustaf Skarsgård, and Saoirse Ronan.
The Social Network (PG-13) David Fincher's ridiculously entertaining account of the birth of Facebook stars Jesse Eisenberg as co-founder Mark Zuckerberg. Eisenberg is a marvel, drawing a portrait of a lethally smart troll fueled entirely by resentment. No less impressive are Andrew Garfield as his Harvard pal and Justin Timberlake as a smooth-talking interloper who battle each other for influence over Zuckerberg. Veteran screenwriter Aaron Sorkin packs this movie with funny, quotable lines, and Fincher edits the thing for the right combination of smoothness, energy, and pace. There aren't any thunderbolts of enlightenment about Facebook or the nature of success, but this old-fashioned piece of fun hits all the right notes. Also with Armie Hammer, Max Minghella, Rooney Mara, Josh Pence, Joseph Mazzello, Brenda Song, Wallace Langham, Douglas Urbanski, and Rashida Jones.
Tangled (PG) Presumably this title is because there's already a musical called Hair. Disney's fractured animated take on the Rapunzel story has the Grimm brothers' heroine (voiced by Mandy Moore) as the lost child of a royal couple, kidnapped and raised by an old sorceress (voiced with great gusto by Donna Murphy) who keeps her adoptive daughter in her tower by telling her that the world is an evil place. The movie bites off more than it can chew trying to be both a musical and an action-thriller, with Rapunzel exploring the world and getting into hijinks with a handsome thief (voiced by Zachary Levi). The weak songs don't help, either. Still, the notes of psychological complexity in Rapunzel's relationship with her smothering drama queen of a mother is enough to keep this thing watchable. Additional voices by Ron Perlman, M.C. Gainey, Jeffrey Tambor, Richard Kiel, and Brad Garrett.
The Tourist (PG-13) Johnny Depp stars in this well-intentioned misfire as an American schoolteacher who's vacationing in Venice when he's mistaken for a thief and hunted down by both law enforcement and mobsters, with only a mysterious Englishwoman (Angelina Jolie) to help him. Director/co-writer Florian Henckel von Donnersmarck (The Lives of Others) takes this at a slow pace in an attempt to make the film softer and more romantic. Unfortunately, he goes too far and loses momentum. The jokes are damp squibs and the final twists provide too little payoff. You can say the same thing about the rest of the movie. Remade from a French thriller entitled Anthony Zimmer. Also with Paul Bettany, Timothy Dalton, Steven Berkoff, Christian de Sica, Alessio Boni, Raoul Bova, and Rufus Sewell.
Tron: Legacy (PG) The 1982 Disney film with a cult following spawns this cool-looking but tediously incomprehensible sequel that brings back Jeff Bridges as a computer guru trapped in virtual reality who must help his hacker son (Garrett Hedlund) battle the evil program (personified by a digitally created avatar of Jeff Bridges' 1982 self) that's trying to manifest itself in the real world. The 3-D effects are snazzy and echo the original film's depictions of vehicle chases and fight sequences taking place on abstract grids. Yet the mushy, shapeless story is impossible to get invested in. Michael Sheen's flamboyant performance as a court jester of the cyber-world is the only note of humanity here. Also with Olivia Wilde, Bruce Boxleitner, James Frain, Beau Garrett, Owen Best, and an uncredited Cillian Murphy.
True Grit (PG-13) The Coen brothers forget about their philosophy and get on with the story in this second film version of Charles Portis' novel about a 14-year-old Arkansas farm girl (Hailee Steinfeld) who hires a U.S. marshal (Jeff Bridges, less lovable and more truthful than John Wayne) to track down her father's killer in Oklahoma in 1878. The material suits the Coens extraordinarily well. The writing jibes with Portis' flowery dialogue, the film's wintry and barren landscapes fit the story, and the Coens' ruthless unsentimentality turns the novel into a sinuous and potent exercise in storytelling. The film doesn't make any radical changes from the 1969 film, but its small improvements are everywhere in evidence. This may be only a genre picture, but it's honest and pure. Also with Matt Damon, Josh Brolin, Dakin Matthews, Domhnall Gleeson, Paul Rae, and Barry Pepper.
Yogi Bear (PG) Better than the Alvin and the Chipmunks movies, which isn't saying much. Dan Aykroyd voices the computer-generated Hanna Barbera bear as he teams up with Boo Boo (voiced by Justin Timberlake) to steal picnic baskets and save Jellystone Park from real estate developers. The movie has some flashes of wit, acknowledges the strangeness of a talking bear wearing a hat and necktie, and includes a nice turn by Andrew Daly as a corrupt mayor. On the other hand, Tom Cavanagh is near catatonic as Ranger Smith, Anna Faris is wasted as his love interest, and the film lacks any sort of comic inspiration. You and your kids will forget this as soon as it ends or even before that. Also with T.J. Miller and Nate Corddry.
DALLAS EXCLUSIVES:
All Good Things (R) Ryan Gosling stars in this drama by Andrew Jarecki (Capturing the Friedmans) as a millionaire's son who commits a string of murders. Also with Kirsten Dunst, Frank Langella, Lily Rabe, Diane Venora, Nick Offerman, Kristen Wiig, and Philip Baker Hall.
Casino Jack (R) Taking up the same subject as the documentary Casino Jack and the United States of Money earlier this year, this fictionalized version of real events stars Kevin Spacey as crooked lobbyist Jack Abramoff. Also with Barry Pepper, Kelly Preston, Jon Lovitz, Spencer Garrett, Eric Schweig, Graham Greene, and Rachelle Lefevre.
Somewhere (R) Sofia Coppola's latest film stars Stephen Dorff as a Hollywood movie star who's suddenly forced to care for his 11-year-old daughter (Elle Fanning). Also with Chris Pontius, Ellie Kemper, Laura Chiatti, Nunzio Alfredo D'Angieri, Michelle Monaghan, and an uncredited Benicio Del Toro.