North Texas film and TV actress Arianne Martin had a pretty conservative upbringing. She was raised Southern Baptist in Garland, homeschooled for years by her mother, and was always involved in church activities. But from Martin's first teen venture into moviemaking, she's diverged from the straight and narrow into murder, madams, cults, and other less-than-demure roles.


A little movie she made at 14 with a VHS camera and neighborhood friends may have signaled her future career path. "The movie was set at a Christmas party," Martin recalled. "I played a high-class lady in a high-class family. The maid put poison in the pumpkin pie and killed all of us.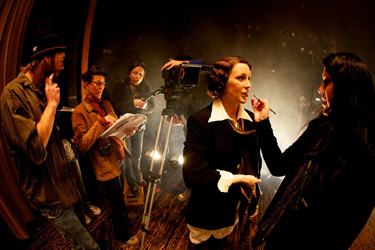 "Pretty much the only thing we watched on TV was Billy Graham," she continued. "So now it's my mother's fault that I make R-rated movies."
For the record, the young actress loves her mother very much, but it's true that as a grown-up she has chosen to play characters with very adult, sometimes extreme complications and eccentricities. Martin co-wrote, co-produced, and starred in 2009's The Other Side of Paradise as a sexually confident but emotionally hindered woman. (Shot in Fort Worth and Dallas, the movie was directed by her filmmaker husband, Justin Hilliard, whom she met during an audition while he was a film student at the University of Texas at Arlington in 2004. It has won awards at several small film festivals around the country.) In Dallas-based director Tony Brownrigg's Red Victoria (2008), Martin was a luscious undead muse who inspires a writer to complete a horror movie script when she starts killing his friends and family. As a straight-to-video release, it has earned fans in India and England.
Martin's two most formidable roles to date, though, are her most recent. In Wanda the Wonderful, SMU film professor Carolyn Macartney's debut directorial feature, Martin plays the 1920s-era Wild West show sharpshooter, husband killer, and one-time brothel madam Wanda Savage. (Shot in Wyoming and North Texas, the film is currently in post-production.) And Martin has a small but pivotal role as Nicolas Cage's daughter –– who joins a cult and is brutally killed after giving birth in a motel room –– in the grindhouse thriller Drive Angry 3D, which opens nationwide on Fri., Feb. 25.
Martin said that, in choosing roles, she's "drawn to interesting, flawed people. Their flaws are what make them interesting. For the most part they're not like me, but everybody's got some darkness in their past."
Acting was not a direction anyone expected her to take: Her mother hoped she'd become a missionary, and as a teenager Martin spent the winter of 2000 in Kosovo, helping build schools and care for children in the aftermath of the former Yugoslavia's Serbo-Croatian ethnic war. But she said she never quite clicked with the missionary crowd. Later she attended a small film school in Hawaii with the intention of becoming a director and detoured into performing. Besides the numerous local and national TV commercials on her resumé, Martin also had a recurring role on the Starz drama Crash before the show was cancelled last year.
In Wanda the Wonderful, she got to shoot guns and ride horses, nothing too violent or risqué. However, the hard R-rated Drive Angry 3D is not likely to win awards from family-values groups. Director Patrick Lussier initially considered her for a couple of different roles before casting her as the cult member whose savage murder triggers Cage, as her daddy, to start his revenge spree. Martin has no stories of Hollywood egoism to relay. She said Cage was kind and professional, she had her own trailer, and even the actor who beats her up and slashes her throat onscreen –– Billy Burke, who plays the dad in the Twilight movies –– was a perfect gentleman.
While the amenities of a big budget production (including a bigger paycheck) are nice, Martin insists she also loves the family atmosphere of an indie shoot, in which all of the artists are rooting for the project to succeed. The word "family" prompts the question: Now that her husband has directed her in several projects, what's it like for the actor to be married to the filmmaker?
"The upside is, I don't have a jealous husband," she said. "He doesn't get upset when he sees me kissing another man in a movie. The downside happens sometimes when I'm working with him. He's the director, so I have to do what he tells me. I have to wait until we go home to argue."
After Drive Angry 3D, Martin will appear in Dallas director Clay Liford's movie Wuss, which will receive its world premiere next month at the annual SXSW Film Festival in Austin. When it comes to the kind of professional path she'd like to forge as an actor, she has a specific role model in mind: "I would love to have Catherine Keener's career," Martin said. "I want to be influential enough to help get movies made. And I'd like Justin to be in a recognized position [as a director], of course."
She recognizes some things may have to change now that there's a baby on the way, due about four months from now. Martin said she and Hilliard haven't drawn up any strict plan for juggling careers and parenthood, but she won't quit acting "even if I have to strap the baby to my back."