For, what, the umpteenth time, critics of the city's actions on gas drilling and ethical issues got no respect Tuesday from the Fort Worth City Council. The council voted 6-0 to deny appeals from activists Jim Ashford and Louis McBee on four ethics-related issues.

Ashford was back before the council on Tuesday to appeal the council's recent decision allowing gas drilling executives to serve on the Air Quality Study Committee. The council had overridden the Ethics Review Committee's finding last summer that such executives shouldn't serve.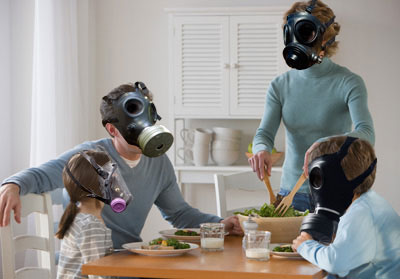 After voting in September that gas drilling executives posed no problem of bias regarding air quality decisions, the council then sacked the ethics committee and appointed new members ("Has Fort Worth Lost Its Moral Compass?" Sept. 22, 2010).
Ashford had also appealed a ruling by the ethics committee that council members Danny Scarth and Jungus Jordan didn't have to recuse themselves from voting on gas drilling issues because of their deals with XTO and Chesapeake Energy, respectively. And former mayoral and council candidate McBee was appealing the ruling that threw out his contention that Scarth and Jordan shouldn't be able to vote on drilling issues.
Ashford, who is suing Chesapeake over noise and air pollution from a compressor station near his house, might not have been surprised, but he was clearly pissed off by the council votes. "[City council] is such a corrupt organization," he said. "Everything [council members] said was so wrong. The gas drilling industry got an automatic pass in this process."
Scarth and Jordan receive an estimated $500 a month in royalties from the gas drillers. Neither one of them addressed the council to present their case. Instead, they were generally defended by their colleagues. "There is simply no evidence of substantial interest in the two gas drilling companies by these two council members," said councilman Carter Burdette. "There were no violations of ethic rules."
Burdette also pointed out that the council routinely votes on issues where members do have an interest. "I own a home and pay property taxes," he said. "When we vote on budgets, we determine property tax rates. I am affected by those decisions, but I still vote on budget issues."
Ashford said he wasn't through — he might take the issues to the Tarrant County District Attorney's office or to the Texas attorney general. Static won't bet the rent on either of those agencies helping his cause.
For McBee, the frustration was equally evident. He walked out of the meeting before his appeals were rejected. "[City Council] had made up their mind before they even started the meeting, and I didn't need to hang around to see what they would decide," McBee said. "Once again, this city council is an embarrassment to this city."