As far as she knows, Snow Tha Product is the only bilingual female rapper anywhere in the music business. The daughter of illegal immigrants from Mexico, 23-year-old Claudia Feliciano started rapping after she finished high school in California. At first, she did it to prove she could stand on equal ground with her male MC friends. Now that she has relocated to Fort Worth, started her own label, and released five CDs and mixtapes, Snow may have left those guys in the dust.


She is currently tweaking her style to accommodate both her girly side and her central issue with life in America: the hot topic of illegal immigration. Her multinational following is huge and growing by the day, and with upcoming performances at both SXSW Music Festival in Austin and the Calle Ocho festival in Miami, her brand is poised to grow even bigger.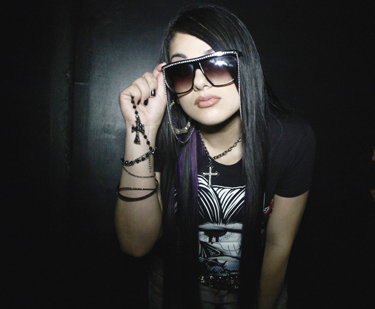 Snow's father, a mariachi singer from the Mexican state of Michoacan, probably never imagined his daughter would become a fierce, fast-rhyming machine. When she was still knee-high, he would take her to bars and put her atop pool tables, where she would sing for tips. When her parents divorced, her father largely disappeared from Snow's life, and her disappointment at his absence bled over into a profound disgust for singing.
However, the artform had already become central to her identity; Snow still wanted to write songs and be involved with music. After graduating from high school, she picked up a microphone and crafted rap lyrics over generic digital beats. Her friends and her traditional Mexican family didn't know what to think about the metamorphosis from sweet "Snow White" (her original nickname) to this street-savvy, self-aggrandizing rapper chick. At first, her pals were "incredulous," she said. "They would say, 'Look at you. Go to college.' "
Snow was supposed to be the first in her family to graduate from college, but she quit during her first semester, primarily to focus on performing and writing rhymes. She started out with a head-turning, aggressive style, but she really just wanted the fellas rapping alongside her to take her seriously. Being a woman can present unique challenges in any facet of the music business, especially in the rap game. "To get attention, I had to be the best," she said, and she claims to be just that in much of her early material.
Artists in California and beyond got the message and started to call and ask to collaborate. Under the moniker Claudia White, Snow went to Mexico City to film a video for "Alguien," a song she co-wrote with Latin pop artist Jaime Kohen. "Alguien" made the rounds all over music television networks in Latin America. When her aunts in rural Zacatecas saw her on television, the whole family started to take her career seriously.
On the upswing of her burgeoning success, Snow relocated with her immediate family to Texas. Career-wise, she knew the move would work out well. Although she had spent little time in the Lone Star State, her internet street team, the Product Pushers, consisted mainly of Texans. Soon after moving, she appeared on the Murdaworth invitational open-mic with Fort Worthian Smoothvega, soul singer Kyle Mason, and other local artists, and, again, she stood out from the guys. "Everyone here is so mellow," she said, "and I rap really fast."
Murdaworth (an early-'90s-era urban nickname for Fort Worth) is not how Snow chooses to describe her new environs. She's happy to be here. "I love Texas," she said. She outfitted her Haltom City home with a vocal booth and full-fledged studio, from which she operates her label, Product Entertainment. Every Wednesday evening on her web site, WakeYaGameUp.com, Snow hosts a live webcast. She plays music, previews videos, and talks about everything from politics to silly jokes. The response so far has been overwhelming.
Part of the reason for the webcasts is to test her new material on existing fans. She's been street-centered in the past, but her upcoming album, Beauty and a Beast, will be a mix of hip-hop and pop. For the first time since she was a kid, Snow will sing a little. The video for the first single, "Drunk Love," will debut on national cable channel Mun2 on Sat., Feb. 19. Even if Snow will be artistically exploring her feminine side, don't expect her to conform to any standard music-business image of female performers. "I don't exploit sex," she said.
Rather than following a natural artistic evolution, Snow carefully planned her career ascent from the beginning. She started in the streets to earn legitimacy as a rapper with her razor-sharp, lightning-quick flow. She's now mixing in some pop and, with her upcoming SXSW and Calle Ocho performances, may be on the verge of breaking into a mainstream market. A position of prominence and influence is where she has wanted to be since the beginning.
Snow is still fighting, still outraged by the indignities that people from Mexico and Latin America, including her parents, have had to suffer in the United States. "No other group of people would be treated like that," she said. "It's up to people like me to speak about it."
In the past, Snow shied away from political music, but now she intends to unleash a lifetime's worth of opinions about the issues so dear to her heart. "When you have a purpose for [your music], your hunger is that much bigger," she said.