WED ? 23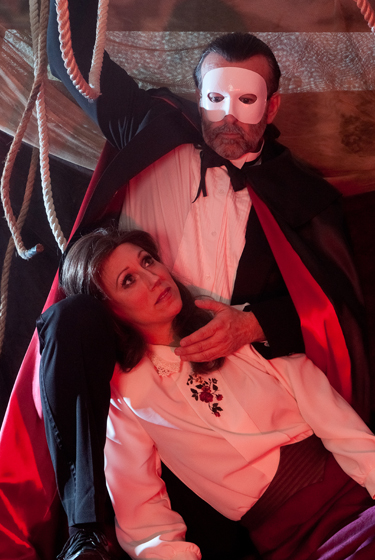 Five years after Andrew Lloyd Webber and Tim Rice's The Phantom of the Opera hit Broadway, Maury Yeston and Arthur Kopit's take on the same story called Phantom debuted in Houston. Their show has never appeared on Broadway or threatened the popularity of the other version, but it still enjoys an occasional revival like the one at Artisan Center Theatre, which runs thru Apr 23 at Belaire Theater, 420 E Pipeline Rd, Hurst. Tickets are $5-15. Call 817-923-3012.
THU ▪ 24
Opinions differ on whether Diana Son's 1998 play Stop Kiss, about a female couple whose first kiss makes them victims of a hate crime, is a tender love story or an overly slick piece of storytelling (from a playwright who has since worked mainly on Law & Order: Criminal Intent). Everyone agrees, though, that this is a potent piece of theater with the right actresses. Sundown Collaborative Theatre's production runs Mar 24-Apr 3 at TWU Redbud Theatre, 304 Administration Dr, Denton. Tickets are $8-10. Call 214-729-0313.
FRI ▪ 25
How can we resist something called Jurassic Park: The Musical? The show started out as a joke between UNT students Max Brown and Bryan Cortez. It then grew into a full-fledged adaptation. All you need to know is: The velociraptors not only sing. They rap, too. The show's single performance is at 8pm at Dan's Silverleaf, 103 N Industrial Dr, Denton. Tickets are $5. Call 940-320-2000.
SAT ▪ 26
Not that many new art shows are actually opening this Spring Gallery Night, but you can still find a few new exhibits lingering after this evening's festivities, like Edmund Craig Gallery's show featuring two Santa Fe artists or William Campbell's display of paintings by Bernd Haussmann. As always, there'll be plenty of complimentary wine, beer, and other beverages and hors d'oeuvres to enjoy along with the art. The event runs 10am-10pm at various locations across Tarrant County. Admission is free.
SUN ▪ 27
The words Chick'a'Bone Checkout probably don't occur to you when thinking of the Fort Worth Symphony Orchestra, but that's the name of the trombone piece by Swedish composer Christian Lindberg (whose name is very similar to your trusty Night & Day editor's) that the orchestra will play this weekend, along with music by Tchaikovsky and von Suppé. The concerts are Fri-Sun at Bass Performance Hall, 555 Commerce St, FW. Tickets are $10-79. Call 817-665-6000.
MON ▪ 28
While Betty Buckley is busy starring in Dallas Theatre Center's Arsenic and Old Lace, her vocal students will be at the Modern this week to show what they've learned from her workshops in a concert called Story Songs. They'll perform numbers by Sondheim, Alan Menken, Stephen Schwartz, and the sorely underrated Jason Robert Brown. The performances are 7:30pm Mon and Mar 30-31 at 3200 Darnell St, FW. Tickets are $25. Call 817-738-9215.
TUE ▪ 29
Former Texas Wesleyan law school dean Melany Neilson has made her mark in the literary world, both in nonfiction (her Pulitzer-nominated memoir Even Mississippi) and in fiction (her racially charged novel The Persia Café). This afternoon she appears at a luncheon to speak about the writing process. The event is at 12:15pm at Martin Hall, 1309 Wesleyan St, FW. Tickets are $10-15. Call 817-531-4404.